News
In Review: April 2020
01st May 2020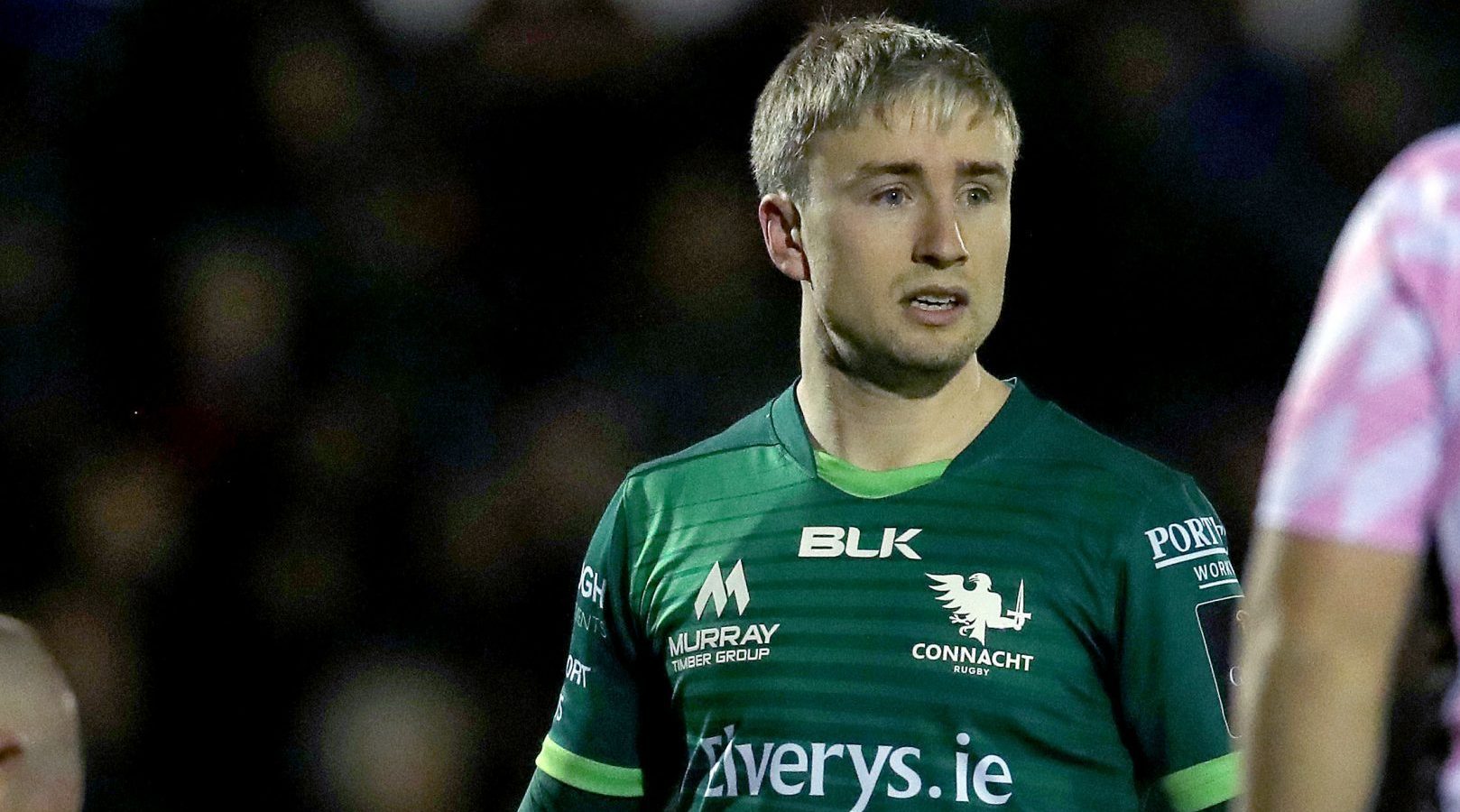 In years to come, we will look back at April 2020 and wonder what happened…
There may have been no rugby to enjoy but there were was connection, there was creativity and there was humanity!
Community Engagement
When restrictions were first imposed in March, our members came out in force to encourage the public to abide by the rules set out by government and health authorities. By now, the regulations are just a way of life but as morale ebbs and flows, rugby players have sustained their efforts to boost the mood!
Not many of us own a piece of history, so when Keith Earls offered up his jersey from Ireland's famous 2018 victory over New Zealand many jumped at the chance to take it home. The Munster and Irish winger ultimately raised over €33,000 for Barnardos Ireland, doubling his initial target. Well done Keith!
Numerous members have rowed in behind charities across the island of Ireland. Ulster and Ireland scrum-half John Cooney had something of a wardrobe clearout raising much needed funds for the Alzheimer Society of Ireland, Cancer Focus NI and the NHS. Meanwhile, Cooney's national teammates Andrew Conway (Make-A-Wish) and Robbie Henshaw (Breast Cancer Ireland), aswell as Irish Men's 7s player Harry McNulty (Feed the Heroes) also got in on the act.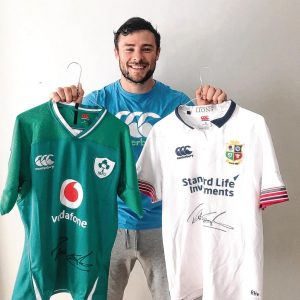 Inevitably several online challenges have cropped up. Conor Murray's recent box kick challenge has proven to be particularly popular with people of all ages sharing their kicking skills and donating to ISPCC Childline and Barnardos.
Rugby Players Ireland staff took a 5-day #AnCosánathon challenge set by Goodbody which encourages participants to develop a new skill. It quickly made its way to our membership with some dusting down old pianos and books. Others like Aoife McDermott took a different approach and is now adept at balloon modelling! All was in aid of An Cosán, a Jobstown based charity that seeks to empower through education.
Our Executive Board members have also been getting involved. Chairman Rob Kearney and Johnny Sexton have ditched their hair alongside their Leinster Rugby teammates for Feed the Heroes, the Down Syndrome Centre and Multiple Sclerosis Ireland. From his home in Cork, Peter O'Mahony was part of Munster Rugby's #PasstheBall initiative to highlight the importance of social distancing.
Using their online platforms our members have been proactive in encouraging physical exercise too. Greg O'Shea has been offering free pilates classes on his YouTube channel while former player Damian Browne got people off the couch with a demanding 14 day burpee challenge. Back at Browne's old stomping ground, the Connacht Rugby squad have been sharing their efforts to keep apace with their coaching staff every week!
Finally, in Belfast Darren Cave has been busy delivering donuts to staff at the frontline of Belfast hospitals, while Sean O'Brien followed Robin Copeland's lead by offering up his Dublin home rent-free for healthcare workers.
https://www.instagram.com/p/B-fachnHq7V/
The Big Rugby Run
The next challenge on the horizon is due to take place next week, as teams around the country embark on a virtual relay race. Led by Johne Murphy and PSA Academies, #TheBigRugbyRun will see members of the rugby community, from young fans to long retired players, team up and run a distance of 42km. 100% of proceeds will go to Feed the Heroes to help fuel the frontline – some of whom will be togging out alongside Murphy from 10am on Saturday, May 9.
Click here to register/for more information.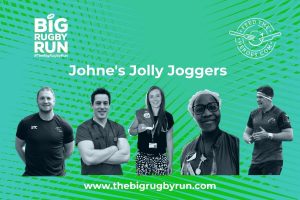 Congratulations
For the past number of years Claire Keohane and Angus Lloyd have been balancing their rugby commitments with their medicine studies at RCSI. Both are recipients of the Goodbody Rugby Players Ireland Personal Development Bursary. All at Rugby Players Ireland were delighted to hear that both recently received news of their respective qualifications!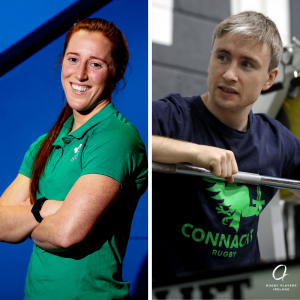 Tackle Your Feelings
Tackle Your Feelings has also operated as another platform for our members to share positive messaging at an important time. Last month, Jack Carty was the latest ambassador to share his story in an effort to encourage us to be more proactive in looking after our mental wellbeing. Carty drew from his experiences of negativity on social media. However, the Connacht and Irish Rugby out-half also recognises the positive power of online platforms.
Last week Jack spoke to Elaine Crowley on Virgin Media One about why he got involved in the campaign.
"I've enabled myself to work through tougher times." @JackCarty10 discusses #TackleYourFeelings & #SocialMedia on @ElaineVMTV#ImTakingControl pic.twitter.com/LKY3QsH6VF

— RugbyPlayersIreland (@RugbyPlayersIRE) April 28, 2020
Cognisant of their positive influence, a number of our members have been sharing their own tips on how to best manage at this time.
Lots of things causing concern at the moment…some are in your control, others aren't. Looking after yourself should always be a priority, that includes mental health. Be proactive about this #tackleyourfeelings #imtakingcontrol @RugbyPlayersIRE 👇👇👇
https://t.co/TYsCZx1v4F

— Darren Cave (@darrencave13) April 18, 2020
Tackle Your Feelings is privileged to have access to experts in the field of mental wellness.
According to Dr Jennifer McMahon, a consultant psychologist for the campaign, "young people look to their heroes to regulate their emotions and to model the type of behaviour they aspire to."
We spoke to Dr McMahon about the difference our players can make.
Here, renowned sport psychologist Niamh Fitzpatrick and Mark Smyth, the current President of the Psychological Society of Ireland, joined forces to present their thoughts on how to deal with anxiety during the crisis.
As another week passed us by, Dr Hannah McCormack warned of the temptations posed in using alcohol as a coping mechanism.
Influence
Such is the reality of the situation, nobody has been able to escape the Covid-19 restrictions. Throughout April, we have been catching up with some of our members to see how they are coping and allow those looking in to relate to their experiences.
A common source of frustration has been the inability to see loved ones, even if they are just down the road. Though he now calls Dublin home, Scott Fardy's thoughts often drift to his parents on the other side of the globe. However, the experienced Wallaby acknowledges that there is a greater purpose at the moment
Check out our interview with Scott here.
Harry McNulty was in an upbeat mood when we spoke about his experiences of the restrictions. The Irish Men's 7s stalwart is currently living with his brother Sean who has returned to Ireland following the cancellation of the MLR season in the USA. Harry, a keen explorer, believes there may be some benefits to be gleaned from the global shutdown.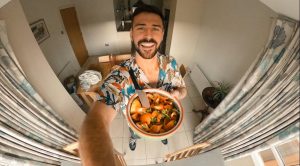 For many, living under the one roof with others in 2020 will remind them of annoying habits and traits! However, Ultan Dillane is seeing some of the benefits of living with his brother Cian and Connacht Rugby teammate Dominic Robertson-McCoy.
We spoke to Ultan about his lockdown experience.
Finally, Amee-Leigh Murphy Crowe has become accustomed to winning individual accolades over the past number of seasons. Most recently she picked up the South East Sports Star of the Year Award, a further endorsement of a memorable World Series campaign in 2019. The current season will be memorable in other ways.
Check out our interview with the Tipperary flyer here.
Webinars
With our members cooped up in their homes, the Player Development team at Rugby Players Ireland have devised a syllabus of online modules in recent weeks. Comprising sessions on financial advice, personal development and wellbeing, the webinars have been faciliated by our partners at Setanta College.
Dr Deirdre Lyons spoke to Brendan O'Brien of the Irish Examiner and explained that plans were being put in place when Covid-19 was still something of a distant threat.
As the situation continues to evolve, Rugby Players Ireland representatives have been regular participants in global and regional calls to highlight concerns and map out the future of sport with players as its focal point.
> 70 health & medical experts inc epidemiologists + reps from leading player unions incl. @FIFPro & @TheNBPA to discuss when & how it will be safe for sport to return to play amidst the #coronavirus pandemic.
⚽️🏀🏈⚾️🏏#PeopleFirst

👇👇👇https://t.co/udG5ovY0Wk pic.twitter.com/TNh18OU9jI

— World Players United (@WorldPlayersUtd) April 23, 2020
We have also been helping our partners to faciliate informative discussions with their remote staff and members of the rugby community. Last week, Goodbody hosted a chat between Joe Schmidt and Marie Crowe on leadership in times of crisis.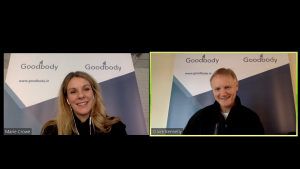 Clubhouse
Now that players will have some idle time on their hands, they have been encouraged to engage with their Player Development Managers and put this time to good use. Whether enrolling in courses or mapping out their future, the next step has come firmly into focus.
Rugby Players Ireland's Marcus Horan explained to Shane McGrath in the Irish Mail on Sunday that he has been encouraging members to express themselves in ways they didn't before and explore the options at their disposal.
Horan's former Irish and Munster captain Paul O'Connell appeared on The Late Late Show and admitted that he is in pursuit of a sense of his purpose at the moment.
While there are an array of possible options, the thoughts of becoming a pilot might have been deemed too ambitious. However, former Irish and Leinster colossus Victor Costello would beg to differ.
Through Flying Start Flying Smart, Costello believes that there are many common features between life as a rugby player and one in a plane and plenty of ways to set about achieving it while still a player.
Having retired last year, former Connacht Rugby player Eoin Griffin reflected on his decision to step away from the game with Murray Kinsella of The42.ie.
Finally, former Irish Women's captain Fiona Steed has been at the fore of UL Hospitals' call for people 'be part of the fight against Covid-19' by staying at home.
📽️"We are in this together, it's not team & supporters. It's one team, it's a team of all of us." @SteedFiona, Group Allied Health Lead @ULHospitals makes an impassioned plea to us all in the fight against #COVID19 using a rugby analogy.#StayHome #midwesttogether
1/3 pic.twitter.com/bieMaYF28J

— UL Hospitals (@ULHospitals) April 10, 2020
Back to News
Latest Posts