News
Highlights: January 2020
31st January 2020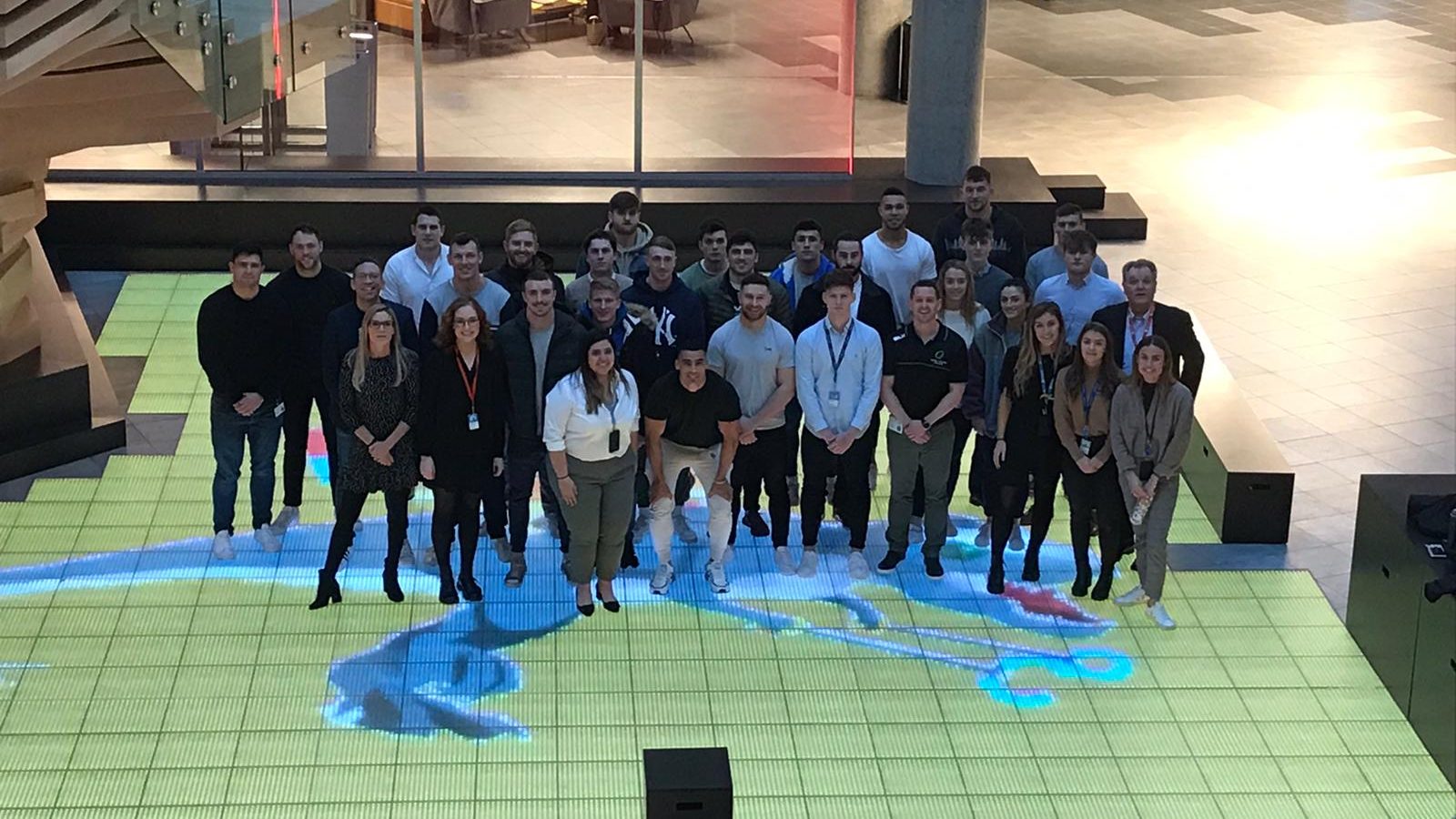 Oh Captains! Our Captains!
Our congratulations to Johnny Sexton and David McCann who have been appointed to lead the senior Irish Rugby squad and the Irish U20s respectively for the forthcoming Six Nations. Ciara Griffin will continue in the role as captain of the Irish Women's side for a third campaign.
We wish them all and their teammates (including many new faces) well in the weeks ahead!
Player Voice
Irish voices continue to be at the fore of representative issues in the game. Last week, Brian O'Driscoll was appointed to the board of International Rugby Players alongside former Tongan international and Pacific Rugby Players founder Hale T-Pole, and Dr Sharron Flahive who was the team doctor for the Waratahs for over 20 years.
Of his new position the former Irish captain said: "I'm joining the board of International Rugby Players as the game enters a defining period in its history. It's clear to me that rugby needs to change in order to properly grow and players need to be at the forefront of shaping this.
"There are many areas that need to be addressed, from player burnout to reform of the international season and the laws of the game itself and I'm really looking forward to the role."
Date in the Diary
If you're heading over to Ireland's clash with England in the Six Nations, you might want to swing by the Stoop on the eve of the game as the annual Legends fixture takes place!
The game has raised over €1million for rugby related charities since it was first devised over a few beers back in 2009. This year proceeds will go towards the Tom Smith Testimonial Fund which was established to help the former Scottish and Lions cult hero and his family as he battles stage four colorectal cancer.
#BraveLikeEmmeline
We were all moved by Munster Rugby stalwart Billy Holland and his wife Lanlih Keane as they shared the story of their courageous daughter Emmeline with the nation on The Late Late Show last week.
Munster rugby player @billyholland & his wife Lanlih on the huge support from Crumlin's medical teams for their daughter Emmeline who passed away aged just 6 months. They are fundraising in honour of their brave baby girl: https://t.co/SFCbSzW1eL #BravelikeEmmeline #LateLate pic.twitter.com/aC2mlEyDVR

— The Late Late Show (@RTELateLateShow) January 24, 2020
Within days, over half a million euro had been added to the pot for Our Lady's Children's Hospital in Crumlin, Cork University Hospital and Ronald McDonald House. Quite a legacy for little Emmeline!
International Labour Organization
With plenty of players taking off for a few days amidst a break in the domestic season, Dr Deirdre Lyons and Pamela Gilpin also took the opportunity to jet off to Switzerland! The pair were in Geneva as part of a World Players delegation for historic global talks with the International Labour Organization. Discussions centered on the work being carried out in sport across the world.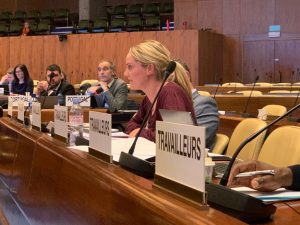 Pamela was also in Amsterdam this month to attend a meeting of PROLead, the new 3-years project funded by the Erasmus+ Programme and faciliated by EU Athletes. PROLead aims to improve dual career opportunities for professional athletes by providing tailored leadership training for current and retired athletes.
Women's Rugby Update
With a new international season looming large on the horizon, Adam Griggs has been putting his charges through their paces. We teamed up with the IRFU during their first training camp in 2020 for a Barista Workshop facilitated by Dublin Barista School.
At then end of a tough 2 day training camp the Women's team were in need of some coffee which they got thanks to @RugbyPlayersIRE & @dubbaristasch #20×20 #Coffee pic.twitter.com/Pbs9Ct9Qsq

— Irish Rugby (@IrishRugby) January 7, 2020
We also learned more about several members of the team:
Lauren Delany spoke to The Telegraph on balancing the demands of her rugby career with her full-time role as high performance nutritionist at British Cycling.
Mallow's Anna Caplice is also based in the UK where she works with the Harlequins Foundation. Caplice told Rugby Players Ireland that she hopes to take some of her learnings from her time with the Barbarians in November into the Irish camp.
With a week to go before kick off, it was nice to see friends and family invited by Adam Griggs and his coaching team to a recent training session with the players!
On Site!
We were delighted that so many of our members availed of a recent opportunity to visit Microsoft Ireland in Dublin. Our Player Development team are always working hard to meet the needs of our players and so it was hugely satisfying to see great numbers travel to the capital to attend a Career Development Briefing!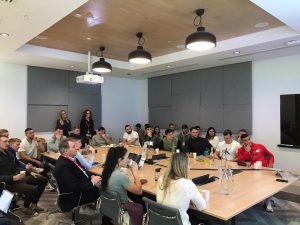 Award Winners!
The efforts of two Irish rugby stars were acknowledged in recent regional and international events.
On January 9, Amee-Leigh Murphy Crowe was named the Beat 102-103 South East Sports Star of 2019 in Kilkenny. The Tipperary woman became the first-ever player from the Northern Hemisphere to win the top try-scorer award at a World Series event and also earned a place on the World Sevens dream team.
And the overall winner of the #southeastsportsawards is Aimee-Leigh Murphy Crowe!!! 🏆 pic.twitter.com/52uy506glD

— Beat 102 103 (@beat102103) January 9, 2020
Meanwhile, Rory Best was inducted into the Hall of Fame at the Belfast Telegraph Sports Awards. Former Ulster Rugby favourite Christian Lealiifano's remarkable recovery from leukemia has also been recognised in his nomination for the Comeback of the Year award at the Laureus World Sports Awards. The Awards ceremony will take place in Berlin on February 17.
Finally, several Irish based players were nominated for the coveted EPCR European Player of the Year Award. Marcell Coetzee, John Cooney, Tadhg Furlong, Jordan Larmour and Garry Ringrose all feature in the longlist.
Well done to all on their respective achievements!
Capping it Off!
Our congratulations to Munster Rugby and Irish Rugby prop David Kilcoyne who managed to balance a World Cup year with completing a MSc in Business Project Management!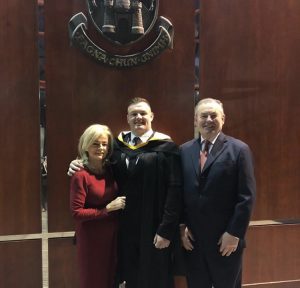 Tackle Your Feelings
We also extend our congratulations to Tackle Your Feelings Campaign Manager Dr Hannah McCormack on receiving her doctorate from the University of Limerick. Hannah's PhD focused on the workplace wellbeing of sports psychologists.
During the month, the TYF team were in Dundrum Town Centre for Kick Start – a health and wellness focused event to help get you ready for the year ahead!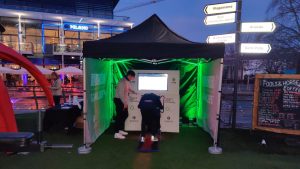 The month also ended on a high note as izest Marketing were nominated for a Digital Media Award in the 'Best Use of Mobile' category for their work on the Tackle Your Feelings app. The app can be downloaded for free on both iOS and Android platforms.
This month Hannah also gave us her view on Blue Monday, which some have suggested is the most depressing day of the year. She doesn't agree!
Sevens Rugby
We began the year by meeting with all of our members in the Irish Sevens programme. Dr Vincent O'Flaherty, Denis Hurley and Simon Keogh paid a visit to their HQ in Abbotstown as preparations for World Series events in New Zealand and Australia were being stepped up.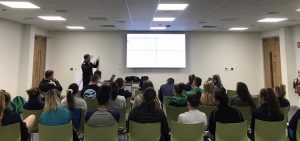 The competition in Hamilton was Bryan Mollen's first taste of action this year. Mollen, who played a key role in securing qualification, missed out on the trips to Dubai and South Africa through injury. In advance of the New Zealand leg, he spoke to Rugby Players Ireland about his journey to the highest stage in the Sevens game.
Rugby Players Ireland Executive Board member Louise Galvin has been continuing her fine work in the player welfare space. The former Kerry footballer was invited by the Women's GPA to participate in a discussion on setting standards in sport alongside Tyrone great Peter Canavan and former Irish soccer international Aine O'Gorman.
Every Cloud
As ever, it has been a few weeks of ups and downs for our members. Prior to Christmas Tadhg Beirne suffered a fractured ankle ruling him out of the Six Nations. Joey Carbery soon followed with a wrist injury similarly ending his Irish aspirations in early 2020.
While both players will earmark a return before the end of the season, unfortunately we won't be seeing Stephen Fitzgerald for quite some time. Signed on a short-term deal by Connacht Rugby at this time last year, the winger has been a regular feature in the side, prompting Andy Friend to extend his stay.
Similarly, Angus Curtis was also struck down with an ACL injury prior to Christmas. We spoke to Angus about his unique route to Ireland from Zimbabwe.
We wish all well in their respective recoveries!
On the flip side, we were thrilled to see some members make their long-awaited returns. Not least former Connacht Rugby out-half Craig Ronaldson who lined out with Lansdowne FC recently following a 16 month lay-off.
Leinster academy player David Hawkshaw has also been making good progress since a knee injury sidelined him during Ireland's ultimately succesful U20 Grand Slam campaign last year.
Progressing Nicely!
Our congratulations is owing to a number of our members.
In Limerick, Stephen Archer's Munster Rugby servitude will continue for a further two campaigns. Archer's news came alongside the announcement that Dan Goggin and Liam O'Connor have also committed to the province. Furthermore, academy trio Jack O'Sullivan, Liam Coombes and Alex McHenry will all move to a senior contract next season. All six players have progressed through the provincial pathway.
In Belfast, Matty Rea has been rewarded with a two-year contract extension, keeping him at the Kingspan Stadium until at least June 2022. Meanwhile, Stewart Moore will be taking a further step in his rugby career by moving on from the academy to a development contract next season. Moore will be upgraded to a senior contract for the following two seasons.
Irish Abroad
It has been an interesting few weeks for those flying the flag around the world.
Firstly, we were delighted to hear that former Munster Rugby player Paddy Butler will now be plying his trade in Japan with Yaham Júbilo.
Then we heard that former Leinster A and Munster Development half-back Jamie Glynn has been making the most of a recent opportunity in Australia by linking up with the Melbourne Rebels for pre-season. The Limerick man has been juggling job interviews with playing for the Super Rugby side!
Check out his remarkable tale in an interview with the Limerick Leader here!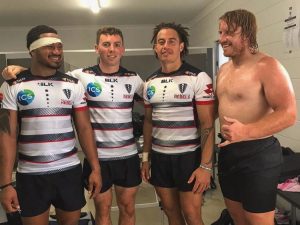 Even further afield, former Connacht Rugby prop Conán O'Donnell was on the bench for the Crusaders in a pre-season friendly against the Hurricanes. Ahead of him in the pecking order is former Ireland Schools' international Oli Jager.
Also in New Zealand, former Rugby Players Ireland Operations Manager Isaac Boss was appointed Head Coach at the King Country Rams provincial side in the Mitre 10 Heartland Championship. Boss' former international teammate Felix Jones will continue his working relationship with the Springboks as a European-based coaching consultant for the South African Rugby Union following his influential role in their recent Rugby World Cup success.
A little closer to home, Conor Gilsenan spelled out the reality of being a professional rugby player in an interview with The42.ie.
His new teammate Sean O'Brien was also speaking to the media, describing his first few weeks in Surrey.
"I think some lads are a bit startled by some of the stuff I have said so far and a bit rattled. They don't know what to make of me maybe." https://t.co/HcIgUX8Xtm

— RTÉ Rugby (@RTErugby) January 9, 2020
Back to News
Latest Posts