News
Up the Wall!
03rd February 2020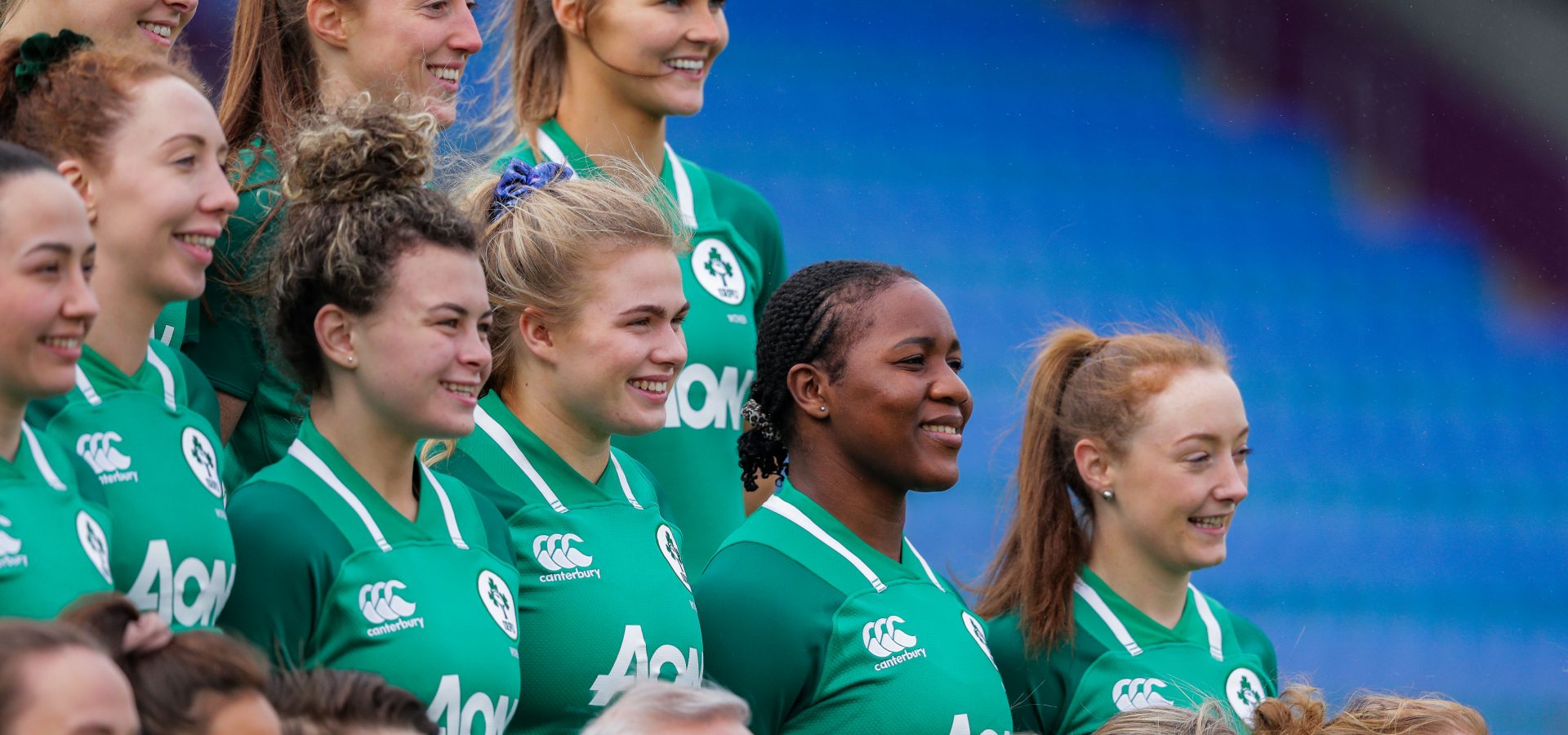 Back in September 2018, Dorothy Wall made her way to the offices of Goodbody's offices in Ballsbridge for the launch of the Goodbody Rugby Players Ireland Personal Development Bursary. She cut a quiet figure as she landed into the company of fellow recipients Tom Daly and Eoin McKeon aswell as Rugby Players Ireland representatives Rob Kearney and James Ryan.
It came as quite a shock to the system, particularly when just a few months previously her path seemed destined to lie on the basketball court. But after being "fouled off a few times too many," it was suggested that she might give rugby a go. Many doors duly burst open.
A photoshoot in Dublin 4 to announce the launch of the partnership between Rugby Players Ireland and Goodbody was the culmination of a whirlwind few weeks for the Fethard girl.
Earlier that summer, Wall was invited to join up with the senior Sevens set-up at Lansdowne Road having made her way through the Irish U18s Sevens Development Programme. She had also secured her place in radiography at UCD following a nervous wait. As she began to weigh up her various commitments, the Bursary announcement came as a timely boost.
"I was fresh into the Sevens programme and I wasn't entirely sure if I'd be overstepping the mark by applying for the Bursary in the first place," Wall remarks as she recalls the application process. "I think anybody new in anywhere tends to tread carefully for a while. I know some of my teammates did. I was just out of school and surrounded by a number of more established players on the scene.
"I gave the application my best shot anyway and didn't think much more of it. At the time the CAO offers hadn't come out yet, so my mind was preoccupied with whether I was going to get into radiography in UCD or not. All I knew was that I needed to be in Dublin for rugby – everything else was up in the air!"
Not for long. Soon the Munster player was in the throes of radiography lectures, Irish training and getting around a new city. Her sixth year at the Presentation Secondary School in Thurles quickly became a distant memory. With barely a moment to herself, her commitments undoubtedly threw up plenty of challenges.
"It was a tough year," she concedes. "Everyone told me it was going to happen. I had plenty of warning. I just don't think you can possibly appreciate how tough it will be until you're in the thick of it.
"I'll be the first to put my hands up. I wasn't anywhere near as diligent as I should have been in my first few weeks. I paid for that mistake leading up to our exams. The work piled on and it was difficult to balance everything without letting it affect one or the other too much. It was a big learning curve."
With her placements increasing in her second year in Belfield, there have been added pressures to Wall's workload. In the first few weeks of term she was involved in Munster's interprovincial campaign, while she has further cemented her transition into 15s rugby by linking up with Railway Union. To cap off a swift rise through the system, Adam Griggs unleashed her on the Six Nations in Ireland's victory over Scotland.
"Don't get me wrong, I'm hugely appreciative of the position I'm in. There are players all around the country who would kill for it. You certainly feel that when you come up against them in the odd game!
"There's just a lot to contend with, which is why the Bursary was such a huge support. I have three younger brothers at home and with me uprooting to Dublin, obviously it can be a bit of a pull on any family. I was happy to do what I could to help.
"With all I had going on, I didn't think I had the time or energy to get a job. I was able to put the financial support I received towards my college fees and to get around, to and from my placements and home to Tipperary from time to time!
"The Bursary certainly gave me more financial independence – to a degree! The savings account I set up for it was monitored by my parents!"
When a new cast of bursary recipients was announced ahead of the 2019/20 season, Wall was well placed to offer her peers advice on how to best to use the support. Goodbody are also at hand to provide guidance where it's needed.
"Since the launch of the programme, the Goodbody team has had the privilege of getting to know many exceptional players, both past and present," Roy Barrett, Managing Director at Goodbody says. "What has really stood out and earned our admiration is the dedication and effort that the players give to rugby while also finding time to pursue further education, work experience and career advice."
"The Personal Development Bursary is designed to support and champion players to help them on their eventual journey to post-rugby careers and Goodbody is proud to make this contribution to Irish rugby."
Back to News
Latest Posts