News
In Review: March 2020
31st March 2020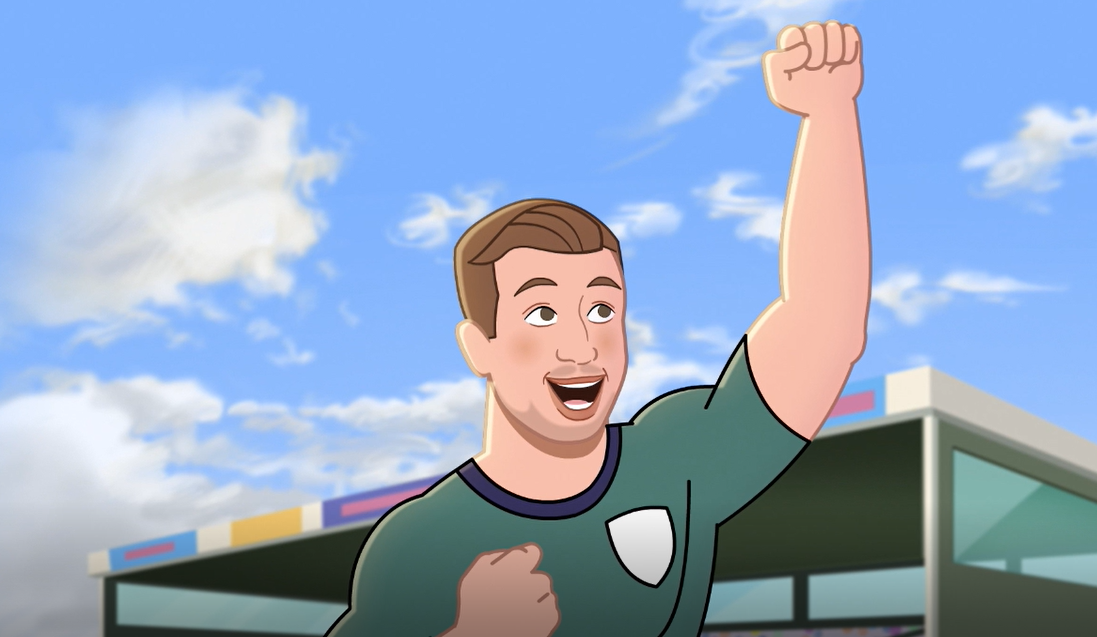 Never have we experienced a month quite like it. While March 2020 will always be remembered for the onset of Covid-19, it was also notable for Rugby Players Ireland in other, more positive, ways.
Settling in!
The month began on a bright note for several of our members!
Jack McGrath has settled nicely into life in Belfast since his move from Leinster Rugby last summer. Having missed out on Ireland's Rugby World Cup squad, McGrath's return to form has been noted by all with Andy Farrell recalling him to the national side's Guinness Six Nations preparations and Ulster Rugby rewarding him with a contract extension.
Speaking about Jack's two-year deal that will take him to 2022 at the Kingspan Stadium, Dan McFarland said: "By renewing the contracts of players such as Jack, we are continuing to strengthen our squad now, and also into the future, given the important leadership he provides for our young talent starting out in their careers."
For the past number of seasons McGrath has been vying for Irish selection with David Kilcoyne. Having advanced through the academy at Munster Rugby, Kilycoyne has gone on to make 182 appearances for the province and will hope to add plenty more over the course of his three-year contract extension. His front-row teammate Kevin O'Byrne will also remain in Limerick having agreed a fresh two-year deal.
Meanwhile, Ian Madigan will return to Irish shores next season. Having departed Leinster Rugby for Bordeaux Bègles in 2016, the 30-times capped out-half subsequently joined Pat Lam's revolution at Bristol Rugby. He joins Ulster Rugby on a one year contract.
Special Guests
Before the Special Olympics Ireland Winter Games in Belfast were postponed this month, some of our Munster Rugby and Connacht Rugby members joined their respective provincial representatives as they prepared for the tournament.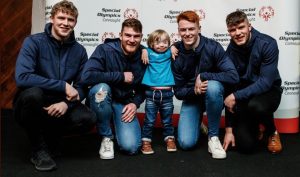 Royal Acquaintance
Sene Naoupu can now count the Duke and Duchess of Cambridge amongst her legion of fans! One their recent visit to Dublin, the Royal Couple met with members from various fields of Irish sport, culture, design, social enterprise, environment, charity and uniformed services at the Guinness Storehouse, with Naoupu serving them both with a pint of Guinness poured by master brewer Padraig McLaughlin.
A Gift from Emmeline!
We were delighted to hear news of the birth of Matthew Conor Holland to Billy and his wife Lanlih!
The couple recently made an appearance on the Late Late Show to share the story of having lost their daughter Emmeline to a rare genetic disorder. Having opened a GoFundMe page to raise money for sick children across Ireland in Emmeline's honour, over €550,000 was raised and donated to Our Lady's Children's Hospital in Crumlin, Cork University Hospital and Ronald McDonald House.
In recent weeks they returned to the longest running chat show in the world to introduce their young son – a gift from Emmeline!
Be Kind to Yourself. Be Kind to Others.
As the isolation measures were ramped up across the island of Ireland, Jack Carty was announced as the lastest ambassador for Tackle Your Feelings. Conducting a series of interviews from the comfort of his home, Jack acknowledged that while Social Media is a powerful tool, it can also be a damaging one.
In his animated clip, Jack recounts a chance encounter with a supposed 'troll' and how the experience helped him to change his attitude towards online platforms.
Connectivity is important to humanity, moreso than ever at the moment. While restrictive measures are in place, many people have been cut adrift of their loved ones. Social Media has an important role to play at these times, don't take advntage of it by disrespecting others. Be kind.
You can also be kind to yourself by downloading the Tackle Your Feelings app for FREE on iOS and Android platforms.
Many thanks to Jack for his support.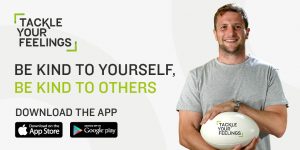 A Powerful Voice
It has been an uncertain period for all but we have been heartened by the way in which our members have been leading from the front. Earlier this month, everyone has acceded to the guidance and taken to their homes, possibly for several weeks.
However, as some revellers betrayed the advice for another night in the early stages of the crisis, Keith Earls took to Social Media to appeal for greater caution. Within hours the experienced Munster Rugby & Irish winger's influence was keenly felt throughout the country. Players throughout the country followed suit.
While social disapproval of some people's actions was already ramping up, within hours many pubs and restaurants opted to close their doors owing to the public backlash with the winger's tweet making national headlines.
— Keith Earls (@KEITHEARLS87) March 15, 2020
Subsequently, Rugby Players Ireland teamed up with the Health Service Executive to issue advice to the public. Many thanks to our Executive Board members for their respective contributions.
A powerful voice 💪

We are not at the front line, but we all have a role to play in tackling #covid19#ItsInOurHands @HSELive @IrishRugby pic.twitter.com/SRfL6gXSpB

— RugbyPlayersIreland (@RugbyPlayersIRE) March 18, 2020
Some of our members have also earned great praise for various gestures. Robin Copeland offered up his accommodation, which lies close to a Galway Medical Clinic, to healthcare workers for the duration of the Covid-19 crisis. He spoke to Sinead Farrell of The42.ie about why he made the gesture.
Even from the safety of their own surrounds, our members can have an influential role to play in the weeks ahead.
The Frontline
Several members of Rugby Players Ireland are facing this unique battle at the coalface.
We spoke to Claire McLaughlin who is currently deployed in the Accident & Emergency Department at Ulster Hospital in Belfast about her experiences of the crisis thus far. You can see our interview here!
Speaking to Rúaidhrí O'Connor of the Irish Independent, Linda Djougang laid clear the devastating impact the virus can have.
"I just hope people don't take it for granted," she said of the threat posed by Covid-19. "People die from this, I've witnessed it with my own eyes.
"I have closed (body) bags and everything, it's really sad. I know they're not related to me but I have cared for them. I am the last person they see. The family can't even come and see them, the people die by themselves."
For the full interview, click here.
Rugby Players Ireland at Full Tilt
Following the announcement that professional rugby players in Ireland are to take a payment deferall, Rugby Players Ireland CEO expressed his pride in the way the association's members have responded to the situation.
Keogh: "The primary issue is getting not just rugby back on track but society back on track and making sure everyone is fit and healthy. I'm very proud of how the players have reacted. There's so much empathy out there
For the full interview with Simon Lewis of the Irish Examiner, click here.
Operations Manager Denis Hurley was also speaking with Sean McMahon of Pundit Arena about how Rugby Players Ireland will navigate the challenges posed by the coronavirus.
Check out Denis' interview here.
Finally, Dr Deirdre Lyons joined calls by International Rugby Players Board Member Dr Sharron Flahive for players throughout the globe to prioritise their mental health during the pandemic.
Stay safe, everyone!
Back to News
Latest Posts