News
Highlights: July 2020
04th August 2020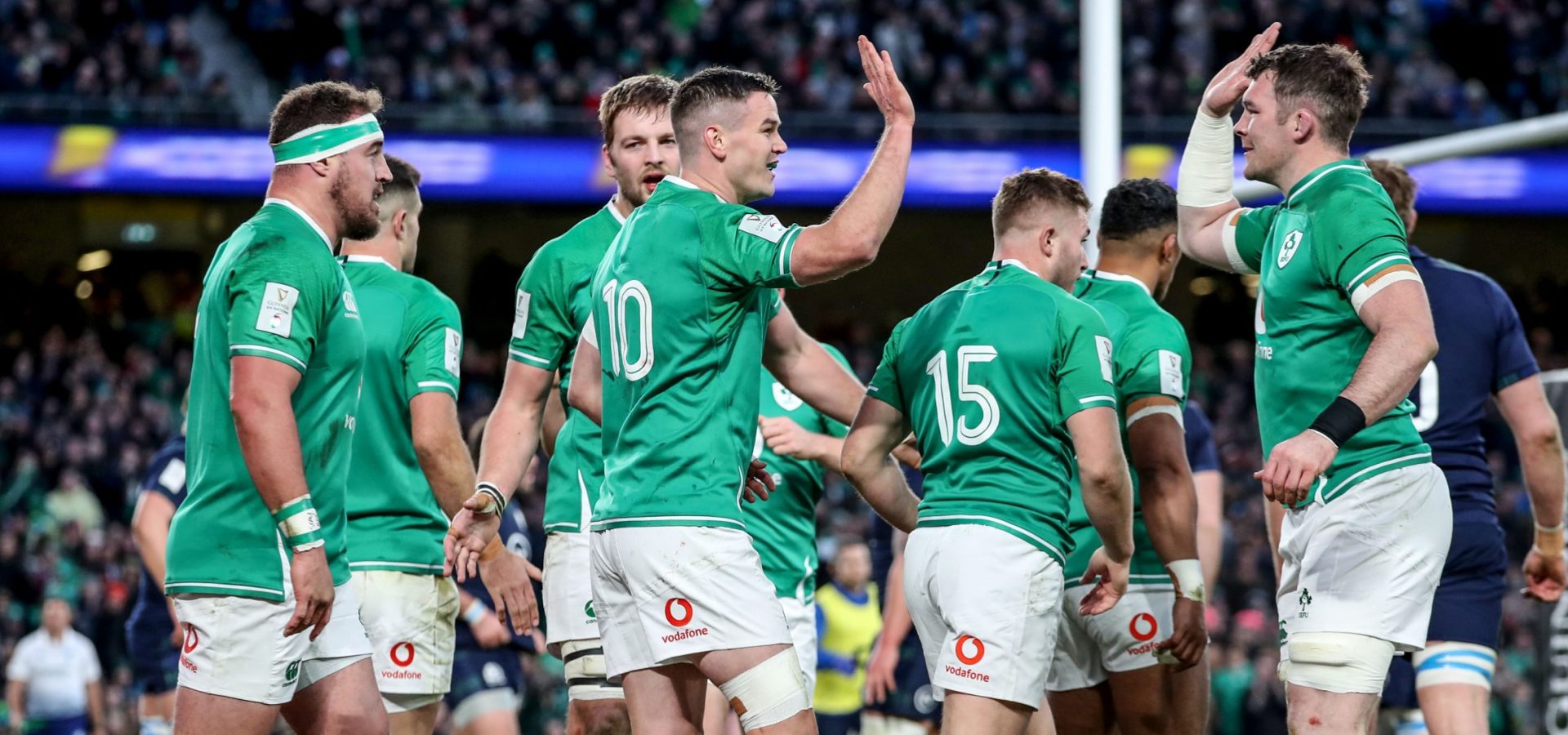 Rugby Players Ireland and the IRFU Reach Agreement
In mid-July, Rugby Players Ireland and the IRFU reached agreement on a reduction in players' remuneration for the coming months. Like many businesses, rugby in Ireland has been impacted by the ongoing Covid-19 crisis.
In reaching an agreement following a consultative process, Simon Keogh believed it was reflective of the shared ambition to see rugby thrive at all levels and acknowledged Rugby Players Ireland's good-working relationship with the IRFU.
Click here for the full statement.
Rookie Camp
In light of the circumstances, the Rugby Players Ireland Rookie Camp became an online venture in 2020. Run in partnership with the IRFU and sup[ported by the Tom Maynard Trust, the induction programme is usually held over the course of two-days to allow for players to interact with Rugby Players Ireland staff and their peers.
This year the revised programme featured a series of webinars with current players and assorted experts about aspects of the professional game our newest members will encounter, while there were also modules for the benefit of provincial staff.
Introdution to Rugby Players Ireland & the Player Development Programme – Simon Keogh
Mental Health and Support for Elite Athletes – John Cooney, Louise Galvin, Aoife Lane & Mark Smyth (President of the Psychological Society of Ireland)
Behaviours – Richie Sadlier & Marcus Horan
Understanding Generation Z – Claire Madden, Next Gen Expert
Having an Opinion & Expressing it as a Professional Athlete – Dr Kieran File, Reactive Sports Media
Savour the Moment – Making the most of your Academy Experience – Rob Kearney, Andy Farrell & Simon Keogh
Now with the benefit of several years hindsight, members of the Irish U20 squad that reached the final of the World Rugby U20 Championship in 2016 also shared some advice with their new academy colleagues.
Research on the Impact of Covid-19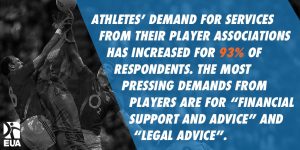 Preliminary research from EU Athletes, the European multi-sport federation of player associations, has demonstrated that in times of crisis, player associations offer athletes the support they need. The report highlights the growing demand for services amidst the Covid-19 pandemic and how organisations across 15 countries are trying to meet their needs despite their current financial and logistical struggles.
For more information, click here.
Rugby Players Ireland Magazine
Rugby or no rugby, it has been a weird yet busy few months at Rugby Players Ireland HQ. Click on our magazine cover below to see the latest edition!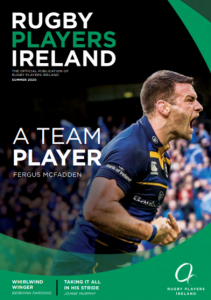 Summer Movements
Alex Wooton will be bidding to recapture the heights of his breakthrough 2017-2018 season as he heads to Galway on a season long loan deal. Wooton will be joined in the coming weeks by Australian 7s player Ben O'Donnell and Abraham Papali'i who joins from Bay of Plenty in New Zealand. Following two seasons out west, Joe Maksymiw has departed Connacht Rugby for the Dragons.
Further afield, Noel Reid exit from Leicester Tigers was confirmed with the news that he has signed for Agen on a two-year deal. Having left Munster Rugby, Darren O'Shea will play his rugby with Vannes in the French Pro D2 next season. Former Ulster Rugby academy prop Craig Trenier has joined Ealing Trailfinders.
Unfortunately, Irish Women's player Lauren Delany will now not be joining Bristol Bears Women as had been planned.
Sweating with Purpose
In June, Tommy Bowe, Chris Henry, Paul Marshall and Neve Jones – winner of the Women's AIL Rising Star Award, teamed up with Jonny Rowan and Purpose Training for a 30-minute online workout. In partnership with Tackle Your Feelings, the event raised funds for AWARE while also promoting the benefits of physical exercise. Owing to their support of the Tackle Your Feelings campaign, the Z Zurich Foundation announced that it would be matching the funds raised.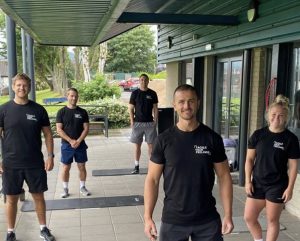 Return to Rugby
As live rugby looms a little bit larger, it has been encouraging to learn that there have been no positive test results after two rounds of PCR testing in our provinces. Training has now stepped up in anticipation of the interprovincial series at the Aviva Stadium on the 22/23 August. Further fixtures have also been confirmed with Ulster set to face Leinster and Munster facing Connacht (again in Dublin) on the following weekend.
EPCR have also confirmed times and dates for the Heineken Champions Cup quarter-finals. Leinster face Saracens on September 19, Ulster play Toulouse on September 20.
Meanwhile, World Rugby has approved a schedule for the completion of the 2020 Six Nations and a programme of autumn internationals. The international window runs from October to the first weekend in December. However, the opening legs of the 2021 HSBC World Rugby Sevens Series in Dubai (26-28 November) and Cape Town (4-6 December) will not go ahead.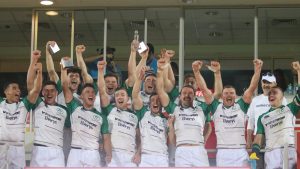 Calling it a Day
"It's just hard to say those words: I am retiring. You don't want to do it. But in the end, when I made my decision, I actually felt a lot better."
Having battled injury for some time, Brian Scott announced his retirement from rugby last month. The former Munster Rugby prop spoke to Murray Kinsella of The42.ie about letting go of a dream.
Barry Daly has also retired from the professional game. Following a prolific stint with UCD in the AIL, Daly was given the opportunity to link up with Leinster Rugby in 2016. A successful trial meant that Daly left his day job with KPMG and he would go on to play 36 times for his province. Highlights include being top try-scorer in Leinster's double-winning campaign and a call up to Joe Schmidt's extended Irish squad ahead of the Six Nations in 2018.
Thanks to the help of Dr Ella McCabe (former Player Development Manager with Leinster Rugby), Barry will now embark on a two-year scholarship to study for an MBA at Boston College in the US.
Hannah Tyrrell has announced that she will be stepping away from the Irish 7s. While Tyrrell hopes to continue her involvement with the Irish Women's XVs, she nevertheless bring the curtain down on six years on the 7s programme having amassed 103 caps.
Clubhouse
Our congratulations to former Irish captain Dr Sarahjane Belton who was awarded a prestigious DCU President's Award for her work in the area of physical education and its role in the health of Irish children.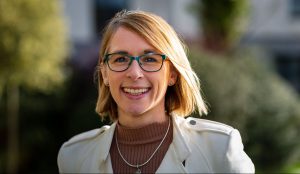 There has been no better time to explore different interests and hobbies. Former Irish internationals Fiona Hayes and Alison Miller like a good chat and so Not Another Ruckin' Podcast came into being. To date the likes of Sean O'Brien, Anna Caplice, Conán O'Donnell and Claire Keohane have been grilled by the duo!
In speaking to The 2nd Row, former Connacht Rugby player Andrew Browne further highlighted the work of Dr Deirdre Lyons in her capacity as Player Development Manager for Connacht Rugby. Having been referenced by several players on the podcast, Padraig Kelly was prompted to suggest that Dr Lyons may be one of the most important people in Irish rugby!
Check out a great interview with Andrew here!
Finally, several of our members took a trip down memory lane as the PRO14 unveiled their Dream Team! Eight Irish players feature including current Munster Rugby duo David Kilcoyne and Peter O'Mahony, while Isa Nacewa and Ruan Pienaar were also acknowledged for their stints with Leinster Rugby and Ulster Rugby respectively. Congratulations to all!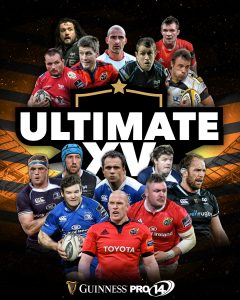 Back to News
Latest Posts