News
Highlights: August 2022
31st August 2022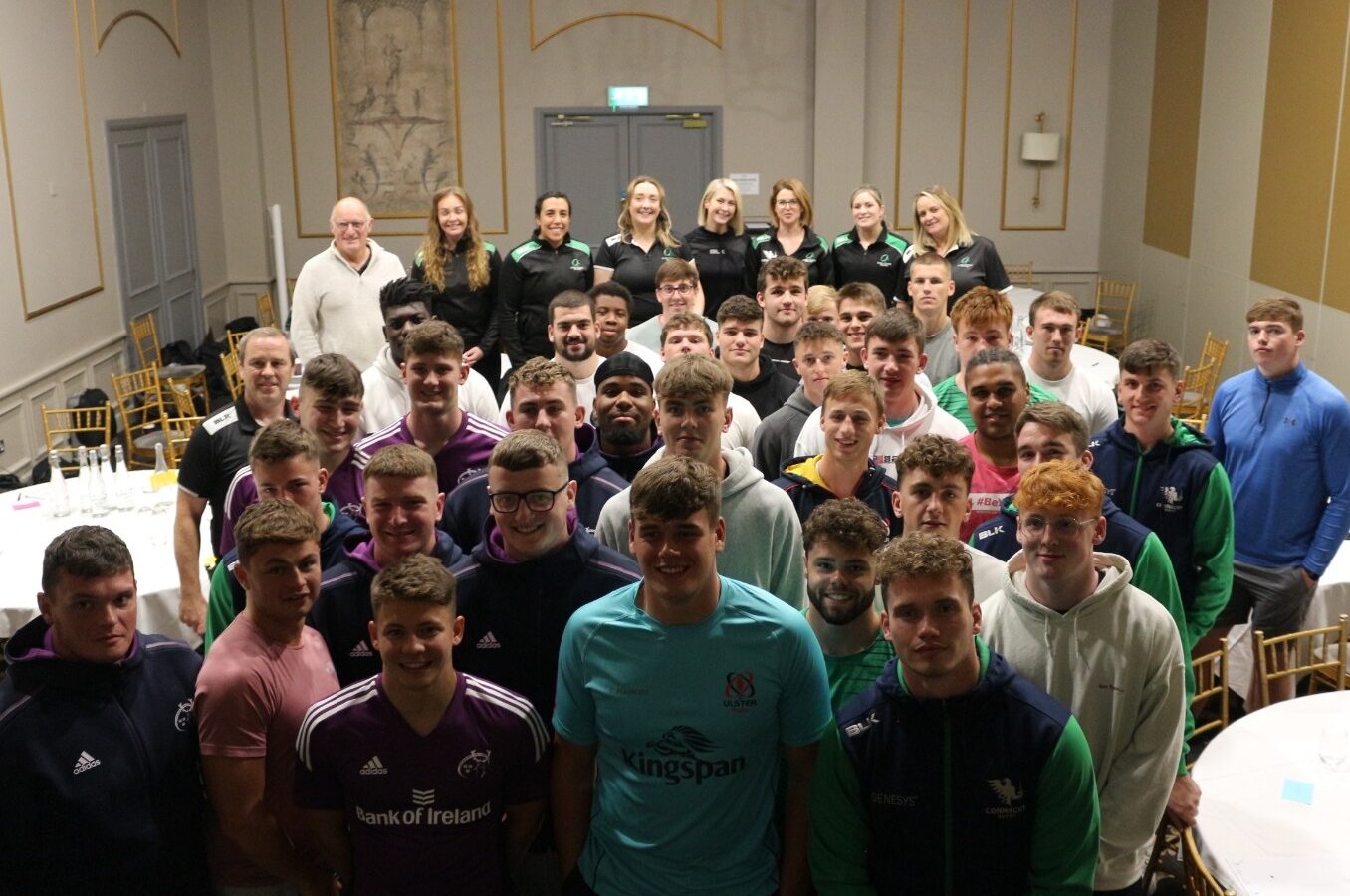 Land of the Rising Stars
It has been enjoyable few weeks looking in on a happy camp as Nichola Fryday led Ireland on a historic trip to Japan. While they will have been disappointed not to consolidate the series following a convincing 57-22 win over their hosts in the first Test at Shizuoka, with nine players making their Irish debuts over the course of the series, its legacy may nevertheless be felt long into the future.
Our congratulations to Natasja Behan, Jo Brown, Aoife Dalton, Méabh Deely, Jess Keating, Dannah O'Brien, Taryn Schultzer, Leah Tarpey and Emma Tilly.
Prior to travelling the group will have been boosted by the news that the IRFU will be providing 43 centralised, paid contracts to elite women's players next season, a development which will see the Union offer professional contracts to women's XVs players for the first time.
In further positive news, the Irish Men's 7s secured their best ever finish on the World Series. Despite losing to New Zealand in the quarter-final in LA, the side managed to stave off the advances of the USA and France to finish fifth in the overall standings. The team now moves onto Cape Town where they will contest the Rugby World Cup 7s.
Back to School with Tackle Your Feelings
As uniforms began to line the pathways once again, we asked Jordan Conroy to reflect on his time back at school in Tullamore. The Irish 7s flyer who is currently preparing the Rugby World Cup 7s in Cape Town had some advice to impart. Check out Jordan's message below!
Thousands students have already participated in the Tackle Your Feelings Schools Programme, if you would like more information please click here.
"We left no stone unturned"
Having burst onto the scene in 2017/18, many felt that Conor O'Brien had all the attributes to make it far in the game. Sadly, the Mullingar man has been forced to retire from the game with immediate effect due to recurring injury. He made 24 appearances for Leinster Rugby but last played back in October 2021. Conor, who has worked closely with Dr Emma Burrows, now moves into a role as Business Development Executive at TEKenable Ltd.
Elsewhere, Jonny Murphy has also decided to hang up his boots. The former Ulster Rugby and Connacht Rugby player will now devote his time to his passion for baking through his business The Hungry Hooker.
We wish both players well!
"It was always about the next generation"
Although she will continue to make her mark on the game through her work with International Rugby Players, Sene Naoupu has called time on her career in green. The Old Belvedere stalwart has 48 Irish caps to her name, while she also turned out for the Irish 7s during her playing days.
We look forward to continuing our work with her for the betterment of rugby.
Calendar of Events
A big thank you to our members, partners and friends who turned out in such great numbers to support Rugby Players Ireland at our recent golf meet in Druids Glen. It's always a pleasure to see various worlds connecting across what is always an enjoyable morning.
Before they jetted off to the bright lights of LA, we hosted a morning's round of golf at Castleknock Golf Club to mark one year since the Irish Men's 7s became the first Irish side to qualify for the Olympics.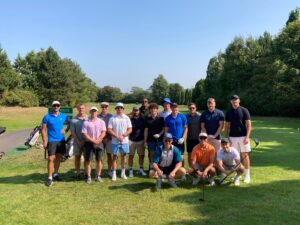 The wider Rugby Players Ireland team were in Belfast this month to meet with the Ulster Rugby squad as part of the RPI Roadshow. Each year, representatives of the players' association meet with each squad group to provide an update on developments in the game.
Next up in our diaries is our Hall of Fame event which takes place on Friday, September 23rd at The Intercontinental Hotel in Ballsbridge. Over lunch we will celebrate the careers of two Irish rugby greats by looking back over their careers, through their own eyes and that of their former teammates.
Proceeds will go towards funding the Rugby Players Ireland Foundation which aims to help past players and their families who may find themselves in challenging situations.
Player Development Programme
Over the course of two days we were joined by Years One and Two academy players for the annual Rugby Players Ireland/IRFU Rookie Camp which took place in the Midlands Park Hotel in Portlaoise.
A most enjoyable few days with our academy members at the Rugby Players Ireland/@IrishRugby Rookie Camp 2022.

We will be here to support each player throughout their #rugby careers and beyond. #MoreThanAPlayer pic.twitter.com/tYguYbzZWN

— RugbyPlayersIreland (@RugbyPlayersIRE) August 8, 2022
Our sincerest thanks to our contributors Aidan O'Flynn, Active Consent NUIG and Rossa O'Donnell who each complimented the skills and teachings of our Player Development Team. We are also very appreciative of Devin Toner and Sean O'Brien who dropped by to share some of their experiences of life as a professional sportsperson.
BAck at the HPC, Eric Fitzpatrick of Ark Speaking and Training joined our 7s squads for his first in-person session since he began working with Rugby Players Ireland. Meanwhile, the Irish Women's XVs joined Aoife Lane and Daire Lynam of Thomas International for a workshop on Communications and Teamwork before they set off on their tour to Japan.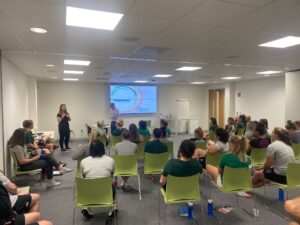 Community Engagement
A big shout-out to Connacht Rugby for all their efforts in organising a special provincial-wide charity cycle in aid of Claire Carpenter, partner of Connacht employee Ross Mannion, who suffered a life changing event in February. To date, online funds have raised almost €120,000. You can contribute here.
With so many families impacted by the effects of dementia, Greg O'Shea has been inspired to run the London Marathon in October to raise funds for Alzheimer's Research UK.
Check out why here:
Irish Abroad
Former Ulster Rugby academy players Caleb Montgomery and Conor Rankin have linked up with Ampthill Rugby for the coming season.
Greg McGrath, who lists Leinster Rugby and Connacht Rugby amongst his former clubs, has joined Jersey Reds.
Upon returning from Japan, Edel McMahon will play her rugby with Exeter Chiefs Women having departed Wasps Ladies.
Clubhouse
Our congratulation to Jack Cullen who recently released his debut album Dark Days & Nightmares. In 2017, the former Munster Rugby academy player packed in his rugby career to pursue his musical ambitions.
You can listen to Dark Days & Nightmares on Spotify here.
Having retired earlier this year due to injury, we were delighted to see Jonathon Wren get over the line with his degree at the University of Limerick.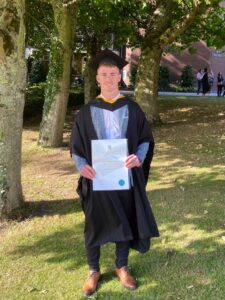 We were delighted to see Tommy O'Donnell rejoin his beloved Munster Rugby as Elite Player Development Officer. O'Donnell, who retired from the game in 2021, is currently in the final stages of his MBA studies at the University of Limerick. As part of his work, O'Donnell reached out to Rugby Players Ireland in a bid to understand the various leadership types that players experience during their careers and how these features change as they transition out of the sport. Check out his interview here.
Others have been putting their own business studies to the test. Conor O'Loughlin's start-up Glofox has recently been acquired by US tech group, ABC Fitness. We wish him well on such an exciting step in his entrepreunurial journey.
We also extend our best wishes to Jamie Heaslip, Sean O'Brien, Rob and Dave Kearney on the opening of The Blackrock, which adds to a joint portfolio that already includes The Bridge 1859 and Lemon & Duke.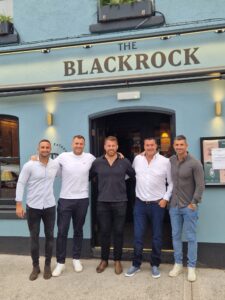 Denis Fogarty travelled with the Irish Women's squad on their recent tour to Japan. Fogarty, who works as Regional Development Manager with FREE NOW, has been working with Greg McWilliam's staff as scrum coach.
💬 Ireland Scrum Coach Denis Fogarty on how the squad are settling into Tokyo ahead of Saturday's second Test…#JapanTour2022 | #NothingLikeIt pic.twitter.com/BV7cc1Njsj

— Irish Rugby (@IrishRugby) August 24, 2022
Tadhg Leader has been in the throes of a finding Ireland's kicking king with a national challenge that concluded in the Aer Lingus College Football Classic between Northwestern University (Wildcats) and the University of Nebraska (Cornhuskers) at the Aviva Stadium. The former Connacht Rugby player retains an ambition of playing in the NFL.
Finally, we are really looking forward to seeing how Billy Holland, Fergus McFadden and Ciara Griffin cope with the various challenges imposed on them by their Special Forces training on Ultimate Hell Week which airs on RTÉ One from September 7.
Back to News
Latest Posts