News
WHISTLE WHILE YOU WORK
25th May 2018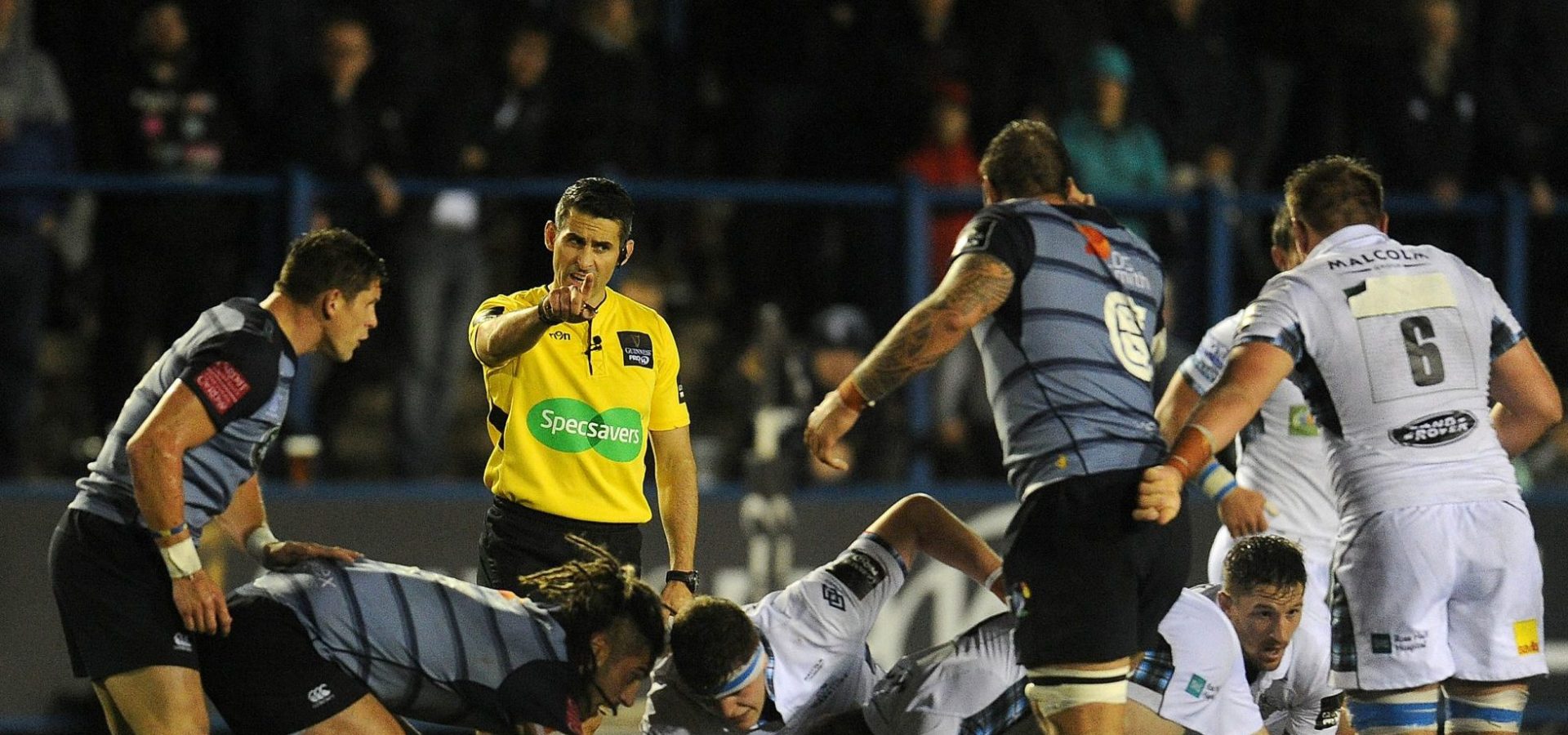 Despite our repute for sportsmanship, as a people we can be slow to banish our feelings of angst towards a referee in the immediate aftermath of a narrow defeat. A missed pass or soft tackle will often be disregarded in favour of making an official the real scapegoat. But referees are made of sterner stuff, with a capacity to block out vilification for the sake of the game.
"As with any career, it's a learning!" Frank Murphy poses. "When you're starting out you have to have a tough skin," the former Munster and Connacht scrum-half admits. "It's the stupid stuff. Some people just say ignorant things, but you harden as you progress. It's not part of the game per se, but it is expected."
"The more you move beyond an amateur environment, the less it happens" Joy Neville adds. "I don't have any issues at all anymore," says the first woman to referee a men's international, "but a few years ago I couldn't say that was the case. I have loads of stories, from players laughing as I'm giving my pre-match talk to another time when I was doing the line and I heard someone say: 'what do you expect when you throw a woman in to do a man's job!?' Well, it took all of my energy not to turn around and shove my flag where the sun don't shine!"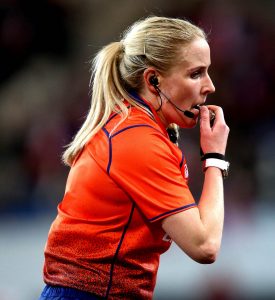 In October of last year, seven referees, including Murphy and Neville, were offered professional contracts by the IRFU – the first of their kind in the country. As part of the agreement, both receive dedicated coaching, analysis and support for their strength & conditioning and nutritional needs. Not a far remove from the demands of a playing career at the top level.
Upon retiring from playing, Murphy and Neville were quickly identified by David McHugh (the former IRFU Referee Performance Manager) as potential refereeing candidates. Owing to their extensive knowledge of the game and perceived sense of empathy with the players, both were given brief introductions before being launched with a whistle in a matter of days.
"I think Frank and I were in the mix because of how we conducted ourselves as players," says Neville, a Grand Slam winner with Ireland in 2013. "We're both extremely committed to the game. Our refereeing is an extension of that." However, it took some time before Neville committed herself to the venture. Even then, she wasn't fully convinced.
"It can be a lonely occupation and that is something I struggled with at first. For 11 years I had been spoilt rotten by coaches and management and you become very dependent. You're handed a boarding pass and told where to go. All of a sudden, I was being sent out to Russia and fending for myself! There's also an element whereby you have been part of a team for so long, you know that if you make a mistake on the field your teammates will pick you up and cover your back to a certain degree. One mistake as a referee though and all eyes will be on you."
Murphy believes that a hardened edge helps to set former professional players apart in the middle. "Players have a real advantage [as referees] because they are used to being critiqued," he believes. "The reviews can be hard to take, but they are honest and open. It's the culture of rugby. You're held accountable. Players will come in and say 'yes, I got that right or that wrong.' However, if you go in as a referee and say you were great, others will be looking at you."
While the euphoria of scoring a try might never be matched, Murphy feels that simply being on the field offsets much of what he anticipated in his life after rugby. As an illustrator and qualified teacher, Murphy had several options at his disposal but his love for the game remained undimmed.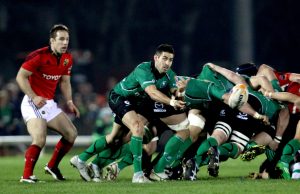 "People will question whether you can get the same buzz out of refereeing. It's hard to explain, but in many ways it reminds me of starting out as a youngster and progressing through the ranks. When you are being evaluated and assessed, a competitiveness comes into it. You have to put the work in and there is great satisfaction when you come off the field knowing you've done your job well. I dipped my toe in other worlds, but refereeing gave me a focus to take my mind off them when it might not have been going so well. It just happened that the distraction became the attraction!"
"It is quite different," Neville muses. "For instance, we travel twice the amount that a player will during a season because we don't have home games! But when you come off the pitch, the rewards can be similar. I've played a lot of rugby from beginning at club level through to playing for my province and country, so I'm aware of what my duty is. It's not about me in the middle, it's about making the right calls and allowing for the best game for the players. I get massive enjoyment out of that."
Despite Murphy and Neville progressing at a rate of knots, their lead has not always been followed, with many former players believing that they are not cut out to be a referee. So, what marks a player out as being a potential whistle-blower?
"Many professional players have the attributes," believes Neville, the World Rugby Referee of the Year in 2017. "I never thought for a second that I'd be one to follow this path, not to mention be any good. I think you need to be approachable, have a good relationship with your fellow players and the officials and also have the capacity to be self-critical. Not many players will have pushed on to the level they're at without those qualities.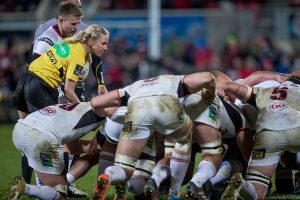 "Unfortunately, there is a bit of a stigma attached. It's not often that a referee is clapped off the field. People fear being the villain and I was once in that camp too. I hated it for the first few months and was close to packing it in but for my wife who convinced me to hang in there. Looking back, I know why I hated it. Having played at such a high level, I knew the standard that was required to be a top referee and I wanted to be that from the get-go. I wasn't prepared to make mistakes and so I went looking for the perfect game. But the penny soon dropped and I realised that in any walk of life, you make mistakes. It's how you improve. I started to learn more and began to really enjoy it!
"There's no doubt that it's strange going into your old dressing rooms," Murphy adds. "You know lots of players involved. But it's important to get straight into it. You're still on top of the game and in good shape. Many aspiring referees will also have a few years on you, unless you have retired from the game early through injury of course, but there is no optimum time to start.
"Once you get onto the pitch, you'll be hooked."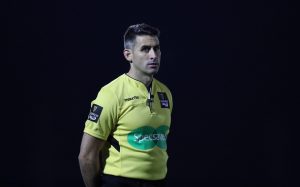 A WEEK IN THE LIFE OF A PROFESSIONAL REFEREE
Monday
Frank Murphy: Joy, Johnny (Lacey), Andy (Brace) and George (Clancy) are all based in Limerick and train together. As I'm in Cork, I' m scheduled to work with my own trainer. I'll do some conditioning and weights, with injury prevention being the predominant focus.
In the afternoon I watch my game from the weekend and prepare it for review. I'll clip it and upload it onto the system. The assessor will upload his own analysis and my performance will be rated. It's quite an intensive process and may take until Tuesday morning to finish up. Sometimes longer!
Joy Neville: After training we'll all sit down and discuss our games from the weekend which can be invaluable. We learn an awful lot from each other.
Tuesday
FM: Once every two weeks we will also meet in Dublin to go through clips that are relevant to new laws and developing trends. We also discuss any matters arising whether that be in the PRO14 or the European competitions.
Wednesday
FM: I'll get back to some training on Wednesday before starting to prepare for the game I might have in the coming days. I'll go through other games involving the teams and I'll identify some patterns to their play that might concern me. If needs be, I'll contact one of the other referees to get a better sense of what to expect. Once that is done I will contact my Assistant Referees and Television Match Official to let them know exactly what we're looking for, some specific team trends and the inputs that I'll be needing.
Thursday
FM: The whole week is quite full on and long, especially if you have a Sunday game. So, if I can, I will take Thursday off.
JN: We do a lot of travelling for games. Thankfully we can dictate our own flight path. Generally, if it's an afternoon game in England or Wales I'll be on the 7.30pm flight back to Shannon! For me, for my wife, my family, it's important that we have our downtime and do all that we can to protect it. When you're at home, you're at home.
Friday – Sunday
FM: We're away most weekends and will have been able to plan our own personal lives around that about a month in advance. However, as the season progresses, and the fixtures become more significant, refereeing appointments will be based on form.
JN: While we're very professional, there is a competitiveness when it comes to being selected for games. When you're an Assistant Referee and doing the line, you have the same responsibility to the players. There is a good group of us, a good team ethic. We back each other up.
Back to News
Latest Posts