News
TYF App scoops Spiders Award!
22nd November 2019
Last night, the Tackle Your Feelings App was named the 'Best App' of 2019 at the Spiders Awards – Ireland's most prestigious digital awards ceremony. The app, which was developed by iZest Marketing, aims to promote a proactive attitude towards mental health and to provide people with the tools to 'Take Control' of their mental wellbeing using sport psychology and positive psychology principles.
Following recent research carried out by iReach on behalf of Zurich and Rugby Players Ireland, it was discovered that over 28% of the people across the island of Ireland would consider their mental wellbeing to be poor or very poor. Whilst 97% of people reported that their mental wellbeing is important to them, over 50% of respondents admit that they only focus on their mental wellbeing when they are facing an an issue or challenge.
Relaunched in September, the refurbished Tackle Your Feelings (TYF) App and website allows users to proactively work on an area of their wellbeing of their choosing from a bank of resources. The integrated TYF App and website (which was nominated for 'Best Website') features sections on Relationships, Confidence, Happiness/Sadness, Sleep, Self-Care, Resilience, Anger, Relaxation, Optimism & Self-Awareness. It also houses a mindfulness section where users can select from several mindfulness exercises.
Users are guided through the App by videos from some of the biggest names in Irish rugby, who share tips about their own wellbeing.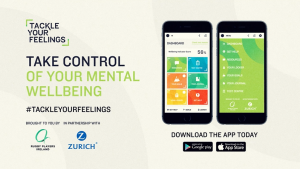 Back to News
Latest Posts