News
The IMI Experience
07th August 2019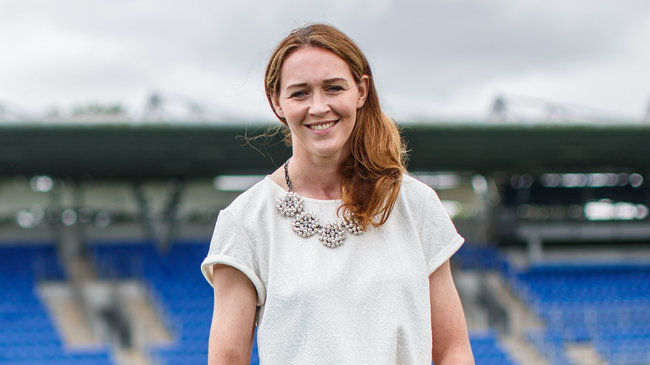 Last year, former Irish international Marie Louise 'Maz' Reilly availed of the opportunity to enrol at the Irish Management Institute (IMI) through Rugby Players Ireland. We had a quick chat about her experience!
What course did you undertake at the Irish Management Institute?
I recently completed a Diploma in Strategy and Innovation.
How did you first hear about the IMI?
I first heard about the IMI through Rugby Players Ireland. The scholarship opportunity was something my Player Development Manager (PDM) had mentioned on several occasions and I had heard that other rugby players like Gordon D'Arcy, Ailis Egan and Michael Swift had also studied there.
What prompted you to apply?
Initially, I was unsure whether to apply or not. I work with Dublin City Council and I had just taken on the role of Assistant Coach at Old Belvedere. I felt it was something that I wouldn't be able to manage logistically.
However, as the opportunity only comes around once every year, I figured I'd have nothing to lose by registering my interest. I could always sort out the finer details if it came to pass. I also felt that I needed to push myself outside of my comfort zone. I researched the courses and was intrigued by the Diploma in Strategy and Innovation, so decided to apply.
Was it an easy application process?
The application was very straightforward. I was provided with a form by Rugby Players Ireland which I submitted to the IMI by email. A few weeks later I received a phone call to discuss my motivations for applying. It was a very friendly 10-minute conversation that seemed to go well as a few weeks later I was informed that I was being offered the scholarship!
Was it difficult to balance your work and study commitments?
With the help of my PDM, I arranged with work that I could attend the course, which amounted to two days each month for nine months. Assignments were staggered throughout that time with very achievable deadlines.
There was also support every step of the way. I knew I had the support of my lecturers, the library staff and my course coordinator if I needed them during the course.
Was there much interaction with your classmates?
There were 30 other people enrolled in the course. They came from a variety of backgrounds including the pharmaceutical industry, real estate, banking and retail. The lectures were very interactive, so it was a great way of tapping into the experience within the room and of bringing the theory to life.
It was also a great way of building a network outside of my regular circle. While we're all at various stages in our careers, we all shared common goals and objectives.
How did the course benefit you?
The course material was extremely relevant. We are developing a new strategy at work and so much of what I had been working on with the IMI was immediately transferable.
It is also incredibly relevant to smaller scale tasks and projects, for example, Dublin Sportsfest which is a week of sport in Dublin city from September 23rd – 29th which encourages people of all ages, abilities and backgrounds to get out, get active and try something new with free events throughout the week.
The course gave me a lot of confidence, as it gave me the theory to support the experience I had already accrued, whilst also providing the frameworks to develop new ideas I planned to implement.
We have also been mapping out the new rugby season at Old Belvedere. It's hugely important to plan and prepare for the season ahead so that we can create an environment and culture that will encourage player, team, volunteer and club developments whilst also being cognisant of the greater environment in which the sport of rugby resides.
What next?
The biggest step was the first one. Now, if I were to undertake two more diploma courses with the IMI, I would achieve a master's qualification. Before progressing my IMI application, working towards a master's would have seemed very daunting. It's not and it's now firmly in my sights.
Would you recommend the IMI/Rugby Players Ireland Scholarship to other members?
Studying with the IMI was a thoroughly enjoyable experience. It was something that challenged me to grow, learn, develop and have fun while achieving a fantastic diploma. I'd highly recommend it!
Back to News
Latest Posts