News
The Hungry Hooker
25th October 2022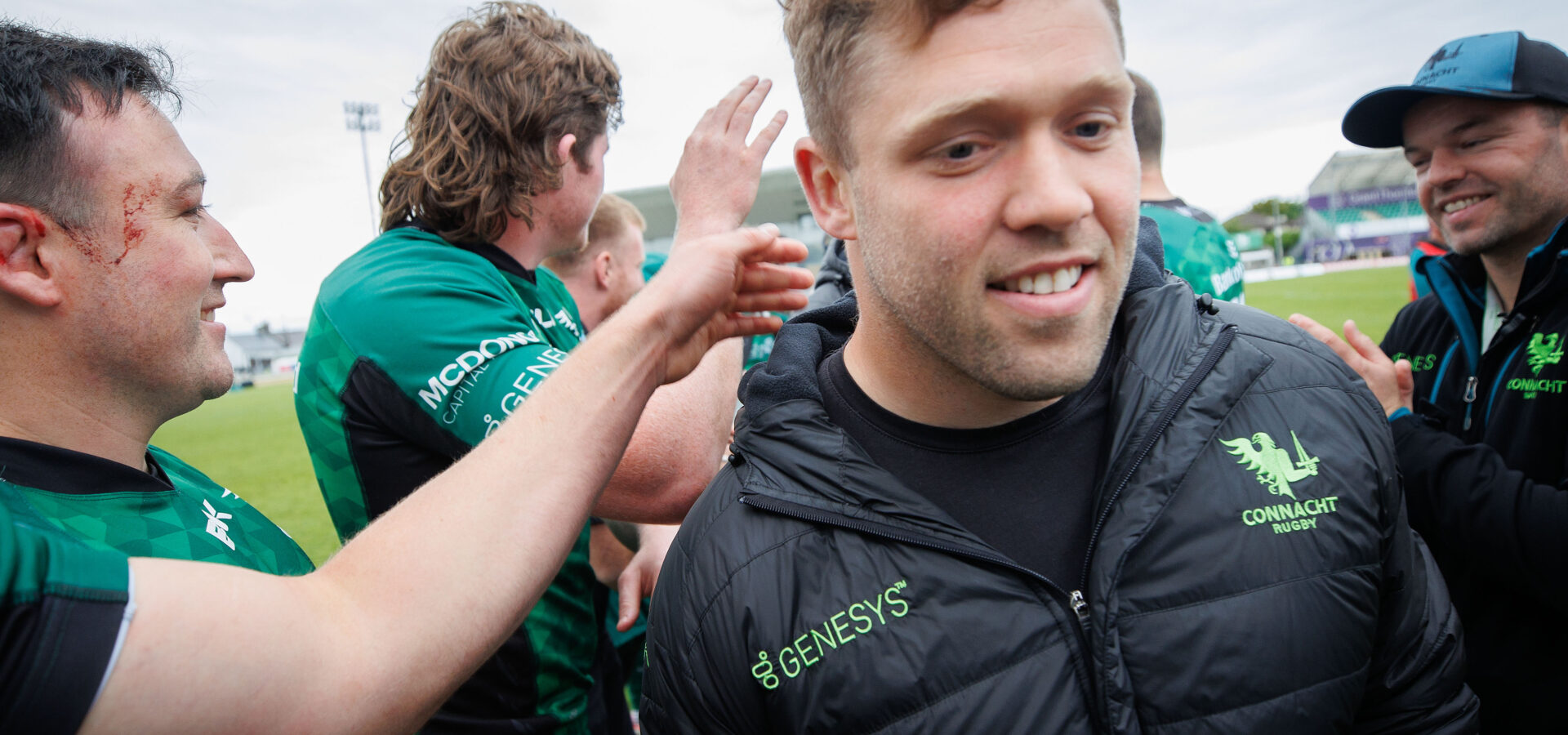 Jonny Murphy was removed from the group.
It had been a long day for Jonny Murphy. Kneading, rolling, whipping and blending, he was determined not to leave any piece of dough unturned as he sought to keep up with insatiable demand.
Returning home from a day's work in his industrial unit in Galway, the recently retired hooker finally had the couch in his sights when his phone started to light up. He braced himself for the inevitable nightly barrage of WhatsApp memes, gifs and witty retorts.
Instead, one swipe after the other, the notifications kept catching him off-guard. Numerous groups were suddenly out of bounds and the last embers of his life as a professional rugby player were extinguished.
"I'd always said that I'd rather jump than be pushed," Murphy says. "Eoghan Masterson was the first to leave the team group over the summer and it put the shits up me because I knew it meant that I was going to have to get it out of the way too. It was like ripping off a plaster, but I was ok with that one. I had some control.
"Getting kicked out of the secondary groups though… S&C; nutrition; lineouts – well, that was what ended up packing the biggest punch. It showed to me that no matter how prepared you think you are, the transition is never easy. Players invest so much time into their rugby, mentally and physically, that calling it a day s always going to be a big shock to the system no matter who you are.
"It's just ironic that getting kicked out of the groups I never liked getting notifications from in the first place proved to be the real kick in the balls!"
In counting Ulster Rugby, Rotherham Titans and Connacht Rugby amongst his employers, the former Irish underage international built a commendable rugby CV throughout his career. Yet having been highly regarded in his youth, Murphy might feel that his potential was never truly fulfilled. The Banbridge man spent much of his career flying under the radar, capably deputising for any number of Test hookers, always awaiting the opportunity to make the position his own.
"I would have loved to continue playing," he admits. "We all dread that moment when it eventually ends. There were actually a few options on the table too having consulted with a few professionals we felt it was the right time to stop. It has been tough but the new venture has been both a helpful distraction and exciting.
"I have never been the greatest at making big calls like that because I have this habit of doubting myself but in this instance I had to listen to the advice and as a result there was no double guessing the decision. That certainty helped me to throw myself into the baking."
As a youngster growing up in a busy household in Donaghcloney, Murphy spent much of his childhood with his grandparents. There he would potter with his grandfather and help his grandmother work her magic on any ingredients at her disposal. Murphy has now found his way back to the wholesome scents at the hub of the house.
Thus began the story of the Hungry Hooker.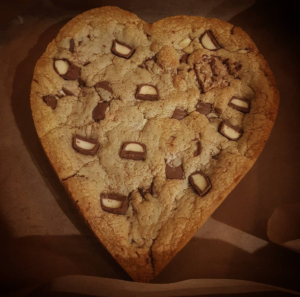 "Getting in my Nanny's way all the time paid off in the end!" he jokes. "To keep me out of trouble she would give me little jobs in the kitchen where she could keep an eye on me and so I got a feel for baking. I did a bit here and there over the years but it wasn't until we had a coffee morning at Connacht in aid of Galway Hospice before the lockdown that people began to sit up and take notice.
"I threw a few treats on the table and thought little of it until a few of the lads started to pipe up, asking where the cakes had come from. I put up my hand. "F*** off Jonny! There's no way you made that…!" It turns out they believed me quick enough though when they realised I could rescue them when they forgot their missus' birthday!
"From there it turned into a bit of a tradition. If I knew we were due to have a tough session I'd bake protein balls or fifteens to have afterwards. Everyone went mad for them. In fairness, the support from the Connacht lads was a massive factor in giving me the confidence to back myself with it in the first place."
Having been further encouraged by his girlfriend to exhibit his wares on Instagram during the lockdown, Murphy began to see the potential market that lay beyond the Sportsground. As the country delved deeper into darkness, people started reaching out to the Hungry Hooker for a little bit of joy in their lives. Coffee shops soon followed.
However, as restrictions eased the demands on Murphy's time increased. In addition to vying with Dave Heffernan, Shane Delahunt and Dylan Tierney-Martin by day, the northerner was also in the process of completing a Law Degree at the Open University by night. He graduated earlier this year, something which would have seemed a far cry not so long ago.
"When I was younger I dropped out of my A Levels as my new school went back on their promise to release me for my club. I wanted to play for the Ulster Youths and that ambition greatly outweighed doing any exams. It was ludicrous when you think of it, a very ballsy move. I'm not sure I'd let my kids do the same but on the other hand I like to think it shows how committed I was to my goals.
"To this day we still have a running joke about the Youths/Schools divide. If you rock up in a fancy new item of clothing you are branded as being 'Schoolsy'. Someone like Jack Carty would be pretty familiar with that nickname. Then you've got the likes of Tommy Farrell who was a schools player, but he just mullocks on and loves a hearty big meal from The Huntsman in Galway – a four and four with pudding and brown bread.
"Thankfully, everything worked out in the end. In fairness, people like my dad backed my decision. Just like me he has a stubborn streak and a real willingness to work, traits that have stood me well in my career. I also leaned on the knowledge that he used to cause a bit of mischief as a child, so he had no option but to be in my corner!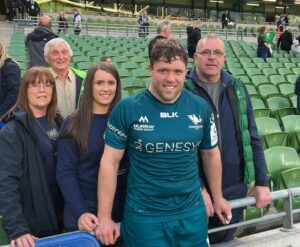 "I owe a lot to my parents and little sister Emma for everything they did for my throughout my rugby career and beyond. No career in the game would be possible if it wasn't for our families and the amazing support networks we each have behind us. Sometimes it can be under appreciated, even the great work Rugby Players Ireland do."
Indeed Murphy's development is due in no small part to the help and advice he has sought along the way. During his time in Belfast, Pamela Gilpin was on hand to help him through his Sports Science degree at Jordanstown before Dr Deirdre Lyons picked up from where her colleague left off when he landed into Galway. He has also relied on the support of the Connacht Rugby network, with Kevin Nugent of Tribe Hospitality proving to be a valuable ally.
"I'm lucky that I've been able to turn to people who have been able to give me a leg up," Murphy acknowledges. "I kinda throw myself into things and with the baking I was soon racking up quite a few 18-hour days because I had no real plan in the beginning. I was learning everything on the job. I always knew the first year was going to be a challenge but at the back of my mind I knew it was also an opportunity to grow and so I was open to listening to others.
"I've also been able to rely on the support of guys like Jack Carty, Tommy Farrell and Gav Thornbury. I've chatted pretty openly with them about retirement and when you break it all down it's not the rugby you miss, it's those connections and friendships.
"Of course, you still have those relationships but in my case I've gone from sharing a changing room with 40 guys to spending the majority of the week on my own. It's a tough adjustment to make and so from that perspective being busy has been helpful. I'm not twiddling my thumbs thinking I should be back in there. As long as I'm not busy being a fool, I'm happy.
"I actually called out to Matt Healy's coffee shop in Oughterard recently. A kid at a table beside me bought one of my treats and was passing comment on it. I sat there mortified incase Heals would point out who I was and I braced myself for the judgment. Thankfully the little fella said, 'this baker knows what he's doing!'
"I've never been one to toot my own horn. I prefer to put my head down, get on with things and fly under the radar.
"But in fairness, that little interaction made it all worth it."
Back to News
Latest Posts