News
The Great Hope
12th October 2020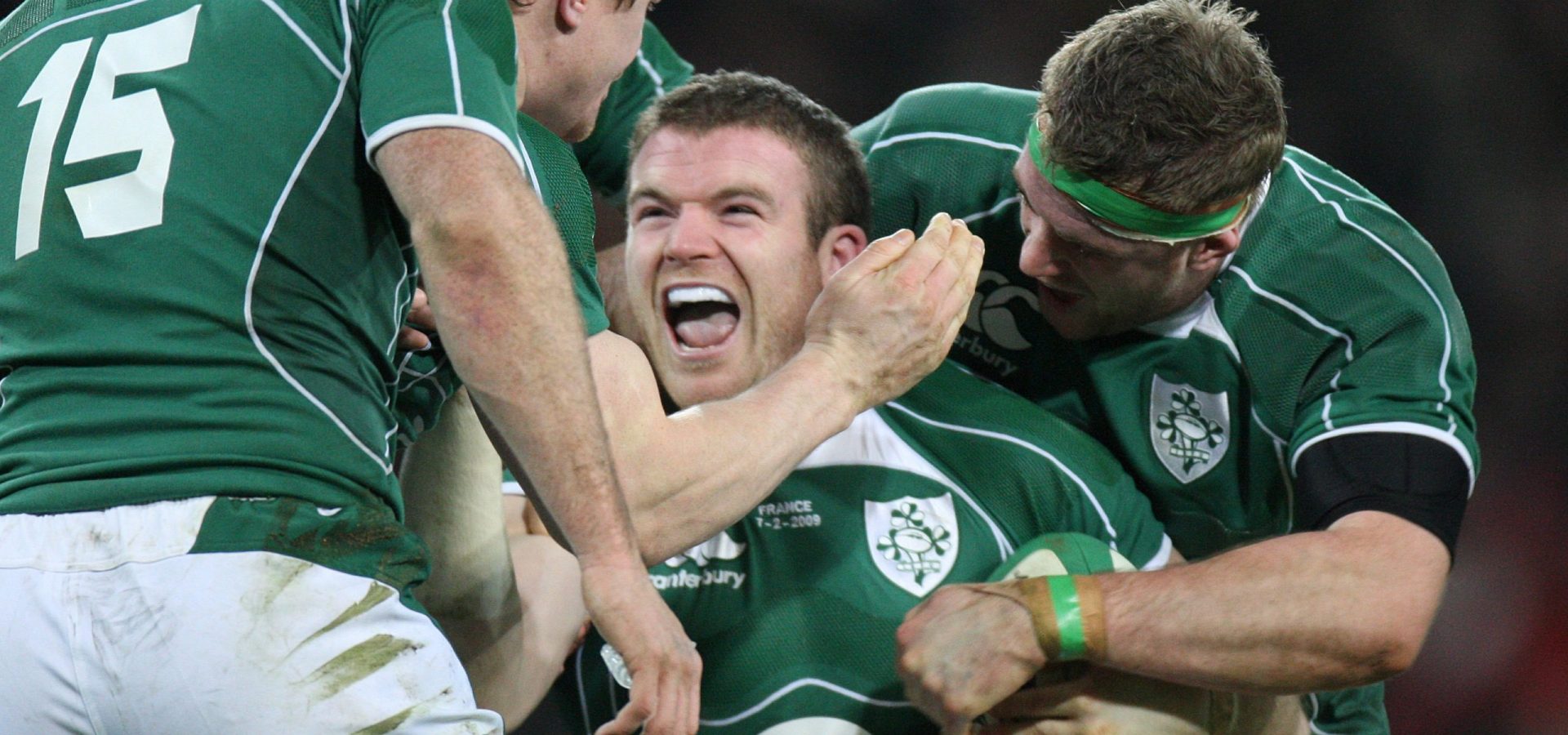 At about four o'clock in Lansdowne Road on March 17th 1998, little troops of students swirled around like the faithful who had received news of the second coming.
In fact it would be unfair to apportion all the excitement to the young boys; Ireland coach Warren Gatland similarly embraced the hysteria.
Clongowes Wood College had just defeated Terenure in the Senior Cup final and at full back was Gordon D'Arcy – the most talked about schoolboy in Irish rugby. Indeed such was D'Arcy's dominance of the competition that in the aftermath of the semi-final against a much-fancied St. Mary's College, The Irish Times reported that his performance made the fixture 'seem like a personal benefit match.'
Beyond the expert analysis and opinion, it was clear for all to see that D'Arcy was primed for a future in the game. What a future that was.
When D'Arcy landed at boarding school in 1992, the Irish sporting landscape was somewhat different. While Jack Charlton's footballers had failed to qualify for the European Championships, they remained proud ambassadors and comprised some of the best talent from the inaugural Premier League season. By contrast, Irish rugby was doing little for the soul – Ireland conceded 116 points as they stormed to the Wooden Spoon in the Five Nations that year.
As he and his new pals dashed about the rugby pitch like moths trapped under a lampshade, nobody could have foreseen that the little portly hooker would represent the great hope of Irish rugby. Victor Costello and Denis Hickie were shouldering much of that burden, but following several explosive performances as a fearless 15-year-old, all eyes turned to the young Wexford man.
As a youngster, D'Arcy played the game as though he had read every schoolboy story ever written and believed every word. A good many people duly proclaimed him to be the greatest exponent of the schools' game. Understandably, with Irish rugby in the midst of a torrid decade, Warren Gatland was like an eager valentine. But for a time his admiration was unrequited and Mr. D'Arcy assumed the role of the aloof romantic hero.
In a few short months following his Leaving Cert., D'Arcy was lining out for Leinster at Llanelli alongside wily amateurs that even the Internet would struggle to remember. It was not quite the Promised Land, but when he departed the scene some 261 games later having garnered more caps and medals than any other before him, the RDS represented the utopian home of European rugby.
Thanks to success on the pitch and astute management off it, Leinster Rugby has flourished in the professional era – the fanbase has grown exponentially, so too the trophy cabinet and it is now the strongest rugby franchise in the Northern Hemisphere. But as the club embarked on this exciting adventure with a young D'Arcy in tow, it was evident that raw talent alone would not guarantee survival.
Much of D'Arcy's early career was pockmarked by injury, disappointment and criticism. Although he made his international debut against Romania in the 1999 Rugby World Cup, Gatland turned to an array of others to address yet another faltering campaign a short time later. A few brief cameos in green aside, D'Arcy was left to fill the gaps created by the Test season.
As he watched his peers pack their bags for the 2003 World Cup in Australia, his morale was at an all-time low. An injection of that potent drug called confidence was badly needed. Yet while he might have questioned his own international credentials, Gary Ella remained a fan. D'Arcy soon began to revel in the faith and freedom afforded to him by the Leinster coach and when he was entrusted with the midfield against Sale Sharks in the Heineken Cup the following January, he would never look back.
It had been a tumultuous six years but once again D'Arcy's name was on the lips of every man, woman and child as Ireland claimed their first Triple Crown in 19 years in 2004. His international redemption was complete and his rampaging jaunts finally had the audience they deserved. Having advocated his cause over many Diving D'Arcy cocktails at Kiely's of Donnybrook, his school friends were finally vindicated as he scythed through defences at Paris, Twickenham and Lansdowne just as he had done against Blackrock College down the road. No longer did memories of his schoolboy heroics have to seem so distant.
Given that his debut came in the last century, it is no surprise that D'Arcy became Ireland's longest serving international on his final outing in August 2015. Some of his teammates that day were probably just out of swaddling clothes in 1999. In the intervening 16 seasons, D'Arcy bellowed Ireland's Call on 82 occasions and Ireland became a team that could compete with the best. He also provided the Irish people with some indelible memories: the brace against Scotland, the record-breaking partnership with Brian O'Driscoll and… well, the beard might be best forgotten…
Although the Grand Slam decider against Wales in 2009 will forever be etched in our minds, one of the special moments of that campaign came some weeks earlier. Complications with a broken arm precluded D'Arcy from playing for almost a year prior to the championship. So when he entered the fray against the French, Croke Park stood to attention. In unison everyone applauded a man that many thought would never wear the green of Ireland again. Inevitably, he capped his return in true D'Arcy style, spinning and twisting away from three would-be tacklers to steer Ireland to victory at what was a crucial juncture of the game.
As D'Arcy emerged from the try-line, he was mobbed by his teammates. When the cameras caught a glimpse of him, the look of pure elation on his face told its own story. It also convinced us all that our fantasies can become a solid reality. Dreams of an Irish Grand Slam duly swept the country at a time of great need. D'Arcy disproved many doubters that day (something he would do throughout his career) and earned his place back in a team that was on the brink of glory. Had he not lined out at the Millennium Stadium he would have seemed like the good peasant who had planted and cared for the vine but had not been around long enough to enjoy the vintage. But he did, and the windfall of revenue from the consequent celebrations undoubtedly helped to bridge the budget deficit.
D'Arcy's influence has not just been felt on the field of play. In his early school years, bedrooms throughout the land were adorned by posters of messrs. McGrath and Keane. Yet as he took to the field for the Lions, triumphed in Europe with Leinster and inspired his country to a Grand Slam, hundreds of Irish children went to their beds in their shoulder pads to dream of glory under portraits of Ireland's rugby stars.
Both on and off the field, D'Arcy represented Leinster Rugby, his country and his family with distinction. He is one of Ireland's greatest. The slalom breaks, the driving feet, the breakdown expertise, the low centre of gravity, the subtleties of his work – they all gave us myriad moments of delight and caused many an opponent to wonder if the laws of physics had been changed overnight.
Upon announcing his retirement, D'Arcy proclaimed that "it has been an honour and I have loved every minute".
In fact, that honour was all ours.
Back to News
Latest Posts