News
The Business of Recovery
31st August 2020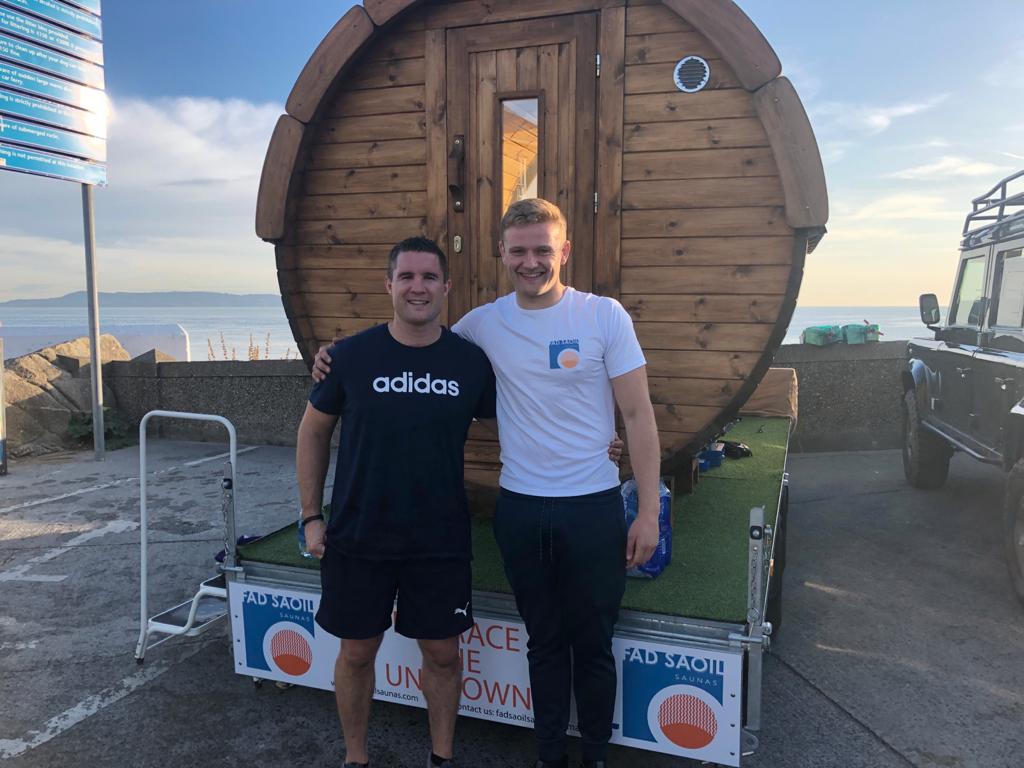 There was something typical about the sun's appearance on the day children across the country returned to school. Typical too that as soon as the rugby action began to heat up last week, the weather took an inevitably dirty turn.
For a few brief days each year we seek refuge from the sun in the water. For the most part though, the sea provides a haven from the real world and its inclement conditions. But having waited for so long not even another downpour could dampen the mood as rugby finally rebooted. After a day perched by the famous Forty Foot bathing pool in Dun Laoghaire, Steve Crosbie was as excited as anybody to look in on an eerily quiet Aviva Stadium.
You see, it might have been easy for Crosbie to be haunted by the sight. In 2013, he entered the fray as a massive prospect – young out-halves tend to carry an additional burden of expectation. Fast forward to 2020 and of the 20 players in his final year of the Leinster Rugby academy, only Crosbie and Peadar Timmins no longer call themselves professional rugby players. While Old Belvedere RFC are now the beneficiaries of his unquestionable talent, barring injury anything up to 14 of his former peers might have expected action up the road in Ballsbridge in recent weeks.
"Timing was just never on my side," the tri-provincial out-half believes. Though he had three years to earn a senior contract in Dublin, the paperwork never materialised. Left to consider his options, Crosbie consulted Kurt McQuilkin who indicated that Gavin Thornbury was bound for the semi-professional scene in New Zealand. Eager to develop, Crosbie packed his bags and linked up with the lock in Wanganui.
For a young and ambitious Irish player it was a brave decision. There was risk attached yet it also represented an exciting adventure. Not that any of his deliberations really mattered in the end. His feet had barely touched the soil when Munster Rugby hauled him back across the globe.
"I remember getting that flight back and listing out my goals. I have to admit, I always put rugby first so they were all rugby based. I didn't care, this was my big chance. You have to chase it. I badly wanted a long-term deal, as any young player would. Everything else was secondary.
"When I got to Munster, God bless them, Axel Foley passed away in my second week. I was there at that famous Glasgow Warriors game in Thomond Park after his death. It was amazing. That day they all played for one man and one man only. I was invited out onto the pitch afterwards, but I felt a bit out of place. I had just landed in the door.
"In fairness, Munster did their best to make me feel part of it but ultimately Rassie Erasmus and the coaches had a lot on their plate, different priorities. Developing Steve Crosbie wasn't one of them. Through nobody's fault, the timing was wrong for everyone."
Coincidentally, as Crosbie's three-month deal was expiring, Connacht Rugby's out-half contingent had all succumbed to injury in Galway. The former St. Gerard's schoolboy was duly summoned west by Pat Lam to fill a substantial hole. Unbeknownst to many however, the PRO12 winning coach was reconsidering his own future at the time. Soon after Crosbie's arrival, Lam announced that he was bound for Bristol Bears.
"The nature of short-term contracts is that you have a limited time to prove your worth. Rugby is a business and people come and go but I always felt under pressure to prove myself. A lot of the time I just didn't feel comfortable. I didn't feel I was myself on a rugby pitch and as a result I wasn't reaching the goals I had set myself on that plane. Pat's departure only added to that strain in Connacht.
"I think that when you're comfortable as a player, when you're comfortable with the relationships and the environment, it's very easy to concentrate on you and on being the best version of yourself. But when you're not, external factors can eat you up a bit. You start worrying about every single step."
While Crosbie was retained for the 2017/18 season, unfortunately it would be his last foothold within a professional rugby set-up. As he moved around the country in pursuit of employment, the precarious nature of rugby had become increasingly evident to him. He returned to Dublin and to his studies, completing a degree in Sport & Exercise Management in UCD while he also engaged with Rugby Players Ireland for assistance. There was an entrepreneurial itch to scratch.
It didn't take long for Crosbie to apply his learnings. Last year, Fad Saoil Saunas came into being. The first professional mobile sauna service in the country, it has been a labour of love for Crosbie ever since he used to take a recovery dip with Jarrad Butler and Connacht Rugby teammates in Salthill. So taken was he by Crosbie's plans that the Australian flanker even dived into the business with him.
"You're told that you can never do too much recovery. As I wasn't always the guy being picked, I was pretty brilliant at it! I always swam in the sea, but as you know the Galway weather wouldn't be great. Jarrad and I would race to the car and up to the local fitness club to get into the sauna. We just thought about how amazing it would be to eliminate that transition from the car, the shivering and shaking, to the instant heat.
"I put a bit of planning around it and when Jarrad decided to get involved, it was great to have that vote of confidence from a mate. As you can imagine, there's plenty of pipe dreams that are thrown about in the dressing room but I… I have a lot of negative markers in my life. I need to see other people's perspectives and thoughts. I enjoy getting brought down a peg or two, it makes me question things. Am I being too positive? Is this really possible? Jarrad's support gave me the strength to push on.
"We trialled it at a few events. We were at Ironman 2019, opening it up to the public once the athletes had gone through. It was well received so we looked for other opportunities to showcase the service. We even managed to get into the VIP section at Electric Picnic!
"I remember when we were setting up at EP a lovely lady started chatting to me about the the idea, our plans, everything. She was trying to get a full understanding of the business. Naturally I went into full pitch mode. Then someone called for her: "Billie, come on, we've got to go!" My girlfriend was watching the whole thing. 'Did you know who that was?' I hadn't a clue. Anyways, Billie Eilish was too young to use it as it happens. She was only 17!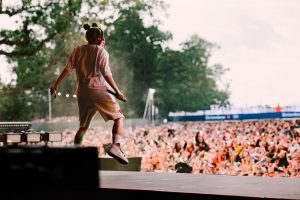 "That was one of the best weekends we've ever had, great exposure and a great confidence boost! Bono came over, thought it was cool. I suppose when people of that calibre have that sort of reaction you know you're on the right track. You assume they've seen and done it all!"
Though Bono has yet to call by, Crosbie has built up a loyal following on the Dun Laoghaire shore. From his old Leinster Rugby teammates to the early risers whom he meets every day, the Fad Saoil community is constantly growing. Covid-19 regulations have impeded progress but Fad Saoil is navigating its way through these challenges.
"I get up at 4.15am, hitch up the unit and have it all set up by 5am. Rain, hail or shine there will be people there going for a swim. It's an amazing sight to behold. It's like their mass. Many of them have been doing it for years but would give each other little more than a knowing nod. The sauna gave them an opportunity to properly interact. We've built up a nice community and the rugby network is very much part of it.
"We've had to adapt to the regulations, so the social element been impacted a little. We waited until our protocols were of full compliance and we're carefully guided through this process with Peninsula Ireland. We've different procedures and policies in place and we can manage social distancing. As an extra measure we ask customers to book in as groups where before you could have shared the unit with several strangers.
"Obviously Covid-19 has had a significant say and there were a few storms throw in too. In all we have had to cancel out about 6 months but that time became an opportunity to finish my research project on the health benefits of saunas and to look at other ways to scale and grow the brand. My ultimate goal is to make the sauna a beach standard facility."
Although Crosbie was a representative for Rugby Players Ireland during his time in the Leinster academy, he recognises that he didn't fully appreciate the merits of the organisation at the time. His goal setting as he returned from New Zealand reflected this. Yet his experiences in the game soon revealed otherwise and he became a regular at workshops and networking events. Though he might not have been able to dictate his future in the game, he was going to dictate his future outside of it.
"It's lovely to have control back," Crosbie admits. "That's not to say I'm not out there trying to prove myself everyday. If I don't do this, somebody else will. I'm trying to get everything in place so I can be where I need to be to grow the business. It was never going to be a one-trick pony. I'm a positive guy and I've surrounded myself with good people like my Dad. As he says, I'm still young to give it a good crack and do it my way.
"I was lucky enough to chase a dream but just because that's done, it doesn't mean I have to knock other dreams and plans on the head. I've always been a fan of picking up a stone, looking under it and making my own assumptions. You don't really know anything until you can experience it. So far this one has been pretty good!"
Check out Fad Saoil Saunas here!
Back to News
Latest Posts