News
The Accidental Hero
12th May 2021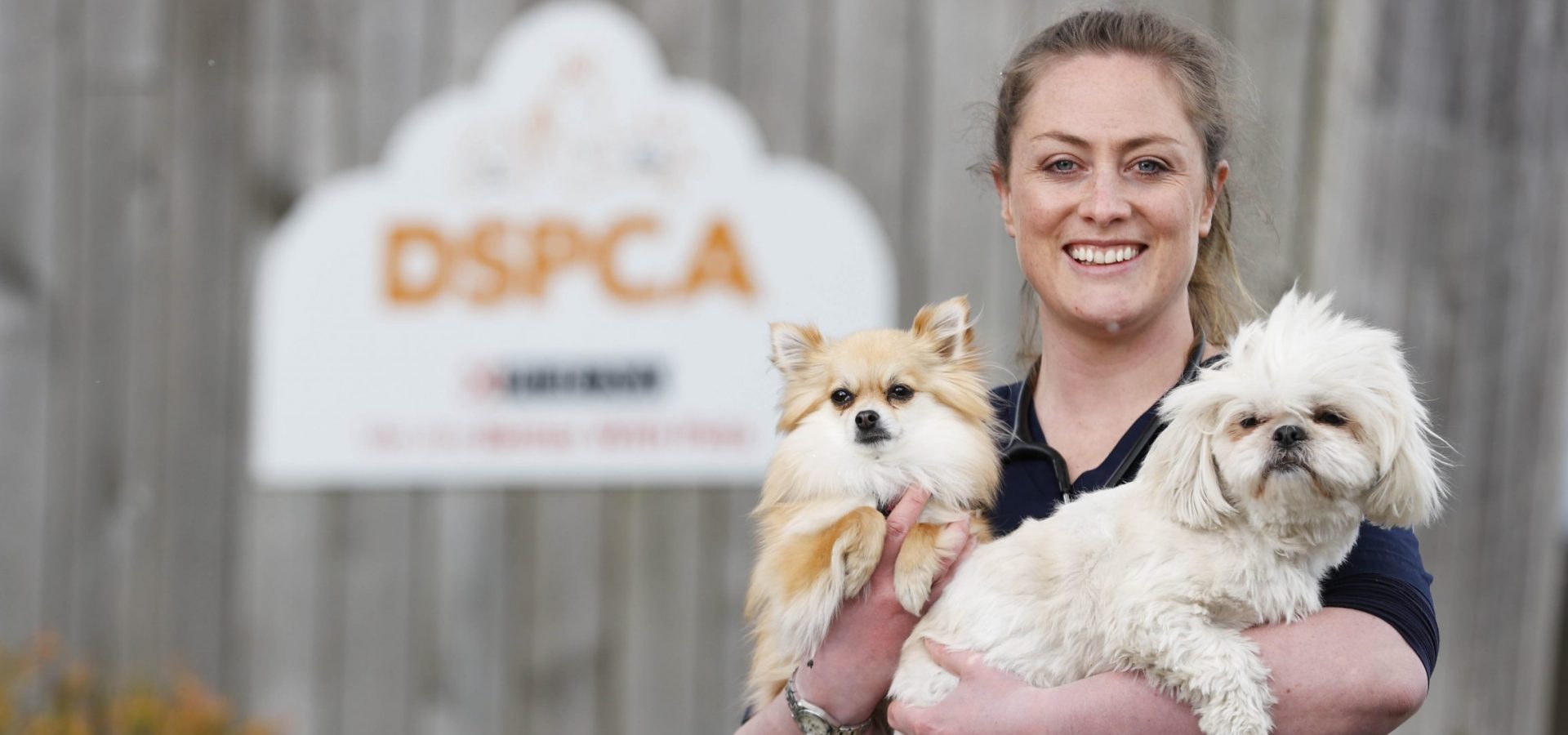 Under different circumstances, jitters on the eve of a Six Nations encounter would have been quite the norm for Elise O'Byrne-White. Following her international debut in 2016, the Dubliner seemed primed for a lengthy stint in a new-look Irish backline having served a lengthy apprenticeship.
Alas, it wasn't to be and so as Ireland prepared to take on Italy in the final round of the revamped championship this year, O'Byrne-White's nervous attentions were instead focused on another RTÉ slot that weekend.
A veterinary surgeon, O'Byrne-White is the unwitting star of The Shelter: Animal SOS, a six-part series from RTÉ profiling the work of the Dublin Society for the Prevention of Cruelty to Animals (DSCPA). Recorded over the past year, the documentary shines a light on both the caring and pressurised nature of work at the largest animal welfare charity in Ireland.
"I struggled with the filming a bit at the beginning," O'Byrne-White admits. "I have to be very focused in what I do, so I try to block everything out. It was only afterwards that I started worrying about the camera and whether people might interpret something I'd said or done in the wrong way. I was only relatively new in the door of my first job!
"Thankfully, we had a great relationship with the crew and I realised they weren't there to scrutinise the medical detail and that they were there to tell a story – which they do really well. From a veterinary perspective, the stories are pretty straightforward because every single day is like that. I probably never realised how much actually goes on until I was able to watch it all back."
O'Byrne-White has always been used to an action-packed schedule. Never one to let something pass her by, her adult life has been a series of sliding doors full of opportunity and adventure that could have led her down any number of roads. Indeed, when she left school neither rugby nor veterinary even registered on her radar.
Despite proudly captaining the boys' rugby team at De La Salle Palmerston for several seasons, by the age of 12 O'Byrne-White had little option but hang up her rugby boots. With no pathway for young girls to play rugby at the time, she only returned to the sport on a whim at Trinity College where she was studying for a degree in science, specialising in zoology.
The Trinity Women's rugby side were halfway through their season when she first landed out to College Park in January 2011. Memories of those days in DLSP came flooding back and her interest piqued again. The rugby community quickly reeled her in. Within months Dan van Zyl had her training with Leinster Rugby, while she soon joined the Irish Sevens programme alongside the likes of Sene Naoupou, Anna Caplice and Katie Fitzhenry.
"I was a bolter… a bolter that had no idea what was going on!" O'Byrne-White, who now plays with Old Belvedere in the AIL, confesses. "I didn't even know what a switch was! I had plenty of natural ability and I was a quick learner so once someone was prepared to take a chance on me, I pushed on. Unfortunately, that was the last real run of luck I had with rugby."
Frustratingly, an ACL tear on the eve of a Sevens World Cup qualifying tournament in Moscow was the first in a litany of injuries that have pockmarked O'Byrne-White's career. The Sevens programme moved on without her and so upon getting back to action 12 months later, she turned her attentions to the XVs game. However, despite a quick ascension into the Irish squad in 2013, further injury and selection issues meant that she would have to wait three years for her first cap.
"I could have packed it in but I was being exposed to a team that were setting the highest of standards. I bought into that culture and that was reflected in other aspects of my life too. I knew something special was building and I feel very privileged to have trained with the squad that went on to beat New Zealand in the World Cup. They're legends of the game and rightly so.
"Not many people are given a platform like that. When you train with the best, you can't help but improve and strive for a spot in amongst them. Even if I knew in my heart of hearts that I wasn't in the mix, It's very hard to walk away from something you've invested so much in. You're not satisfied until you get there.
"I definitely didn't have the rugby career I would have liked to have had," O'Byrne-White adds, "but it wasn't for want of trying. I was always a very committed player… I just didn't get the breaks. There was a lot of training and much less rugby but I didn't give in. Eventually you have to accept that sometimes things don't work out as you might imagine but on the other hand, that same discipline and drive spurred me on to do other things like graduate veterinary programme at UCD, so I think it all balances out."
Despite her newfound notoriety as a veterinary surgeon, O'Byrne-White signals no intention of hanging up her boots for a second time just yet. She remains heavily involved with Old Belvedere and as one of Leinster's most capped players during her 11 years at that level, she will hope to be part of the next interprovincial campaign, whenever that may be. Her rugby network continues to be an important community for her, while the game itself provides some helpful competencies.
"Working with animals can be a very uncompromising job. I know there are some stock answers about the transferable skills that rugby gives but on a practical level it lends itself to the physical nature of my work. I'm often moving 50kg dogs to and from the surgery table while in one of the episodes I'm lifting up a pony that has collapsed. Quick reactions help too when a little animal tries to give you a nip!
"On a general level, I've learned what a good team culture is and I know we have that at the DSCPA. You can take it for granted on a rugby team but it takes a lot of effort to implement it into a working environment. We approach each case as a team and we share in the wins or in the disappointments.
"Growing attached to some of the animals doesn't undermine our professionalism. We had a stray little rabbit come into us last week who is severely underweight, dehydrated and struggling to walk. She's in an awful state and I just love her and I'm willing her on. She will need a lot of extra care and minding and it's nice to be able to give it.
"That's what makes this job so great, being able to give a bit of yourself. Making a connection. You could say that humans need that more than ever now too. When everybody looks out for each other, everyone wins."
O'Byrne-White humbly appreciates that much of what she has achieved to date has been by accident rather than design. From a science degree and playing for her country, to veterinary and national TV, it all blends to form immeasurable life experience.
"If I had planned this pathway, I'm not sure I'd have followed through with it," she acknowledges. "I never got too far ahead of myself. At first it was about getting into college and then I tried my hand at everything. I went on the surf trips, I did a bit of rowing, some drama. I've always been about experiencing things and meeting new people.
"I try not to get too bogged down in life and where it takes you. You'll eventually get to where you want to go."
Watch The Shelter: Animal SOS on Friday (8.30pm, RTÉ One) as Elise makes use of her sporting skills to round up a goat for treatment
Back to News
Latest Posts