News
Take Your Chance
25th January 2023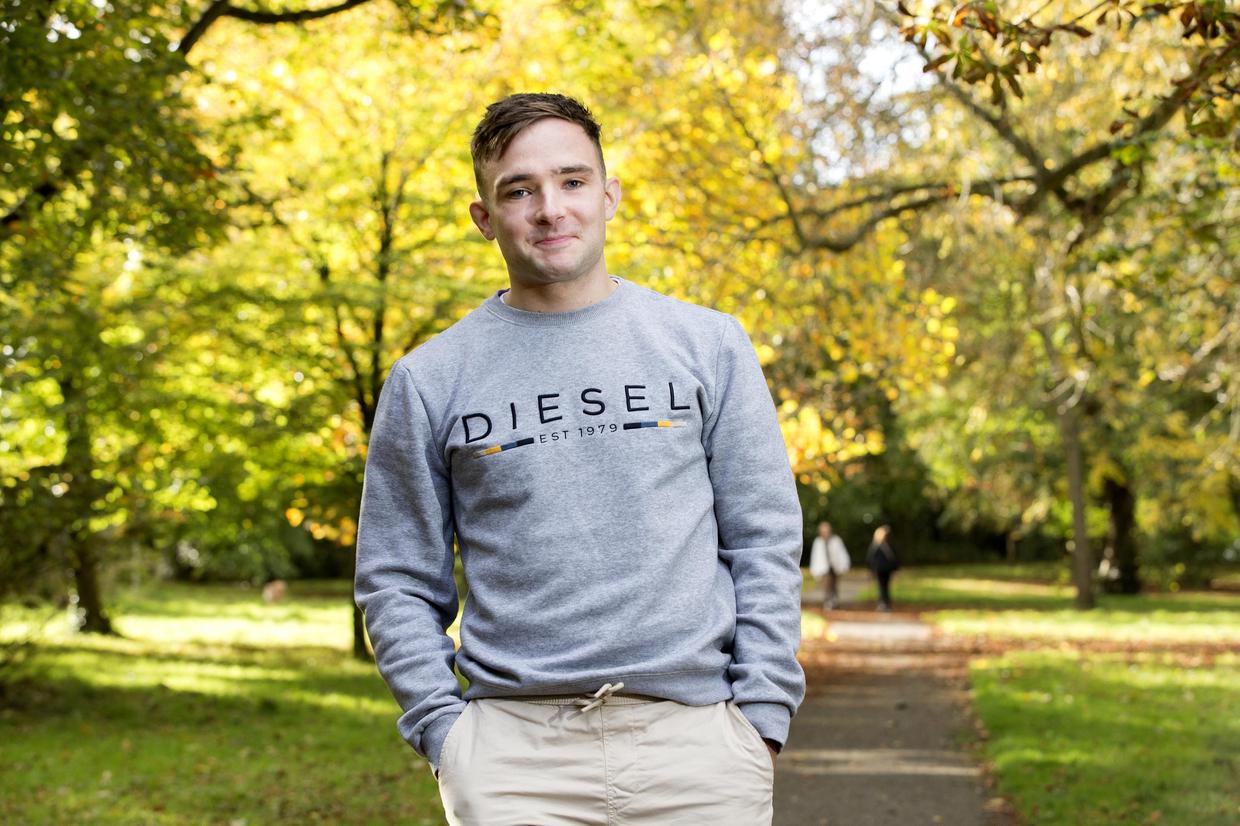 In his documentary After the Roar, Brian O'Driscoll reflected on his transition from professional rugby and the various challenges it posed. Notably, even though he enjoyed one of the most decorated careers in the sport, the former Irish captain remarked how he felt a 'little envy towards those still playing.'
Consider then how Rowan Osborne must have felt when the 25-year-old was told to pack up his things with just a handful of senior appearances to his name. Having received specialist medical care for concussion it was determined that the scrum-half should retire in the interests of his long-term health.
"A few weeks after my retirement was decided I was back at Thomond for an interpro," the former Leinster and Munster player recalls. "I was in the crowd and looking out at 30 players I knew well, and it struck me that I'd never be out there with them again. It wasn't a nice feeling and I thought to myself that I'd rather be anywhere else.
"Having my career cut short definitely played on my mind for a while," he admits. "It all seemed to just melt away before my eyes, with every passing day the pro rugby dream was dying. It was stressful because I felt like the whole situation was out of my control. Of course I wish I didn't have to go through a period like that in the first place, it wasn't nice so I'm glad I'm out the other side."
Thankfully the passing of time has been kinder to the Kildare man. The initial bitterness has subsided. Perspective has also enabled him to flip the narrative and be grateful for the opportunity to have been a professional sportsperson at all – no matter if it were just 13 senior games and not 13 years.
He bucked the trend too, emerging from relative obscurity to land a Leinster contract in 2019. Having only cemented his place in a strong Trinity team the previous year, Osborne revelled in the foundations laid by an impressive pack (featuring Dan Sheehan) assembled to lay siege on 1A of the AIL. He knew eyes were on the side; but never did he imagine any on him.
For Osborne, Trinity wasn't just about the rugby. While he did what Tony Smeeth asked of him, the mechanical engineering student never let it consume his life and was he able to enjoy the college experience. Indeed, the closest top-level rugby ever loomed on his horizon was when he called by the RDS with some Clongowes friends to support their good mate, Will Connors.
"The call from Leinster felt like it was out of the blue, really," Osborne tells us. "One of the last games of the 18/19 season was a colours game in UCD. I was actually quite sick that day and the weather was horrific so I was very close to crying off but it was a massive game in the context of the season, so I sucked it up. Thank God I did, I ended up getting man of the match.
"When I got back to the changing room I wrapped up and started flicking through my phone. I vividly remember a message from an unknown number which read, 'well done today, you know you can still play professional rugby if you want to.' Turns out it was from Noel McNamara who had coached me at school and was already a massive influence on my career. He told me Leinster were short on 9s.
"I got a trial with a few other AIL lads. I was thrown in at the deep end but I managed to hang in there. I always felt like I was able to step up to the next level without ever really standing out. The AIL was great for me in that it hardened me up, and the way Tony wanted the game played was very similar to what they were looking for in Leinster, especially for their scrumhalves.
"Those few weeks were a blur to me until I sat into my car after I had signed my first contract. I took a moment to let it sink in… I was a professional rugby player."
Familiarity breeds comfort and so Osborne was pitched in with Connors in a Limerick hotel ahead of his third Leinster appearance and full debut at Christmas in 2019. He was initially named on the bench before being told he would be starting on the bus down. That night he struggled to sleep with the nerves racing through his system. Thomond was daunting. So too were the expectations of his teammates. His good pal merely laughed it off, telling him to relax and to enjoy it in his typically laidback style.
"I could be myself around Will but beyond that I was trying to keep a hood on how I was really feeling. Ross Byrne could probably tell I was sh*tting myself which didn't bode well for his game either but he put me at ease. I actually managed to enjoy that game until Joey Carbery put a beauty of a ball in behind me after 60 minutes. Then Leo [Cullen] hooked me. I was spent! That game was a real highlight – my whole family were there, including my Tipperary grandparents who pretended to be Leinster fans for an hour!
"Pro rugby is an intense environment but you learn to enjoy it. When I first went into Leinster, the little mistakes would stay with me for the day. There was one session where I threw about seven shockers in a row and I thought, 'OK, this is it. There's no way I can be here next week.' But in fairness, coaches understand you're not a robot. They understand the pressures players face and that mistakes are natural. It is learning from them that's important.
"I'm usually pretty stoic about things, try not to get too emotional either way. I have always been of the mindset of taking things as they come; but when rugby became my job the dial quickly changed. Once you're in, you're all in. The months start to fly by, and contracts start to run down. You're constantly thinking ahead. I wanted to give it a good whack for ten or so years and see what happens.
"Lying in bed these days you mull over things and think of the what-ifs but in the grand scheme you have to recognise that you're luckier than most. There's a lot of really talented guys out there who never got the chance I got. Plenty who could easily slot in.
"There are negative emotions still in there, but they are fleeting now. Of course, it would have been easier if I didn't have to deal with my injury, but you can't live with regret. I wouldn't have been able to live with myself if I didn't take my chance. I'm just delighted it happened at all and I continue to focus on the positives. I think it's important to be optimistic in every situation, and look forward."
In recent months, Osborne has seen some of his good friends in the game take centre stage. His housemate and fellow Naas Rugby Club man Jimmy O'Brien has established himself on the international scene, while his old housemates Paddy Patterson and Ben Healy starred as Munster overcame a Springboks Select XV in Cork. Where once he might have wished it was him, Osborne is now happy to see them plough on.
"I watch games these days and all I really care about is my buddies doing well. I'd be lying if I said there wasn't an ounce of envy but that's probably part of the life cycle of an athlete.
"It's funny how things come full circle. I remember being back at Naas RFC with Jimmy and winning all around us as kids. Naas has been a big part of my journey and the club is in my blood. My Dad took me and my brother down one day when my Mum thought we already had too much on our plates. That makes us the fourth generation of Osbornes that have played for Naas. My Leinster debut jersey is in the clubhouse.
"Jimmy, Will and I all share a house now. We're good mates, although it is weird when they head off to training while I'm trying to navigate the real world."
For now, Osborne is happy to test the waters. Most recently he has been working with TEKenable, where his former teammate Conor O'Brien is also on the books. Thanks to Marcus Horan he also secured a scholarship position on a data science bootcamp in which he is currently enrolled.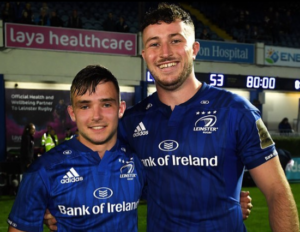 As a young and physically able man, Osborne has also been seeking out other outlets. A return to the GAA is under consideration although the risks will have to be weighed up before such a move comes to pass. For now, Rugby Players Ireland's partners at Dartry Health Club are happy to facilitate Osborne as keeps his fitness ticking over.
"I actually did the Marathon du Médoc through the vineyards in Bordeaux in fancy dress," Osborne reveals as he takes the last drop of his coffee. "I went over there with my brother and a few friends in September. You stop for a sample every 2-3km! It was incredibly difficult but fun to test myself in a different sporting arena to the rugby pitch.
"That's just how I want to approach things now. I want to get out there, enjoy things, explore places and make the most of opportunities that come my way. Take my chances. Even if I knew what way my road was going to lead, I'd still have followed this path.
"On we go to the next challenge."
Feature Photo Mandatory Credit ©Tony Gavin
Back to News
Latest Posts