News
STACEY FLOOD: BOND GIRL
28th November 2017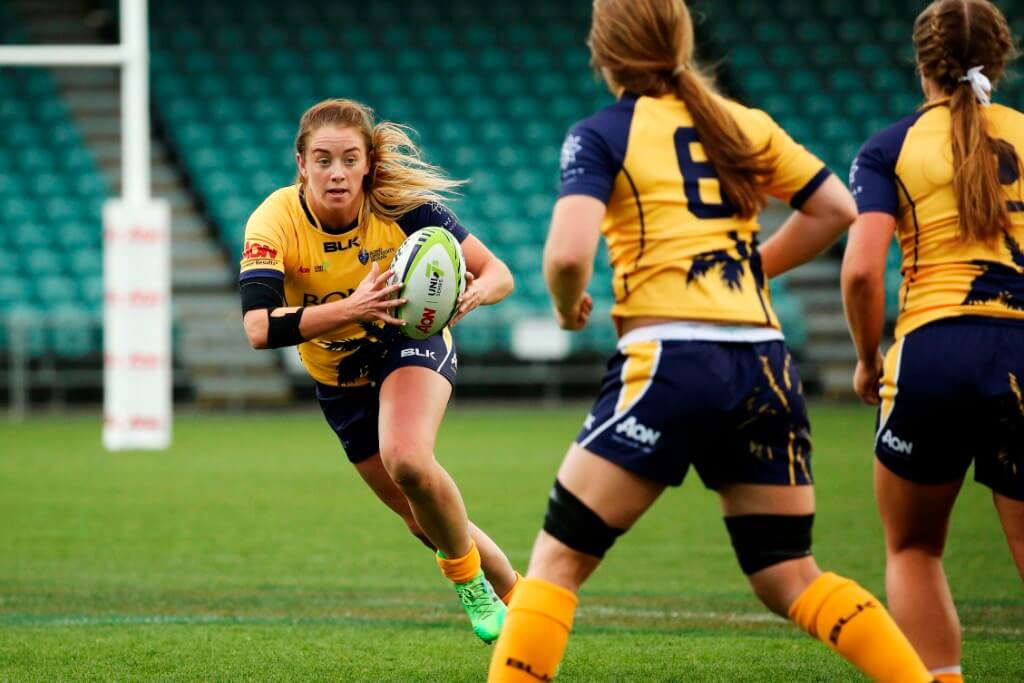 Few parts of the world have been so favoured by nature as Australia's Gold Coast. Should an alien life-form ever pitch up down there, it is unlikely that it will ask to be taken to our leader – it will merely beg that he be allowed stay in that paradise.
Given her own experiences of the region, it might have been easy for Stacey Flood to do likewise. Luckily for Ireland though, the Women's Sevens scrum-half has her sights firmly set on glory in green.
"Once we had secured qualification for the Sevens World Cup, I began to think about getting away for a while," the 21-year-old Technology Management student at the National College of Ireland tells us. "Most people my age were heading on J1s to America, interrailing, Thailand, all the usual backpacker spots. I wanted to do some travelling but I also wanted to play rugby somewhere too and develop my game. Thankfully Anthony Eddy (IRFU Director of Women's and Sevens Rugby) liked the idea and he helped to set up the placement in Australia."
Linking up with Bond University in Queensland over the summer alongside Claire Boles and Katie Heffernan, Flood played a starring role in the inaugural Aon Uni 7s series, a new high-performance competition for Australian universities in the international off-season. Under Ben Gollings, an iconic figure on the Sevens World Series circuit, the trio also had the opportunity to learn from some of the best that the game has to offer during their time in the southern hemisphere.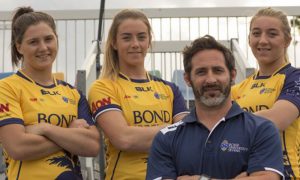 "The girls were a great addition to our squad," Gollings says. "They brought with them a different training intensity due to coming from a national programme. This helped to lift our girls and create more competition across the team. Stacey obviously brought her World Series experience, Claire was very consistent and offered us a very stable platform upfront, while Katie thrived on the field. None of them ever stopped running. But not only did they add a great deal on the pitch, they bonded extremely well with our girls off the field."
As captain, Flood further enhanced her growing reputation on the rugby scene with some virtuoso displays courtesy of her 'x-factor' according to Gollings. Growing into her role, the Dubliner became hugely supportive of her new teammates, encouraging them at all times, yet prepared to step up to the plate when needed.
"I was a bit surprised," Flood admits. "We were training for over a month down there before the competition actually started. I suppose that gave the three of us plenty of time to bed in and learn from someone like Ben who is the record points scorer in the World Series and someone everyone on the circuit would look up to. I was in good form and playing well, but I was still surprised when he asked me to captain the side. A few of the girls were relatively new to the sport and I suppose Ben felt it was important that someone with experience led the team. It was a great honour."
Hailing from a sporting household, Stacey followed her sister and best-friend Kim into the rugby world at the Railway Union club in Sandymount. Albeit, with some convincing.
"I stumbled into it a bit. I was playing a lot of football with Clanna Gael Fontenoy GAA Club and with Dublin's underage sides. I was also was playing soccer with Cambridge Girls when I wasn't chasing All-Ireland's. Rugby just didn't come into it – I didn't think it was for me. But then Railway Union came into our school to do a few sessions before putting on a local tournament which I ended up playing in. That's when I realised that I could use a lot of the skills I already had, and I began to take to it.
"My folks were a bit concerned about the tackling at first," Flood admits. "They were happier watching all four Flood sisters winning Dublin championships with Clanna Gael together. But once we got through a few games, it became a real matter of pride for them and they could see the opportunities that rugby could give us. My dad is a big rugby man now, he can't get enough of it! As for my tackling? Well it was an adjustment, but I was always getting sinbinned in the GAA anyways, so it was grand!"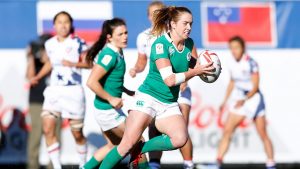 As a contracted player since she was 18-years-old, Flood has seen more of the world than most because of rugby. However, despite tournaments being held in some prime locations across the globe, Flood's stint in Australia was the first time that she spent a considerable amount of time away from Ireland.
"I did miss home quite a bit, especially coming from such a big and close family. I FaceTimed them all when I could, but I also recognised that I was in a very fortunate situation. Who could complain about being on the Gold Coast, doing a bit of training and gym-work before hitting the beach for the afternoon? I've had quite a unique experience for someone my age, playing in places like Dubai, Vancouver, Las Vegas. I have seen so many cool places and made so many friends across the world, so having to fend for myself over there was a small price to pay… although I could have done with a few of Nancy [Chillingworth]'s cooking workshops before I left!"
Despite their questionable culinary skills, it seems that Flood, Boles and Heffernan made quite an impact during their short stint down under. Such was their influence that Gollings hopes to see more Irish players follow their lead.
"While many of our players are quite new to the game, there is a strong level of competition and standard here. From an Irish perspective, I think the placement can be of great benefit as it gives players game time in addition to a different perspective on the game.
"Stacey, Claire and Kate added a lot when they were here and I believe they learned a great deal too, as well as being able to enjoy a different country and its culture. I'd like to to see more players utilising this opportunity going forward – it's a great one!"
Richard McElwee
Back to News
Latest Posts