News
IRUPA BECOMES RUGBY PLAYERS IRELAND
12th April 2017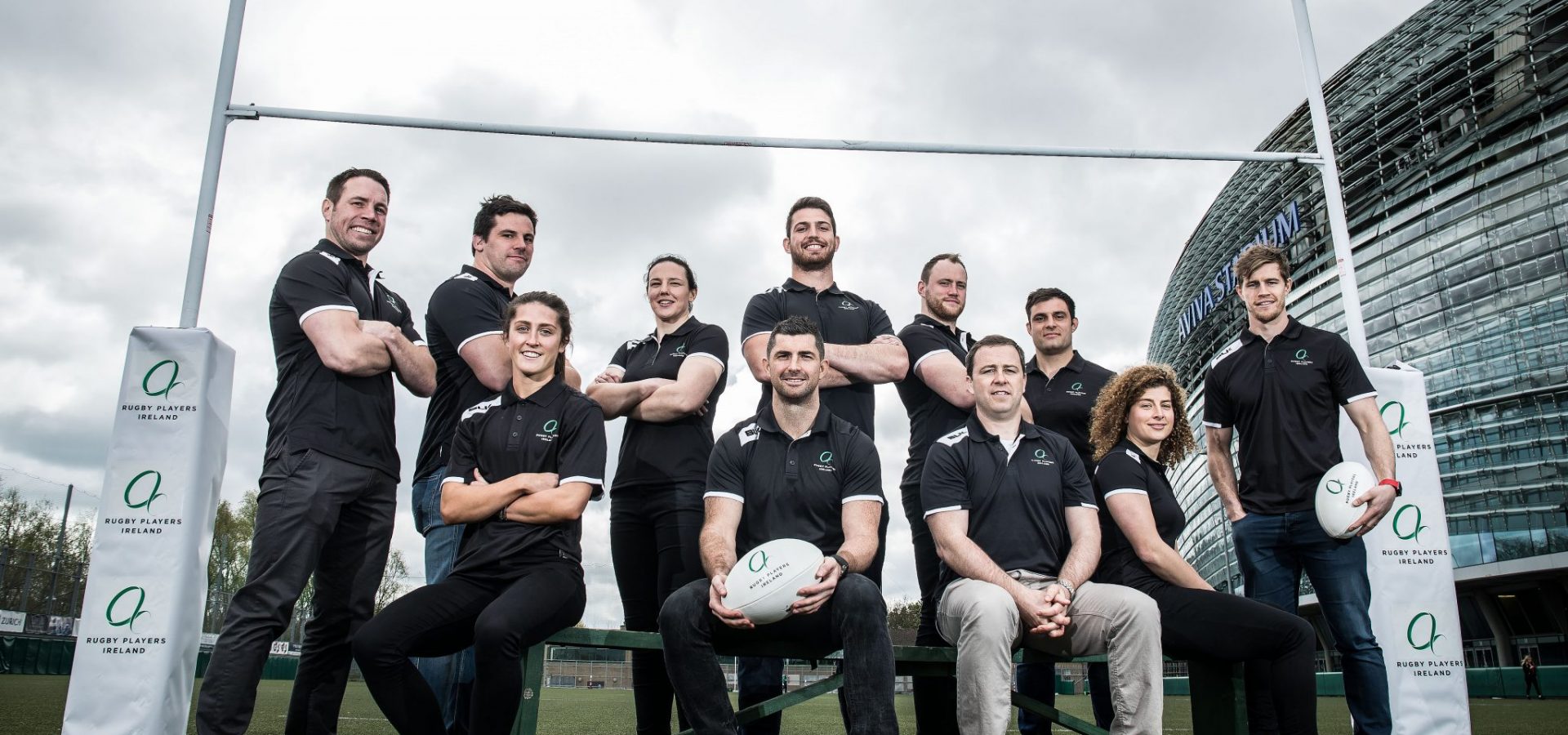 Dublin, 12th April 2017: From today, the Irish Rugby Union Players Association will be known as 'Rugby Players Ireland'. Rugby Players Ireland, the member association for Ireland's past and present professional rugby and female international players, is committed to making Ireland the best place in the world to play the game – on and off the pitch.
Rugby Players Ireland Chairman Rob Kearney unveiled the new name and vision founded on their belief of the important role Ireland's players have as key stakeholders in developing rugby in this country.
British & Irish Lion, Irish International and Leinster full-back Rob Kearney was joined by a strong stable of international and provincial players including representatives from all four provinces. Ulster winger Andrew Trimble, Leinster's Johnny Sexton and Josh Van der Flier, Rugby Players Ireland Executive board member and Connacht prop, Ronan Loughney, ex-Munster prop, Marcus Horan and Irish Women's captain Paula Fitzpatrick as well as IRFU Chief Executive, Philip Browne were amongst the key Irish rugby stakeholders in attendance.
First established in 2001 following discussions between Donal Spring, Peter McKenna, Liam Toland and the IRFU, the players associations has consistently evolved and is now seen as one of the world's leading player representative organisations.
The association have worked across the three themes of representation, development and engagment and have seen tremendous success in all areas. This has included the development of its world class off-field player development programme, the negotiation of a player agreement with the IRFU, the securing of the tax back for professional rugby players to assist with the retention and recruitment of players and the reality that 80% of players over 30 have completed an educational qualification or training programme. A highlight last year was the launch of the Tackle Your Feelings programme which focuses on mental wellbeing within the sport.
Minister of Sport, Patrick O'Donovan was also in attendance. Speaking at the event, he said: "Rugby is part of the fabric of Irish society. The players are held in high regard by all and have brought so much success and provided moments of inspiration over the last 15 years. We have been lucky in Ireland to be able to retain so much of our rugby talent in the country where people can watch them on a weekly basis. Working to make Ireland the best place in the world to play rugby will ensure that this remains the case and we are hugely supportive of the ambition announced by Rugby Players Ireland today."
Speaking at the annoucement, Chairman Rob Kearney, stated that the name change to Rugby Players Ireland is reflective of the acheivements of the organisations to date, the evolution of rugby in Ireland over the last 15 years and the ambition of the players to contribute to the on-going development of the game into the future:
"As players we strive daily to be the best and to see our clubs and country excel on the national, european and world stage. We are proud of our Irish heritage and want to ensure that the playing environment both on and off the field is conducive both to keeping and attracting the very best talent and ensuring that playing rugby in Ireland is a positve experience for all professional players. It is an exciting time to be part of Rugby Players Ireland which, has made considerable contribution to player welfare particulalry, through the development of a world class player development programme. Rugby Players Ireland, not only ensures that the voice of the players is heard but also that our collective experience contributes to the on-going development of rugby in Ireland."
Back to News
Latest Posts