News
Rugby Players Ireland Awards 2023 Winners Announced
17th May 2023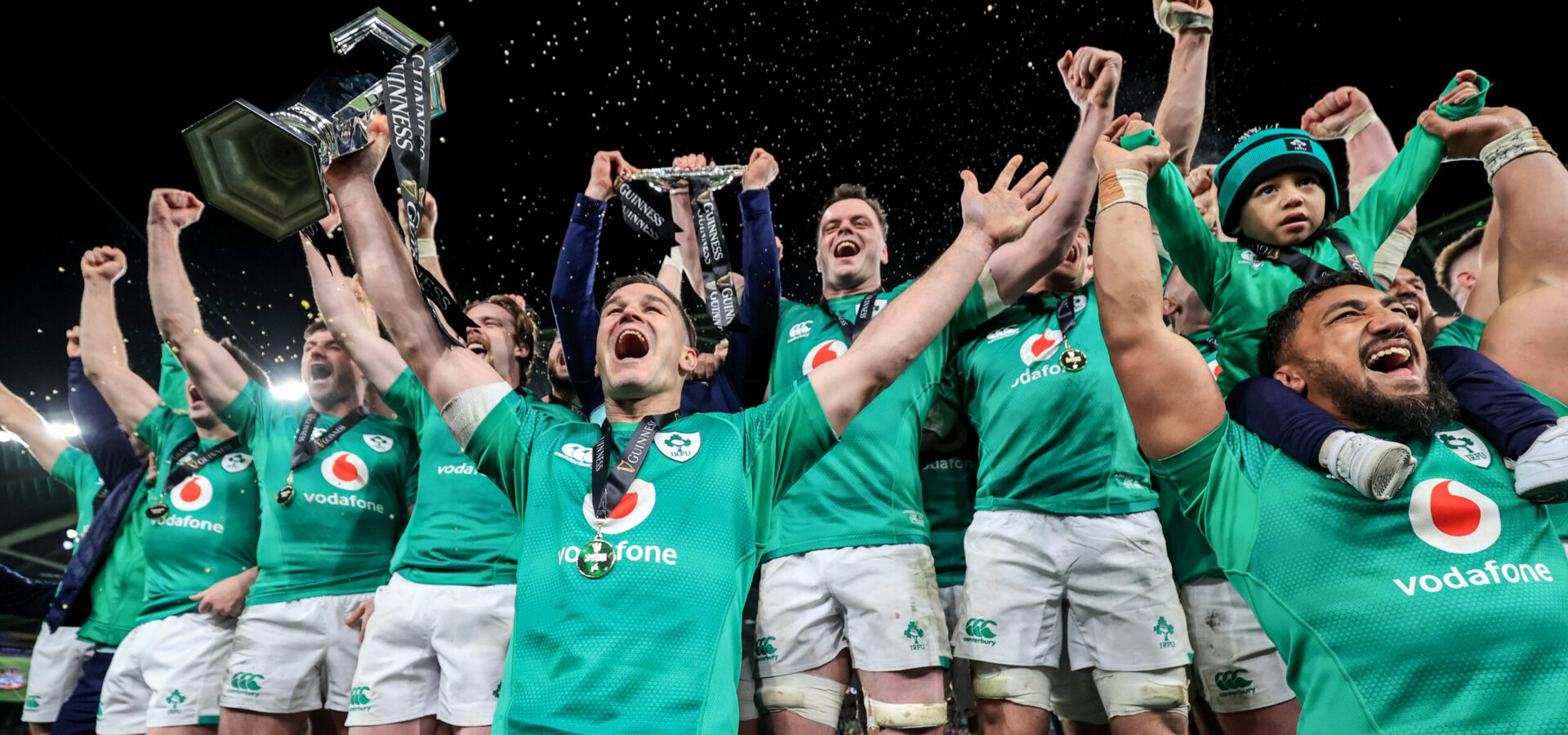 Leinster and Ireland's Caelan Doris has been named the Bank of Ireland's Men's XVs Players' Players of the Year 2023 by his fellow players at the Rugby Players Ireland Awards. Back-row forward Caelan Doris has had an outstanding rugby season, establishing himself as a rising star in the sport. As a key member of his team, Doris has played an integral role in both Ireland and Leinster's success this season, contributing significantly to important victories throughout the season in both the green and the blue jerseys. Doris takes the achievement ahead of formidable Ireland teammates and fellow nominees Mack Hansen, Hugo Keenan and Dan Sheehan.
On receiving his award Caelan Doris commented: "I am honoured to receive this recognition from my fellow players. Across the season, we rely on each other as teammates to be a strong support for one another, both on and off the field. To be acknowledged by them for any contribution I have made to their season is very special! It is fantastic to receive this award, but I want to acknowledge my teammates and fellow nominees – what a phenomenal season it has been for Irish rugby and Leinster Rugby and I'm excited to see what we are capable of achieving together in the coming days and months."
The Bank of Ireland's Women's XVs Players' Player of the Year 2023 as voted by members of the Ireland squad was awarded to Neve Jones following a stand-out season from the hooker. The award was accepted on Neve's behalf by her teammates. Jones emerged as this year's winner of the award, prevailing over strong competition from her fellow nominees, Ireland Captain Nichola Fryday and Deirbhile Nic a Bháird. Jones' outstanding achievements and contributions have been marked by excellent defensive skills and an impressive work rate ensuring she is equally effective on either side of the ball. Jones' season was also characterised by her capabilities as a strong team player, always looking to support her teammates and contribute to the team's overall success.
Speaking as she claimed the Players' Player award, Jones said: "This has been a tough year for the team, but we have shown some great examples of our character and resilience. We are an extremely close team and are proud to back each other on the good and bad days. This award could go to anyone in the green jersey this season, so it really is an honour to be recognised and to be able to represent a fantastic group of players."
The 2023 iZest Marketing Women's XVs Young Player of The Year was awarded to Leinster's Aoife Dalton with AIB Corporate Banking Women's XVs Try of the Year being awarded to Ireland Captain Nichola Fryday for her score against Scotland in this year's TikTok Six Nations. With captains clearly leading by example, Ireland 7s Captain Lucy Mulhall claims the TritonLake Women's 7s Player of the Year.
Many of the biggest names in Irish rugby were present at the Clayton Hotel on the Burlington Road tonight for what was a celebration of the season's highs and lows across all teams. Despite three strong contenders in the mix for the MSL Mercedes-Benz Dealerships' Men's XVs Try of the Year, it was Mack Hansen's triumphant team try against South Africa during the Autumn Nations Series in November that prevailed to claim this year's acknowledgement.
Further accolades were presented to Irish player Andrew Smith who was named as the TritonLake Men's 7s Player of the Year 2023 for the first time. Leinster Rugby's Alex Soroka's outstanding contribution through fundraising for the Ukranian national children's hospital in Kyiv was also recognised in his winning of the Zurich Contribution to Irish Society Award, while Munster's Jack Crowley was presented with the Nevin Spence Men's Young Player of the Year Award. This year marks the eleventh anniversary of Nevin's passing. Amongst those in attendance tonight was Johnny Sexton who accepted the Druids Glen Hotel & Golf Resort Moment of the Year Award on behalf of The Irish Rugby Team for the Guinness Six Nations Grand Slam.
Peter O'Mahony, Rugby Players Ireland Chairperson: said: "It is an honour to be here this evening and to celebrate the achievements of so many of our players who have demonstrated exceptional talent and dedication on and off the field. It is important we recognise the significant contribution of these players as we seek collectively to grow and reach new heights in Irish rugby."
Simon Keogh, CEO of Rugby Players Ireland commented: "Is it fantastic to see Neve, Caelan and all our winners receive this acknowledgement from their peers after what has been an incredible year for the development and growth of Irish Rugby. To be honoured with a Rugby Players Ireland Award is something that our players hold proudly and regard as one of the top accolades of the sport here in Ireland. Receiving an award chosen by your fellow teammates is the ultimate individual accolade and I would like to congratulate all our deserving winners."
2023 Nominees
BANK OF IRELAND'S MEN'S XVs PLAYERS' PLAYER OF THE YEAR 2023
Caelan Doris Leinster Rugby
Mack Hansen Connacht Rugby
Hugo Keenan Leinster Rugby
Dan Sheehan Leinster Rugby
BANK OF IRELAND'S WOMEN'S XVs PLAYERS' PLAYER OF THE YEAR 2023
Nichola Fryday Exeter Chiefs
Neve Jones Gloucester-Hartpury
Deirbhile Nic a Bháird Old Belvedere RFC
NEVIN SPENCE MEN'S XVs YOUNG PLAYER OF THE YEAR 2023
Jack Crowley Munster Rugby
Dan Sheehan Leinster Rugby
Tom Stewart Ulster Rugby
IZEST MARKETING WOMEN's XVs YOUNG PLAYER OF THE YEAR 2023
Aoife Dalton Old Belvedere RFC
Natasha Behan Blackrock College RFC
Sadhbh McGrath
MSL MERCEDES-BENZ DEALERSHIPS' MEN'S XVs TRY OF THE YEAR 2023
Shane Daly Munster v South Africa Select XV
Mack Hansen Ireland v South Africa, Autumn Nations Cup
Hugo Keenan Ireland v France, Guinness Six Nations
AIB CORPORATE BANKING WOMEN'S XVs TRY OF THE YEAR 2023
Natasja Behan Ireland v Japan, Test Series
Aoife Doyle Ireland v Japan, Test Series
Nichola Fryday Ireland v Scotland, TikTok Six Nations
TRITON LAKE MEN'S 7s PLAYER OF THE YEAR 2023
Jack Kelly
Harry McNulty
Andrew Smith
TRITON LAKE WOMEN'S 7s PLAYER OF THE YEAR 2023
Emily Lane
Lucy Mulhall
Béibhinn Parsons
Back to News
Latest Posts