News
Relishing New Challenges
22nd October 2020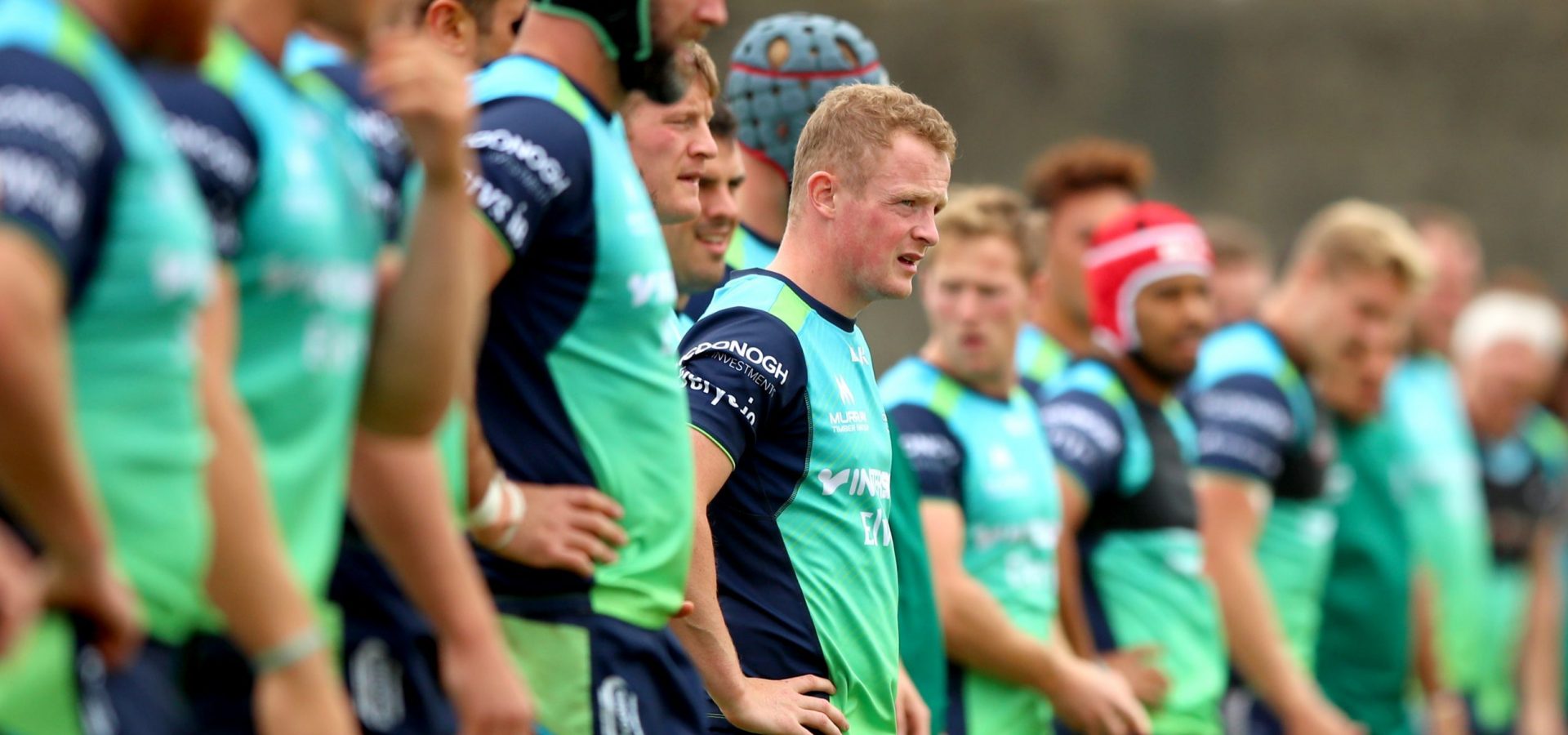 For a few short minutes it was a new dawn in his rugby career. As ever, his father was on the sideline vicariously kicking and passing every ball with his son. His mother was there too, momentarily squinting out from behind the safety of her hands before seeking refuge again. Even Ray McKenna, his old hurling coach at Ballyboden St. Enda's, had made the trip to Galway.
All there to witness a big step in his rugby career. All there to witness the end of it too.
October 13 2018 will always rankle with Conor McKeon. After a tough slog over the previous few years, opportunity finally beckoned at Connacht Rugby. Kieran Marmion was being primed for the All Blacks leaving McKeon and Caolin Blade to fill the roster against Bordeaux Bégles in the Challenge Cup. Game on.
Entering the fray with 12 minutes to go, a feisty McKeon sized up his gigantic Gallic opponents. "I was a small lad but I always gave it my all," McKeon notes. "The way the game had gone I was always tackling absolute animals, so when their backrower ran at me I just thought I'd fly at him and go really low. I chopped him but he landed on my shoulder and then everybody else piled on."
It was agony he recalls, and it was also his last act as a professional rugby player.
Back home in Rathfarnham and all but bed-bound following shoulder surgery, a glum McKeon had barely ventured out of the house in days. There were safety concerns but mainly there was a lack of interest. Eventually, Ray McKenna called by and enticed him out to the Dublin Senior County Hurling Final. Ballyboden were playing Kilmacud Crokes in Parnell Park.
"I remember sitting in the stand and I had a clear moment of reflection," he begins. "It struck me that all my mates were out there playing the sport I loved. They were all living in the same community, being cheered on by family and friends, winning a county title together, having the craic. It might seem bizarre coming from a professional rugby player, but I was envious of them.
"There I was sitting there in a sling, not knowing what the future held. I didn't know if I'd have a contract coming my way. If there was, I didn't know if I'd ever make the breakthrough. I didn't even know if my shoulder would recover. The only thing I knew was that if rugby wasn't going to work out, I was going to get back home and go hurling again!"
Forced to retire in April 2019, McKeon was true to his word and rejoined his boyhood GAA club when his shoulder allowed. Starting with the Junior D side, he began to work his way through the Ballyboden ranks at a rate that surprised even him. His progression was such that in September he was part of the senior championship squad that lost out in the county final to Cuala by two points.
"Hurling was always my first love," McKeon confesses. "When I went to Gonzaga the rugby just snowballed. I made a few Leinster underage teams and suddenly the dream of being a professional sportsperson became very real. I went with it. I gave it 100% every day and so while I was disappointed when it came to an end, I knew I couldn't have done any more. That gave me great peace of mind.
"Even though I'm still young, I feel I've played enough rugby. I've been through so much with it. I won the AIL with Lansdowne, went to a World Cup with the Ireland 20s and gave the professional game a good crack. The hurling represented something fresh: a new team to make, new things to win. I know lads really struggle to fill the competitive void but getting into a Ballyboden side with the likes of Simon Lambert, Shane Durkin and Paul Ryan driving standards meant that it has never been an issue for me."
Given the severity of his injury, it's remarkable that McKeon has fought his way into the plans of one of the foremost hurling teams in the country. Certainly, the resilience and drive he has shown in getting to the top of another elite sport are character traits that bode well for his future. Indeed, almost a year into his role with BDO he has already faced more challenges than most might expect in their trainee year.
"I was lucky that my first few months were onsite before the lockdown happened. I still had a lot to learn because I hadn't served a regular internship. I might have been lacking in some areas, but I have always had strong initiative to improve and that's what got my foot in the door. I'll back myself when making a decision and if there's something I don't know I'm not afraid to put my hand up and ask the questions others might be too nervous to.
"You could never hide out on a rugby pitch, especially as a 10. I found that out in my second year in the Connacht academy. Pat Lam was just in the door and he never really fancied the look of me. I was too small in his eyes and that was that. The day he called me in and told me I didn't fit into his plans; I was upside down. All I wanted to be was a professional sportsman and here was someone saying I wasn't able to."
With his future at Connacht was out of his control, he upped the ante with Dr Deirdre Lyons and doubled down on his commerce degree, just as he had promised his parents. Then, as he began to stare into the rugby abyss, Nigel Carolan and Willie Ruane offered him a lifeline by suggesting he switch to scrum-half. The Dubliner didn't need a second invitation.
At the Connacht Rugby awards night the following year, McKeon was named academy player of the year. He was also rewarded with a senior contract.
"I had nothing to lose so I went after it. I worked with Mossy Lawler on the basics and John Cooney was so good to me. I enjoyed learning a new trade and it was similar the challenge to that hurling presented. I worked extremely hard but having come so close to the edge I had a far healthier outlook."
Although injury would ultimately have its say, McKeon is satisfied that he did all he could in his final months as a professional player.
"I was pretty relentless but what I'd been through taught me to enjoy it too. There's no point in getting bogged down in stuff you can't control. Knowing I'd the work done, I went out and enjoyed my game like any game is supposed to be enjoyed. I'm glad I did the way things turned out.
"I still place emphasis on enjoying myself. I'd been looking at the lockdown in a positive light: there's no commute or rush to training, I've been eating well, and I can rest up and relax. My energy levels are good so I can get stuck into the hurling or my work. There's no hiding behind a computer screen.
"I've overcome a few challenges but I'm sure there'll be plenty more to come. I'll be ready for them when they do."
Back to News
Latest Posts