News
SPORTS PSYCHOLOGY & RANIERI'S FALL FROM GRACE
25th February 2017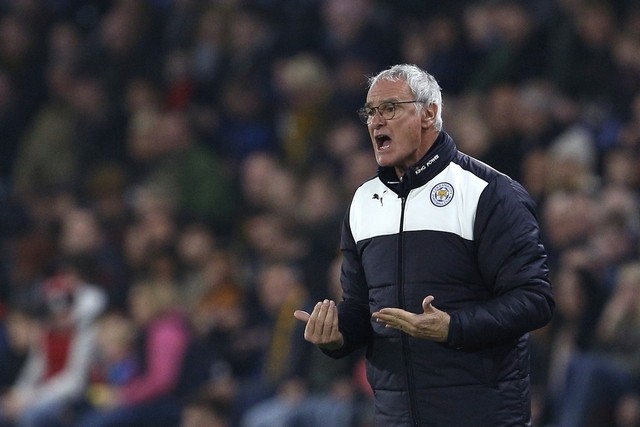 WHAT'S HAPPENED AT Leicester City over the past three seasons has been scarcely believable.
The much-missed cult Sky One drama Dream Team, which once set the template for improbable football-related plotlines, seems realistic by comparison to the surreal shenanigans witnessed at the King Power Stadium of late.
A movie about their miraculous 50001/1 Premier League-title-winning feat is already in the works, but the tale has since taken an unwelcome twist.
One of the main protagonists and heroes of this true underdog story, Claudio Ranieri, was this week cruelly cast aside by the Foxes, after a dire run of form left the club seriously contemplating the prospect of relegation.
It's almost impossible to explain why or how Leicester have gone from looking like relegation dead-certs, to winning the Premier League, to looking like relegation dead-certs again. Indeed, it is practically unheard of in the modern game — a Cinderella story with an unhappy ending.
As baffling as the whole situation is, that naturally hasn't stopped the football world trying to rationalise what is happening.
The pre-season loss of a Chelsea-bound N'Golo Kante, arguably their best player, was undoubtedly important, though that alone is not a satisfactory explanation as to why the Foxes have gone into freefall since.
After all, their miraculous run started without the influential Kante. In the 2014-15 season, the club were bottom of the table, having won just four of their opening 29 matches. Yet from that point on, something clicked, and they emerged victorious in seven and lost just one of their remaining nine fixtures. It was only thereafter that the undervaled French midfielder and Ranieri came onboard, prompting the unthinkable success of the 2015-16 campaign.
But aside from Kante's departure and Leicester's array of inadequate summer signings, the same reason to explain their rise has been singled out as being to blame for their subsequent collapse — psychology.
By and large, it is the same group of players who currently sit one point above the relegation zone that ultimately claimed the title in comfortable fashion nine months ago.
Last season, Ranieri was hailed as a master psychologist and the players were viewed as heroes — now, the opposite is the case. Every decision previously seemed like a masterstroke. Promising pizza in exchange for clean sheets, allowing week-long breaks when appropriate, continually downplaying Leicester's chances of winning the league.
Moreover, their lack of trophy-winning experience led many critics to suspect the pressure amid the end-of-season run-in would prove too tough to handle. But when performance psychologist Ken Way was interviewed around this time, he actually admitted to taking a holiday during this vital period, so unconcerned was he about the players' mental state.
"I'm not a busy man at the moment," he told the Times.
I was actually busier this time last season. I was even able to take a short holiday last week and not worry about it.
"I was concerned at one point, earlier in the season, about how [the pressure] might start to affect the players. But it honestly hasn't. It's not a stressful situation. It's only stressful if you allow it to be."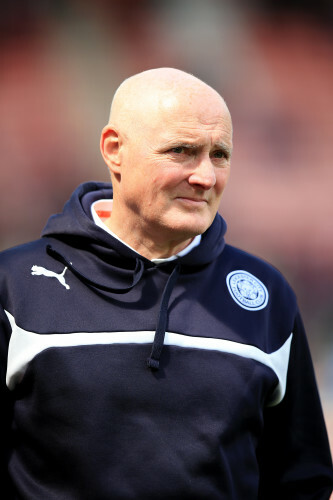 Ken Way left his role as Leicester's performance psychologist in September.Source: EMPICS Sport
Way, who had been brought to the club by Nigel Pearson in 2014, went on to downplay his role in the success, adding: "I'm just a very small cog in a very well oiled machine."
That machine, however, has been struggling to function of late. Psychology is now being blamed for Leicester's downfall. Just like the previous three Premier League champions, Chelsea, Man City and Man United, the Foxes' form has dipped substantially since tasting glory, but in their case, the collapse has been so dramatic that they now look capable of becoming the first reigning English champions to get relegated the following season since Man City in 1938.
Critics, unsurprisingly, suggest complacency has set in and that several Leicester players have grown too big for their boots.
"Many of them will regard themselves as top players, they will be enjoying their bumper new contracts and have been caught up in the glamour of appearing in glossy magazines," Jamie Carragher wrote in a scathing Daily Mail column, penned in the aftermath of Ranieri's sacking.
Success, sadly, can change people. I would bet my bottom dollar the only person who hasn't been changed by Leicester's success is Claudio Ranieri."
Interestingly, however, Ranieri himself has always been reluctant to embrace sports psychology. The experienced Italian is a firm believer that tactics rather than mentality decide football matches for the most part.
A recent article in The Times focused on Ranieri's suspicion of sports psychologists and cited quotes from last August, when the veteran manager was asked about the mental challenge of defending the Premier League title that nobody had expected his side to claim in the first place.
When you are young, maybe you need somebody who can help you, but now you are a man," he said. "In life, you need to be strong. Psychologists? No."
Perhaps not surprisingly, Way — the man brought in by Pearson — was relieved from his role at the club the following month. And while he may indeed have been "a very small cog in a very well oiled machine," the decision was symbolic of a deeper malaise.
Ask any Leicester player about their historic achievement last season and they will tell you one of Ranieri's greatest strengths was to keep things largely as they were. The backroom staff, the tactics and the training methods all stayed roughly the same. By dismissing Way, however, Ranieri showed a rare sign that the coach was no longer willing to trust the system which he had simply sustained rather than created, though it was just one of a wide variety of differing conditions instigated by the previous season's stunning success.
Psychology, of course, should not be thought of as the sole or even main reason for Leicester's successes and failures, but Ranieri and others cannot be dismissive about its importance either.
As the Secret Footballer has noted on the topic of players and psychology: "We are not looking for 50% gains. That is unachievable. We are looking for an extra 2%-5% because that is a massive gain. And if you scale that up and apply exponential growth — that is to say, growth across all 11 players in one match — then those gains are enormous."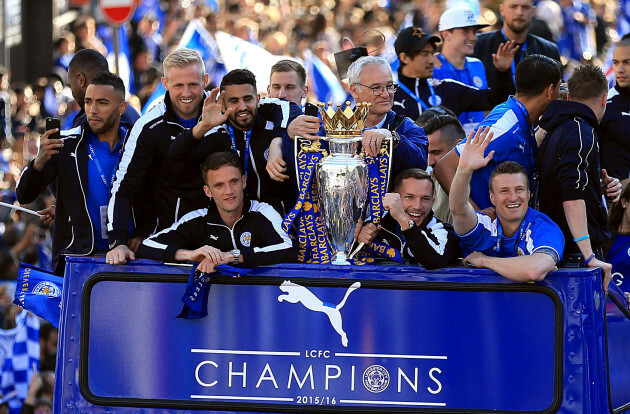 Claudio Ranieri was sacked by Leicester earlier this week, despite guiding them to the Premier League title last season.Source: Nigel French
Créde Sheehy-Kelly, who is a Sport and Performance Psychologist as well as being the #TackleYourFeelings Campaign Manager at Rugby Players Ireland, agrees that psychology in sport is a small but significant "part of a jigsaw piece".
"The mental side of performance can definitely contribute to explaining some of the instances where a team is doing well and then they fall off either within a match, or over a season, like with Leicester," she told The42, in an interview conducted prior to Ranieri's sacking.
"But there are so many different factors that can contribute to that happening. At the individual level, there are players' performances and the consistency of the individual. And then, at the wider level, there's the collective mindset as well.
As a sports psychologist, you would be working at three different levels, and with the team as a group, and then also with the management as well.
"It might be too simple to explain a drop in performance on one main factor, like a drop in confidence.
There are always so many different factors to work on and that's why it's so important that the mental side of performance is really given the emphasis it deserves in the overall plan for the season and with the players."
As part of her job, Sheehy-Kelly asks athletes to break down their performance into different factors, including physical, mental, technical, tactical and lifestyle, and subsequently asks the performer in question to rate themselves out of 10 in each category.
Usually, when you do that, you get to the root of one or two issues that are having the biggest impact on performance and you work on those first," she says. "It's about finding the key one for that individual.
"You would go and develop exercises for the individual to try to improve that aspect of their performance. You're working on confidence and that builds a little bit, you'll probably see an improvement in concentration as a result of that.
One or two factors are at the base of it all, and then by improving them, you can impact other factors across the board."
On a related note, it has been widely reported that many Leicester players had lost confidence in Ranieri over the past few weeks. They are understood to have held a meeting in Sevilla with the club's owners coinciding with their pivotal Champions League encounter — the end result of which was the Italian's sacking, 16 days after the powers that be had expressed their "unwavering support" for the beleaguered manager.
As Miguel Delaney wrote in The Independent: "The bottom line with this team is that something was fundamentally broken within it."
Chief Football Writer for The Times, Henry Winter, added that Ranieri had "lost the dressing room" as "player power" had struck.
Swansea have thrived since Paul Clement replaced Bob Bradley as their manager.Source: PA Wire/PA Images
Whether or not this harsh decision ultimately saves Leicester from the drop remains to be seen, but there have been many instances in the past (Swansea under Paul Clement being a notable recent example) whereby a team has raised their game substantially following a manager's departure.
Rationally, it shouldn't make a difference, but there is a certain placebo effect that appears to benefit clubs and afford them a renewed sense of focus amid such turbulent times.
It can happen organically, or with practice, according to Sheehy-Kelly, when asked about players' potential to block out negative mental influences prior to matches.
That's one thing that a lot of people want to work on — turning your thoughts into more positive thoughts, so that you're constantly boosting yourself while you're playing and you can stay in the present moment.
"That's a big one as well — the type of focus you have. Sometimes people focus on the outcome and they're too focused on the score when they're in the middle of playing and they're not actually as fully switched on as they should be.
So we try to get them focused more on the next ball and the present moment. There are ways of using goal-setting to help people do that in a very concrete way. Often, that can be really helpful to people if they haven't used it before. When you start introducing process and performance goals in a match situation, they really find that beneficial. Filtering (newspaper talk and) all that stuff out is definitely more beneficial to performance."
Ignoring hype, she adds, tends to be more challenging in situations where the pressure on the athlete in question is amplified.
"The majority of athletes I work with would try to avoid (reading the sports pages of newspapers) — sometimes it can be harder than others. If it's a high-profile match and there's a big build-up, you might have people talking to you on the street about it.
You don't want to talk about it but you've people coming up to you who do, so I've worked with athletes on strategies for coping with that situation to try to switch them off from it.
"It's something you have to be proactive about as an athlete but it's definitely possible to filter it out.
It's one piece of the puzzle, so it's not going to make or break a performance, but it's as important as nutrition, strength and conditioning, and recovery. It's part of the bigger picture, so it's important that it's worked on as with every other aspect of performance."
Sheehy-Kelly, of course, has experience of people like Ranieri, who tend to be skeptical in relation to the merits of sports psychology.
If you're working with a team, you probably have a third of people fully engaged and who find it really beneficial, a third who might take something out of it and then you might have a third that don't engage at all, and that's fair enough," she says.
"It does come down to the individual in terms of how much they engage with it, but a good sports psychologist is able to take the theory and apply it in a way that's meaningful to that individual, so that's where the skill comes in. You can only educate people as to what the benefits are in engaging with it.
I could only speak for myself personally, but I wouldn't push it with someone who doesn't want to engage. I'd explain the benefits and after that, when they see their teammates making loads of gains from going to sessions, they often become a little more interested. Usually, seeing their peers do well with it makes them a bit curious and then you can have a chat and see how much they want to talk about something, even if they only want to dip their toe in the water and have a short session. You might introduce them to one thing that might make a difference and then the interest grows.
"It's stronger when the individual comes in of their own accord and is motivated to do it. A lot of sports psychology is about not just the talking, but the athletes going off and implementing these practical exercises between sessions. If they don't buy into the concept, they're not going to apply themselves in the exercises, and they won't get the benefits. It's like if you get a great strength and conditioning programme from a coach. If you don't actually do the programme, you won't see the results."
Leicester, given their current plight, could probably do with taking such advice on board.
Paul Fennessy
Back to News
Latest Posts