News
"NO BETTER TIME TO GET MOVING…"
04th July 2019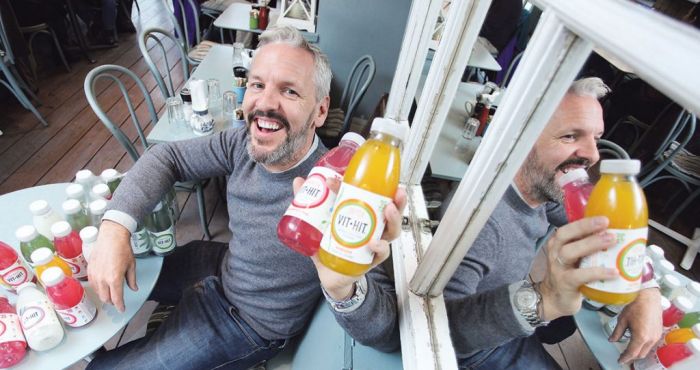 After a handful of appearances for Leinster at Donnybrook, Gary Lavin upped sticks and landed at Harlequins in London. As far as he was concerned, the world was at his feet. A professional rugby player in one of the greatest cities in the world. Nothing seemed impossible.
But then disaster struck.
"I hurt my knee and it was like the end of days," Lavin says as he speaks to the assembled group of budding entrepreneurial rugby players at the InterContinental in Dublin. "Dick Best, who was the coach, handed me my walking papers. At that time, it wasn't as formal as it is now. There was no insurance, not even a proper contract. And I remember asking myself: 'well, what am I going to do now?'"
Firstly, Lavin resolved to never put his future into anyone else's hands again. At just 23, he decided to turn his back on rugby and take ownership of his life. Born into a business-minded household, he had a fair idea what his calling was. He began by selling on supplements to his rugby pals. Twenty years later, his drinks company VitHit has a revenue of up to €40m as its sales surge across the UK and Ireland.
"There is no such thing as a happy injury, but I have to say things turned out pretty well. Nevertheless, as a rugby player in my early twenties, all I wanted was to play rugby for Ireland and become a superstar. While I might only have ever been a journeyman, the inherent confidence of the rugby player within was shattered."
Yet it was this sporting confidence that Lavin believes stood him in good stead as he embarked on new path. Rugby players, he maintains, are good communicators, disciplined, make swift decisions and are used to failure. But above all, they have been at the top of their field and know what it takes to get there.
"To survive in an elite environment, you have to really rate and back yourself," Lavin says. "There will always be those to begrudge you and go 'who does your man think he is?' and you might wish you were where they are, but they have never been where you have.
"I have known guys who have played at the highest level and then gone into a company at the lower end. They inevitably rise to the top. They're used to making decisions and doors open quicker for them. But ultimately, if I was to put a gun to their head and told them they had six months to create a healthy chocolate bar, they will get the job done."
Lavin admits that there is a challenge to convince players of the merits in getting their ducks in a row. With a healthy income, players have little incentivisation to put their efforts to anything other than their rugby. The temptation will always be to spend their free hours in the week playing video games and meeting for coffees. However, those who choose not to put things off until tomorrow will reap the rewards.
"Victor Costello is a great example. After a game he'd be straight into the front room, chatting to CEOs and powerful people while the rest of us gathered round and slagged him off. He used what rugby gave him and pushed himself into what wasn't always comfortable terrain. He has built his career off the back of it.
"There's no better time to get moving on it than when you're young," Lavin adds. "At 25 years of age you have nothing to lose in most circumstances. You don't have dependents and you'll never have three hours in the day again. It isn't difficult to get a business up and running, making money is."
The Rathfarnham buinessman reveals that there have been plenty of troughs among the peaks. In the early stages he was on the cusp of financial ruin. Some of his contemporaries told him to get off his high horse and pack it in. Even when he became established as a market leader, other products came on stream to threaten his share of the trade.
"They key was that I never accepted defeat," Lavin says resolutely. "I had a firm belief that my product was great. I also had a competitive spirit. Of course, there were difficult times, I remember sitting outside the cinema one day, distraught and broke. But I was also dropped plenty of times as a rugby player… and they were the very moments I learned my greatest lessons.
"One thing I learned was to do something that scared me. I used to hate cold calling people. I found it very difficult. I went to an interview with an insurance company once before with a friend from the rugby world. The first thing I was told was to pick 20 people I know, ring them and sell them insurance. It wasn't for me. My friend got the job, ended up running the company, sold out, set up his own company and retired at 48!
"As rugby players, you're used to doing something you love every day and getting paid for it. You know you're really good at it. But there will be parts of business that you won't like and if you don't address it, you won't survive. It's almost like skipping leg day!
"When you're at the top of your sport, you think there's nothing you can't do. Players need to bring that frame of mind with them into the working world. Back yourself and you will convert the chances that fall to you."
Back to News
Latest Posts