News
NIALL SCANNELL:
THROWING TO THE FUTURE
28th March 2017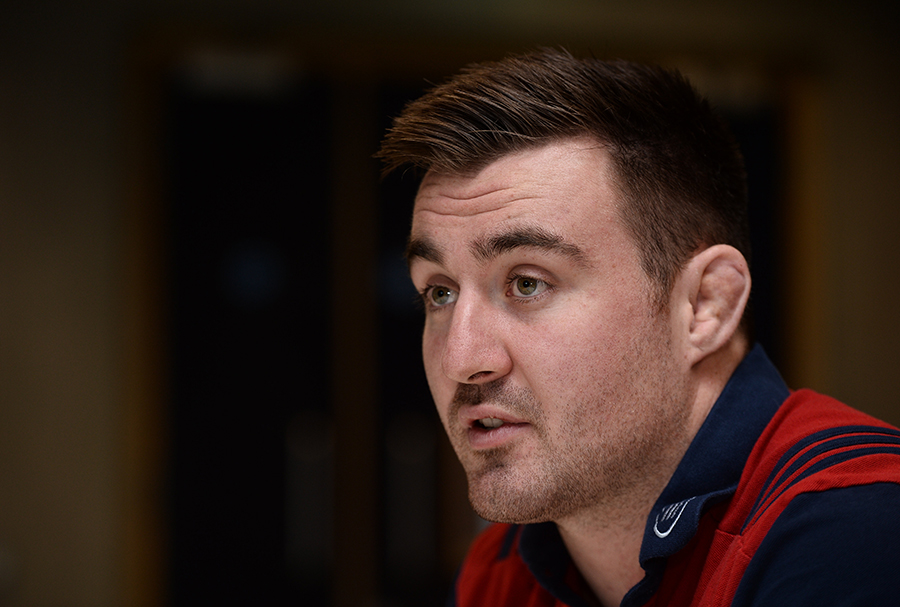 It seems that the Munster coaching staff have subscribed to the notion that if you want something done, you ask a busy person.
Having played a significant part in Munster's Pro12 campaign this year, Niall Scannell certainly fits the bill. As the first Rugby Players Ireland scholarship on the MBA programme at the University of Limerick, the Dolphin man is accustomed to hard work.
"I've always been dedicated to my studies, it's something my parents have always encouraged. I wanted to do a law so throughout school I had to be pretty driven in that direction to make sure that I could get the points." As vice-head boy at PBC Cork and a senior schools player from his fourth year, Scannell had many commitments falling on his young shoulders, yet he managed to secure a place in UCC on his preferred course.
While his studies never appeared to suffer, Scannell's attentions were often swayed by the prospect of playing professional rugby. "When I first joined the senior side at school and saw Peter O'Mahony and Simon Zebo at first hand; the way they prepared and played, it was clear that they had their sights set on securing Academy deals. It was only when I first began to force my own way into representative teams that a career in rugby suddenly didn't seem so a million miles away."
With his notable leadership qualities, Scannell was an obvious choice to captain the Irish U20 side throughout the Six Nations and Junior World Championships in 2012. "Playing and captaining your country is no small matter and when Ian Sherwin invited me into the Academy set-up at Munster it was only natural that I began to place greater importance on my rugby during my time at UCC."
Nevertheless, Scannell managed to get his degree and has wasted little time in adding yet more strings to his bow. Having engaged Rugby Players Ireland to explore potential options, Scannell is now in the midst of UL's MBA programme, a part-time course designed to give professionals an insight into the latest thinking in business and help them to broaden their own professional perspectives.
"Rugby Players Ireland were extremely helpful in getting me set up, especially Derval O'Rourke when she was in the role in liaising between UL and Munster. Every 3-4 weeks I'm required to do 3 full days of 8-hour blocks. I'm expected to attend all the team orientated sessions, but the club staff have been very understanding of my situation and help me to fit in any personal sessions that I might miss."
"From an academic point of view it's an enjoyable course but it has been interesting to meet such a diverse group of people from the working world: pharmacists, engineers, senior management officials. I've found myself exploring a range of job specs that I might not have given a moment's thought to before, opening my mind to other options. That being said I'm still just 24, so hopefully I've a few years to go yet before I have to make a definitive call."
Amidst Mike Sherry's ongoing injury troubles, talk of Munster's interest in George McGuigan of the Newcastle Falcons resurfaced last summer, while the ongoing pursuit of Australia's Stephen Moore fell through. Amidst several injury concerns Rhys Marshall joined from the Chiefs, but Scannell has taken his opportunities by the scruff of the neck.
"There's so much competition in my position at Munster between myself, Rhys, Duncan Casey, Kevin O'Byrne and Mike (Sherry), but it's at the stage now that one of us has to start putting our hands up to be the first choice – if there even is such a thing. I'm also into the second year of my contract so naturally I'll be hoping to prove my worth and get that extended. Of course, the best way to do that is by securing my place in the team."
Following what has been a difficult time for all at Munster, the recent upturn in fortunes on the field has the players smiling again. Firmly settled into their new permanent surroundings in Limerick, the impact of several new faces added to the coaching team last summer is also being felt.
"Rassie [Erasmus] is a straight talker who knows exactly what he wants. Once he arrived, everyone was on the same page pretty quickly," Scannell asserts. "There's a great balance to what he does and he is very much of a team mentality which subscribes perfectly to the essence of what we do. Even in the aftermath of Axel's passing, he had a profound understanding of what Munster Rugby is about."
Despite being a proud Corkman, Scannell has come to appreciate the move to Limerick and the potential benefits for the province. "Finding a house was a bit of an obstacle, as it is anywhere these days it seems. Once I got into a routine and settled, it didn't really matter. I don't even race back to Cork anymore. It's very clear what we can gain from being here together. The good times for Munster are not far away."
Richard McElwee
Back to News
Latest Posts