News
Making the Best Rugby People
26th July 2019
When Gordon D'Arcy made his international debut in 1999, many of the attendees at the Rugby Players Ireland/IRFU Rookie Camp hadn't even been born.
By the time he added another cap to his name, five long (albeit fun) years in the international wilderness had passed by. Ultimately, the centre departed the game as Ireland's longest-serving player, but had he taken better options in the first years of his career, he might have significantly more caps to his name than 82.
"The great thing for these guys is that they are benefiting from the mistakes that we made," D'Arcy tells us before meeting with the Academy players alongside former teammate Jerry Flannery at The Heritage Hotel in Killenard, Co. Laois. "There's a tried and tested path now for guys moving through the game."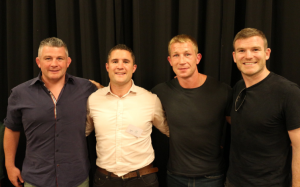 "It took me a long time to understand that there's a lot more to being a professional rugby player than being paid to do a job. It's about all the decisions you make in a holistic sense.
"There'll be many obligations and expectations of them in the next few years so it's essential that they are prepared with the tools to thrive in that environment."
Led by Marcus Horan, the induction programme introduced players from each of the four provinces to various aspects of a career in the game – from the threats posed to optimising their wellbeing. Over the course of two days, all 52 players participated in a series of interactive sessions designed to equip them with the skills to cope with life as a professional sportsperson.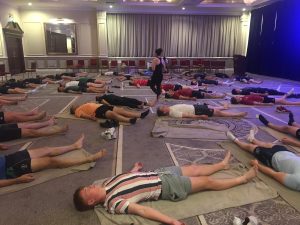 "These days, you want the lads to be challenging straightaway," adds Jerry Flannery, who came through the National Academy before embarking on a senior career with Connacht and Munster. "The nature of the game now is that they are almost ready as soon as they leave school.
"It happens much quicker for some than for others, but they all need to be aware of what it's going to be like. Even when they've arrived at that point, they need to look for windows where they can improve themselves in all aspects so that they can push on from there.
"Rugby Players Ireland are doing a great job in getting them up to speed. The more clarity these guys have, there's a greater chance that they will deliver."
Both Flannery and D'Arcy navigated circuitous routes on their way to becoming Grand Slam winners in 2009. However, they weren't the only Grand Slam winners in the room with several of the triumphant Ireland U20s squad in attendance.
Acclaimed for their togetherness as a group, D'Arcy was aware of the bonds that had inevitably formed during that adventure earlier this year. He found himself reflecting on his own experiences of a trusting dressing room.
"In a game, you are faced by hundreds of split-second decisions. Many of them boil down to whether you are able to rely on the guys either side of you. Will he make that tackle? If you are in any way indecisive at that level, you're done for.
"Throughout my career I found that the guys in the team environment who had earned my trust were the ones who had gained my respect away from the game, as much as on the field. They were the type of guys who did everything right when they pulled on the jersey.
"Ultimately, the best rugby players are the best rugby people."
Check out our brief clip on our Facebook page here!
Back to News
Latest Posts