News
LIVING IN THE MOMENT
25th June 2019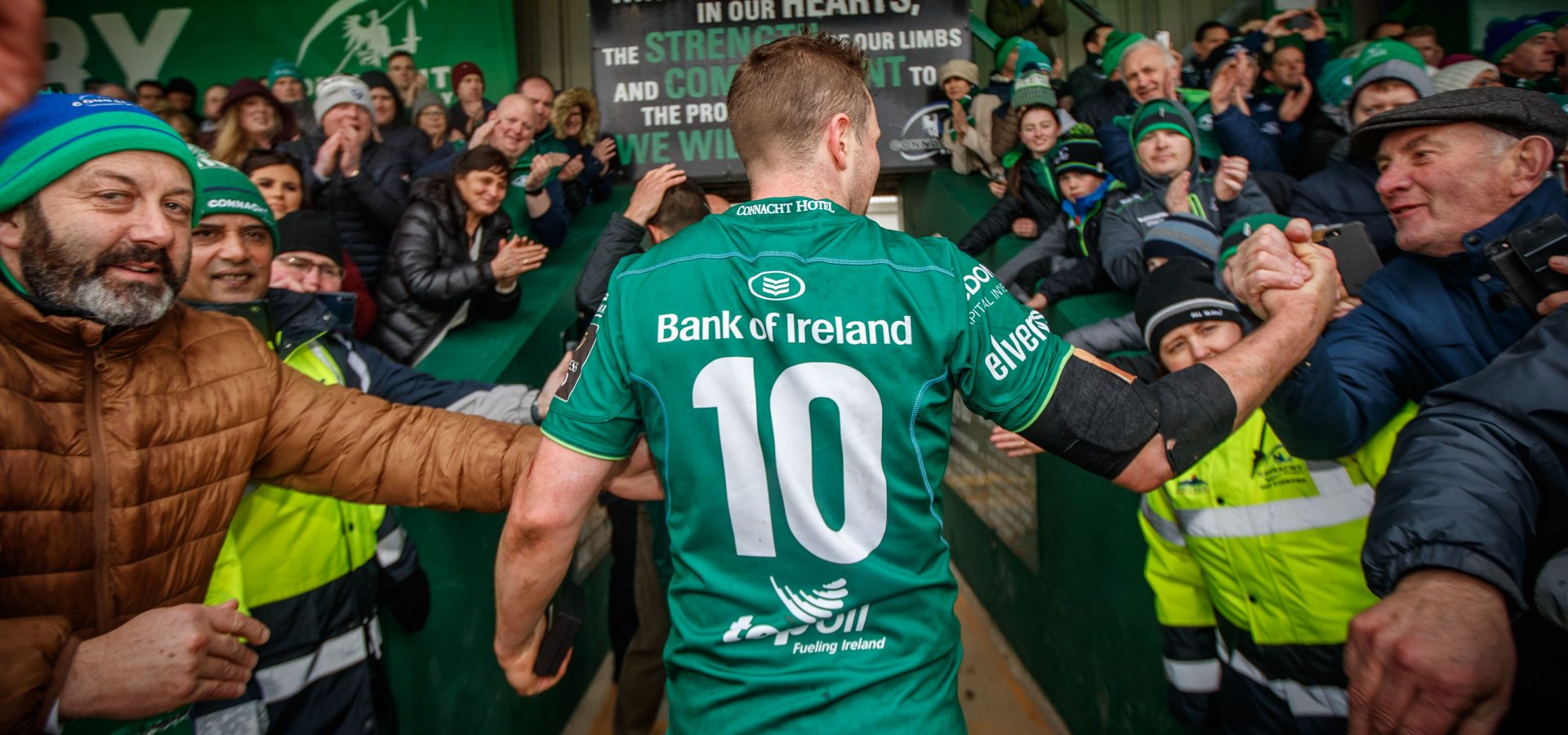 The pull of the Roscommon Junior Football Championship Football was peculiarly strong for Jack Carty last summer. A former inter-county minor, the Connacht Rugby out-half has retained a love for the game that sees him regularly stop by his old GAA haunt at St. Brigid's in Kiltoom.
The parochial sense of duty is strong, and many rugby players have answered the call over the years. With a new Head Coach due in Galway, Carty was eager to maintain his fitness levels and impress at the earliest opportunity. However, some pragmatism prevailed, and the Athlone man decided against turning out with some of his friends once again.
The fact that St. Brigid's came into his sights at all demonstrates how keen Carty was to do whatever he could to correct a disappointing season in Galway. Yet, with a clean slate awaiting him under Andy Friend it was time to go back to the drawing board.
"I was always a hard-working player," Carty told Joe Molloy as he accepted the Virgin Media Sport Supporters' Player of the Year Award, "but it was about being smart, so I needed to have that proper, honest chat with myself.
"Just over a year ago now, my cousin passed away. Before he died, I had a good conversation with him about wanting to play for Ireland. He asked me: 'well, are you doing everything you can do?' That really resonated with me after he passed.
"I didn't want to have any regrets. So, I sat down and put some targets down on paper – win player of the year and get an Irish cap. Somehow I've managed to do both in one season!"
In a year that has seen Carty win the admiration of the public and his peers, he acknowledges that it has been a season beyond comparison. The stats back it up. His kicking game has become a massive strength, while he has also been a potent threat in the loose, cementing his position at the top of Connacht's points charts. Or so we all thought.
"There was a bit of a mix-up with that one actually!" Carty admits. "It didn't take Eric Elwood's amateur days into account and he was there for about 800 years before me! But its ticking over and to get my kicking to a place I'm happy with has given me confidence in other aspects."
Having lined out alongside Robbie Brady and Jeff Hendrick for the Republic of Ireland U15 side, Carty's footballing ability has always been a key attribute. When they met at the start of the season, Friend challenged him to bring that weaponry to the fore. His kicking game needed work, but there was much more to Carty's talents than eyeing up the posts.
"I have been working with a focus coach in Galway. There's a lot in it, but essentially when you're taking a kick at goal you want to block out conscious thoughts. You don't want to be thinking about the next play or what's for dinner this evening. It also ensures that the processes are the same whether you're training at the Sportsground or in the Six Nations at the Aviva.
"I used to think the 10,000 hours rule was how I was going to master my craft. But when you play at Connacht, you can't plan how your weekend will look. 30/40kph winds can suddenly come in and it can be pissing rain and the ball comes back through the sticks to you. Kicking isn't always a practical option.
"By training my mind to be in the moment when I'm over the tee, I have unlocked an extra few percentages. That can make a world of difference at this level. It's also allowed me to turn my attention to other aspects of my game. Now it's all about quality over quantity right across the board."
In terms of his performances, Carty has spearheaded Connacht's return to form that has seen the province earn their place in the Heineken Champions Cup next season. He is reticent to take too much of the acclaim and instead points to the wider cultural changes in Galway.
"We have been playing with real confidence at Connacht. There is real clarity in what we're trying to do. Players know what is going to happen in certain parts of the field. There's also room for some eyes up rugby, a more pragmatic approach.
"Off the pitch, we're all enjoying each other's company. Friendy and the backroom team, they're obviously our coaches but they're good blokes too, so we all enjoy working with each other. It's a nice place to be.
"JB [Jarrad Butler] deserves a huge amount of credit too. He faced a massive challenge stepping into John Muldoon's shoes, but he came in with new ideas and, alongside the leadership group, he has been driving standards. They have a quiet word with you if something isn't up to scratch, but equally, if something is done well, they'll make a big deal out of it."
With the Rugby World Cup looming large on the horizon now that the domestic season has wrapped up, Carty knows that in some senses, the work is just beginning. He will take a short break but will aim to hit the ground running when Joe Schmidt convenes his players in the coming weeks. Surely, as a nominee for the Zurich Players' Player of the Year, he is bound to feature in those plans?
"I don't think the coaches pay too much heed to it," Carty muses. "Personally, in terms of my own confidence, it's class. There are a number of both men's and women's players who have enjoyed terrific seasons so to counted amongst them and to be recognised by my fellow players is particularly nice.
"I had a good Six Nations, but that's in the past now. Joey is back, Ross Byrne has been playing extremely well. There are three or four of us who are vying to start for our country, not just to be a back-up for Jonny. One or two of us will be disappointed come September, so everyone is trying to make sure it's not them.
"What I have done this season will give me confidence going into the national camp. I just have to keep doing what I'm doing!"
Back to News
Latest Posts