News
JOSH VAN DER FLIER:
IT'S SCARY HOW THE GAME CAN END SO QUICKLY
15th April 2017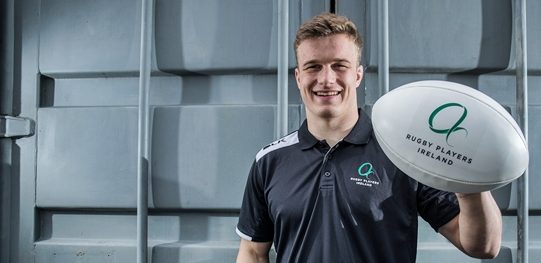 AS PUBLISHED ON THE 42.ie, APRIL 15 2017
PROFESSIONAL RUGBY PLAYERS are a realistic bunch. They don't waste time thinking about it incessantly, but they are aware that their career could be over in the second it takes to carry the ball, jackal for a turnover or hammer into a tackle.
Even for a 23-year-old like Josh van der Flier, really only at the beginning of his journey with Leinster and Ireland, there is an awareness of the fragility of it all.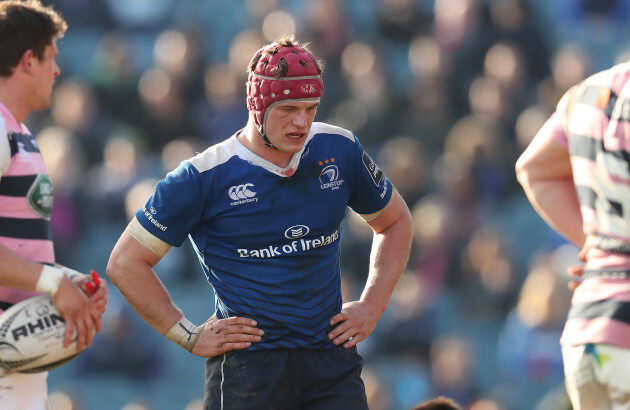 Van der Flier is a player who never holds back physically.Source: Billy Stickland/INPHO
He has seen examples first-hand at Leinster in recent times, with Luke Fitzgerald and Kevin McLaughlin both forced into early retirement in the last two years.
"It's quite scary, to be honest," says van der Flier. "I remember Kev having to retire at the start of last season. It's the reality of the game really, but it's scary that the game can end that quickly for you.
"That's why it's so important to have the support and help to work on areas outside rugby."
Van der Flier has been putting down some foundations in recent years, juggling his burgeoning Ireland and Leinster career with a course in Sports Management at UCD.
He's got a single module left to pass this semester in order to earn his degree, and it sounds like it will be something of a relief if he does so.
The Wicklow man says Rugby Players Ireland – formerly known as IRUPA – have been a major help in his efforts to find the right balance, dealing directly with his lecturers during busy periods in the rugby calendar.
The players' organisation has also provided him with guidance in the spheres of public speaking, dealing with the media and even social media, as he attempts to ensure that the oval ball does not occupy his every waking thought.
The stress professional rugby places on his body is a constant reminder to van der Flier that he must give energy to his off-the-pitch education. Even with his relative youth, playing through minor niggles is a reality for van der Flier.
"For me, after a few games in the season you always have a few niggles. Something will be a bit sore or that kind of thing. It wouldn't be anything too bad, maybe just a shoulder that's a small bit sore.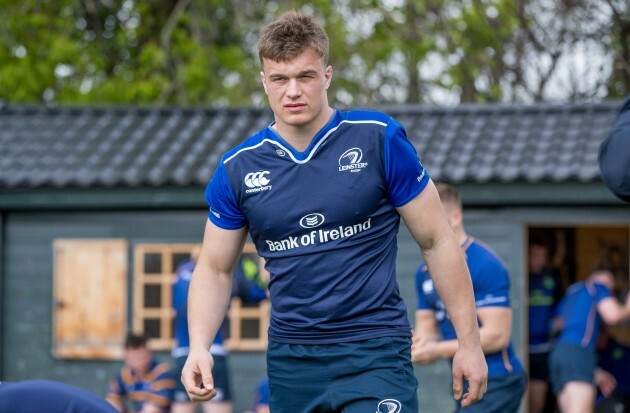 Van der Flier starts at openside for Leinster today against Connacht.Source: Morgan Treacy/INPHO
"My shoulder that I hurt during the week off from the Six Nations, I still feel it a bit. If I was to put a big tackle on, I'd still feel it a small bit and then a couple of bruises or a sore knee or sore ankle, but nothing that was a big risk.
"They wouldn't put you out there if you were at a big risk of injury, just a couple of bruises. Sore fingers are a big one, but you just suck it up and play on."
Providing a sense of comfort while still pushing his body to its physical limits is the fact that van der Flier feels Leinster and the IRFU take diligent care of him.
With comprehensive physical and wellbeing tracking being part of the daily routine for province and country, the openside flanker explains that the backroom staff are sharp at making calls on when to ease off on himself and his team-mates.
"Leinster and Ireland would be really good at managing you," says van der Flier. "I remember last year, just when you thought, 'I'm really getting pretty exhausted here,' they'd say, 'Take a long weekend' or 'You won't train today, you've had a heavy load the last few weeks.'
"Peter Tierney is one of our sports scientists and he does all the GPS for Leinster, working with Charlie Higgins, the head of fitness.
"After each session you rate how hard the session was. They can work out from that how tough it is on your body. If you're always rating training really, really hard and have had some tough games, a couple of knocks, they might tell you to take the day off."
Having endured injury frustration with the aforementioned shoulder during Six Nations time this season, van der Flier is happy to be healthy and fresh for this evening's Guinness Pro12 clash with Connacht in Galway [KO 7.35pm, TG4].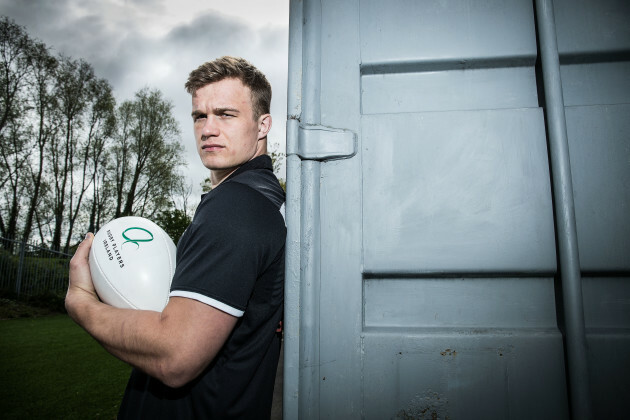 Van der Flier praised the work Rugby Players Ireland do on his behalf.Source: Dan Sheridan/INPHO
Leo Cullen has made 11 changes to his team, with a raft of front-liners rested, meaning van der Flier and a few others have been handed chances to shine a week before the Champions Cup semi-final against Clermont.
While he won't admit that the province have been more focused on Clermont than Connacht, van der Flier does say that these are exciting times as the end of the season and the promise of trophies draws closer.
"These are the big days, the games everyone wants to be playing. When I was a kid, I would have been looking forward to these games for weeks. You look at the run-in of games we have and you know it's the business end. It's just very exciting."
Life for van der Flier with Leinster at present is an unrelentingly competitive one, even with Jamie Heaslip's injury meaning they are down one high-profile back row.
Still, Dan Leavy, Jack Conan and Sean O'Brien look like the obvious starting back row for the Clermont clash, with Ireland internationals like van der Flier and Rhys Ruddock battling to push into the first-choice XV again.
"We're all mates but it's very, very competitive as always," says van der Flier. "Everyone is trying to get one better than the other on the pitch. We all get on, it's just that everyone has that respect that Leo will pick the best team.
"We have that appreciation and it's more 'well done' if someone gets picked ahead of you than being bitter about it, which is a great way to be."
Leavy and Conan's new contracts were recently confirmed by Leinster, meaning the competition is unlikely to ease next season either. Indeed, with other prospects like Max Deegan maturing, it will only grow further.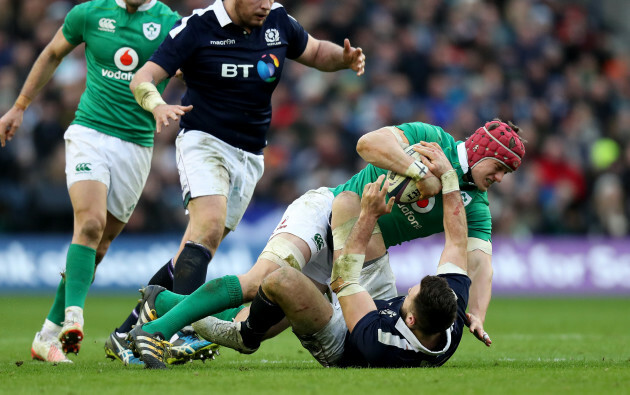 Van der Flier played twice in this year's Six Nations.Source: Inpho/Billy Stickland
There have always been calls for one or more of Leinster's back rows to look elsewhere in Ireland for chances to be the regular number one choice in their position, but van der Flier explains that he's exactly where he wants to be.
"I can only speak for myself, but I've watched and supported Leinster since I was a little kid, so you always want to play for Leinster.
"It's such an enjoyable place to be, playing with some of your heroes from when you were younger, it's pretty incredible. You don't really want to leave. It's the team you support and it would be so hard."
Mature enough to recognise that it could all be over in the blink of an eye, van der Flier is hungrily embracing every opportunity he gets.
Murray Kinsella
Back to News
Latest Posts