News
JACK MCGRATH:
ONE DAY IN CHICAGO
01st February 2017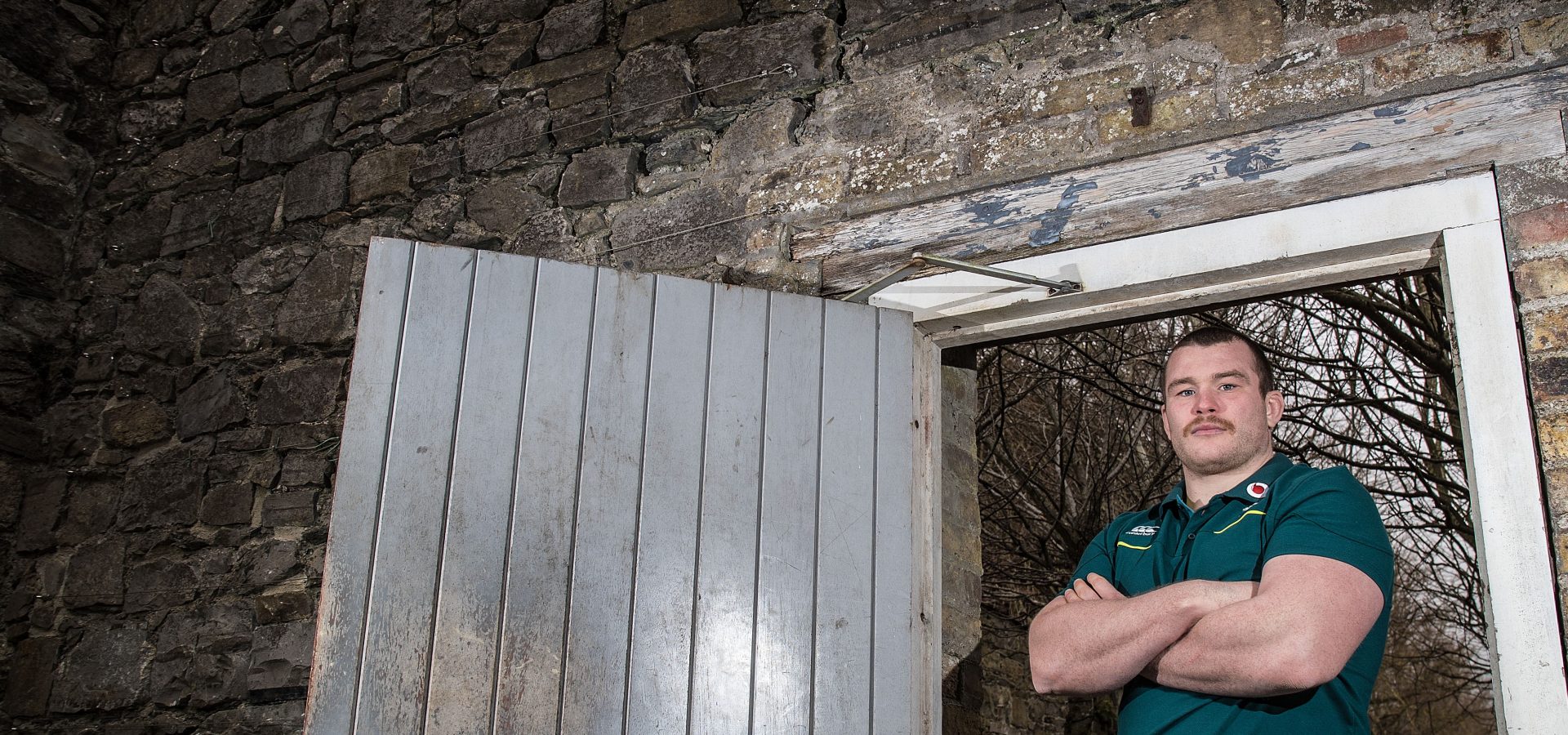 Jack McGrath's happiest sport memory of 2016? Easy. Soldier Field, Chicago, Saturday 5 November/ Ireland 40, New Zealand 29 and a 11-year monkey off the back.
"To have made history like that is pretty amazing," McGrath says. "You'll only be the first team to beat New Zealand once and it's a pretty special thing. I tried to just step back from it a little. I though to myself, 'I'm never going to be in a situation like this again. I wonder if this is what it's like to win a World Cup'. It is pretty special. I had to take a few deep breaths and take it all in."
At which point, someone put a full pint of lager in McGrath's hand. He smiled broadly for the cameras and the pictures duly went viral. There were a little misleading, however. The partying in Chi-Town that night was done mainly by Ireland's supporters, not the players. Having celebrated on the pitch, McGrath's first instinct was to get in touch with family.
"Yeah, I came into the dressing room and rang my mam and my girlfriend, Sinead," he recalls. "We had a good chat. It was emotional and it was nice and it was good. It was definitely one of the special days I'll remember forever."
On such a day, it was inevitable that McGrath should think of his brother, who tragically took his own life six years ago. Having bottled up his feelings about this for most of the intervening period, McGrath spoke powerfully on the subject last year, when he lent his support to the 'Tackle Your Feelings' initiative by the Irish players' association.
"He'd come to all my games, even from U10s." McGrath said. "He always used to say to me, 'You'll play for Ireland'.
"It's one of the main reasons I wanted to play for Ireland, when you hear his words ringing in your ears everytime you walk out on the pitch."
The 27-year old Dubliner has explained how talking publicly about his terrible sadness felt like a knot unravelling in his stomach. For so long he had channelled his anger and hurt into just making himself a better rugby player.
He'd always had the raw materials to thrive in the front row. As a 12-year old, he was hanging around with the 15-years old in his estate, simply because he was as big as them. It was no surprise that he enjoyed mixing it on the rugby pitch with St.Mary's, given that so many of the men in his family had been labourers. Some kids who graduate into the provincial academies struggle with the idea of hard work in the morning. It felt natural to McGrath.
"I would have done a bit of site work when I was younger with one of my friend's fathers," he explains. "My father's a truck driver. I'd have gone out with him on the trucks, helping load containers and doing bits and bobs. I'd have always been doing stuff in my own house, learning from my dad – a bit of carpentry and stuff over the years.
"I came through Leinster's sub-academy and our strength coach Dave Fagan was a hard operator who took no s**t. I think he puts the steel in a lot of players to want to make it, because if you're a little bit soft on yourself you'll want to give up and he'll sniff that out.
"I remember having to get up at six in the morning, going down to Donnybrook under the stands doing weights, lovely and warms with the bar sticking to your hands. Those years out of school definitely toughen you up."
Patience and resilience – these are qualities that he has needed during a career hugely influenced by Joe Schmidt. While Michael Cheika gave him his first Leinster cap, this was only a couple of months before Schmidt arrived at the province. They have enjoyed success together but there have been growing pains along the way, too. For a couple of years, McGrath had to wait in line while Cian Healy and Heinke van der Merwe shared the blue no.1 jersey.
But in Schmidt's final season, 2012-2013, he picked up winner's medals in the Pro12 and Challenge Cup. The following November, when Schmidt took over as Irish coach, his first selection for the Irish no.1 jersey – against Samoa in the Aviva stadium – was McGrath.
The then 24-year old experienced a hard lesson in the third Test of that November series, against New Zealand. With 79:30 on the game clock and Ireland still five points ahead, referee Nigel Owens blew his whistle and barked words which haunt him still: "Number 17! Straight off your feet!"
About 90 seconds later, Ryan Crotty was dotting down in the left corner to complete one of the greatest escapes in rugby history and to prolong Ireland's miserable record in this fixture. And it could be all traced back to McGrath's transgression at the ruck. Schmidt could have gone easy on the Test rookie at the video review. But there were too many lessons to be learnt about what it takes to beat the best. The coach went in hard. And McGrath took it hard.
"With Joe being such a stickler for tiny margins in every aspect of your game, it's obviously going to get picked up," McGrath says. "It had to be picked up. It was a motivating factor for the rest of the squad after that, those last 90 seconds. I beat myself up. Like there was no excuse for it. It was a mistake and it just happened so quickly and that was it. It was pretty s**t at the time and for a long time after it but, again, that's part of sport and you have to pick yourself up. It's only going to affect you if you really dwell on it. You just have to bite your lip and get on with it."
He did that and more. Having won the no.1 jersey from his pal Healy, he is reluctant to give it up. Ireland played 12 Tests in 2016 and McGrath started all but one – the game against Canada when Schmidt awarded as many as eight new caps.
The lessons learnt from the 2013 gamewere put to valuable use in November. Ireland looked in peril in Chicago, when New Zealand go to within four points of them in the final quarter, and then again in Dublin in the last game of the series, when Australia were leading 24-20 midway through the second half.
"We threw away a lead in 2013, just as we did in the second Test in South Africa last June," he says. "Sometimes you need to go through that to learn how to react in those situations.
"It helps to have a spine with so much experience – guys like Jamie (Heaslip) and Rory (Best) are real rocks of sense. It also helps to have kids coming into the squad who are so confident. You'd think Joey Carbery, Garry Ringrose and Josh van der Flier had been there for years the way they slotted in.
"Quality teams are always going to have purple patches during games. It's a matter of riding the wave and staying positive. You have to keep attacking. It was our bench that made the difference against Australia and that was a real bonus for us."
Those victories solidified Ireland's place in the top four of the World Rugby rankings. They must also provide the players with huge confidence going into a Six Nations where the playing schedule is relatively kind – England and France, traditionally their toughest opponents travel to Dublin.
Rightly or wrongly, the meeting with England on St. Patrick's weekend is already being billed as a Grand Slam decider. If England keep winning they will also being going for a record 19th straight win come that early evening on 18 March. How piquant that the defence coach preparing to stop them should be one Andy Farrell. McGrath says: "We haven't really had the time to look at England just yet, but I'm sure Faz will be really excited to get his hands on England in Dublin. Definitely!"
With a little luck, McGrath will be joining forces with Farrell in New Zealand at the end of the season too. McGrath smiles at the mention of the Lions. He knows people in the media are tipping him to be that Test loosehead. He admits he's though about what it would be like to make his first ever visit to New Zealand, and as a Lion. But there's no better at dealing only with the job straight in front of him. Props tends to be good at that sort of thing.
"The odd thing pops up on the radar," he laughs. "It's hard to avoid stuff with social media. But you can't start believing everything you read in the papers. Do that and you could end up pretty frustrated. You respect what guys around you have to say, not the people outside who you have no influence on.
"I'll admit when I watched the Lions in Australia for years ago, I did wonder, 'Will I ever be considered good enough?' I'd be lying to you if I said it wasn't in the back of my mind. But that's all it is. If you're too obsessed with becoming a Lion, that's when you fall down; you're looking past where you need to be now.
"It takes a lot of luck to get there. It's a long season and there are a lot of quality players out there in my position. It's a bit diplomatic of me to saythis but the best plan is if I take it game by game, keeping playing well and stay injury free. Then we'll see."
Indeed we will. It would be a dream ending to what has already been one of the happier seasons.
Back to News
Latest Posts