News
NIYI ADEOLOKUN:
IT'S EASY BEING NIYI-ZEE
30th October 2016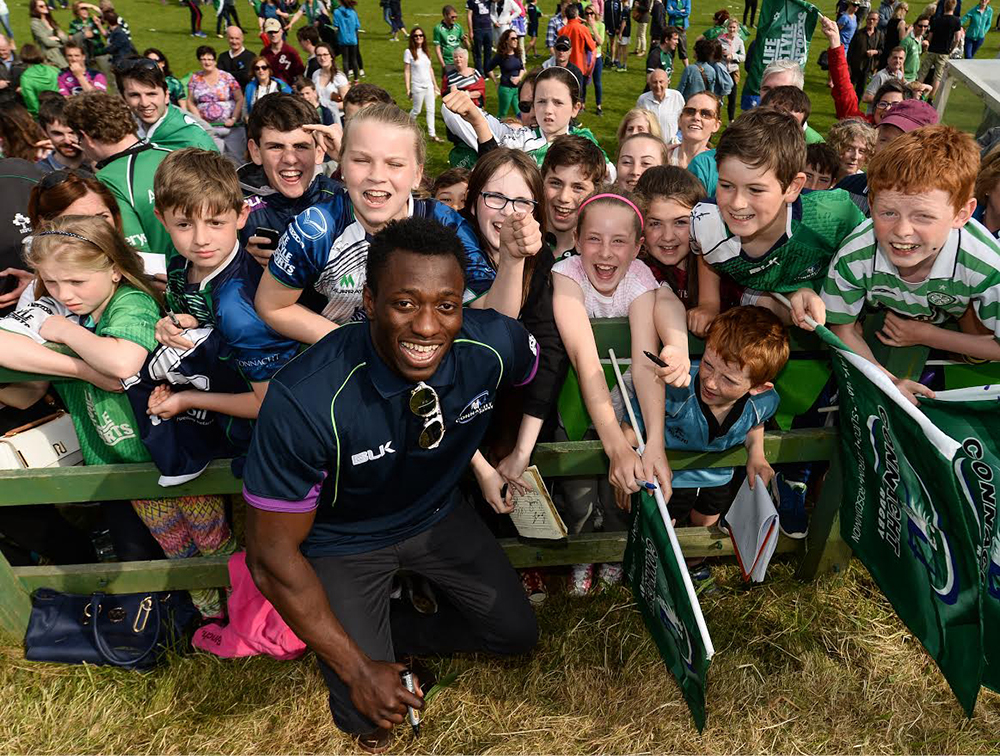 There was an old saying I came across before: "It's six o'clock and there isn't a cow milked or a child washed." I'd strongly suspect that it applied throughout Connacht on the morning after last season's Pro12 final.
Nobody could claim to have been around when Queen Méabh led the warriors of Connacht into battle to claim the most famous bull in Ireland in the Cattle Raid of Cooley. In time, legend will record that it was actually Pat Lam in charge that day.
I remember being aghast at the dinner table as Kerry's Maurice Fitzgerald split the uprights from the sideline to force a replay with Dublin in the 2001 All-Ireland Quarter-Final. I took a break from work to watch Tony McCoy rally his horse to take the lead yards from the line for his 4,000th career win in 2013. I was still dismissing Dundalk's chances until Robbie Benson raced clear to secure a 3-0 win over Bate Borisov in the Champions League last August.
These are all moments that have become part of Irish sporting folklore and last May another was added: Where were you when Niyi Adeolokun chipped over the Leinster defence to help seal Connacht's first ever Pro12 title in Edinburgh and shake up the old provincial order?
"I'll never forget it but it hasn't quite sunk in yet. It's all a bit surreal," Adeoloukun admits. "It just felt like any other game though, no different to when I scored for De la Salle or Trinity, but I'm sure that in time when I look back and reflect upon what we did throughout the season, the significance of that moment will hit me."
Having arrived in Terenure as a 10 year old from Nigeria, Adeolokun's sudden rise in Irish rugby has taken an unfamiliar route. A talented sportsman, Adeoloukun may have been togging out for Dublin against Mayo had he remained with the Templeogue Synge Steet GAA Club. Shelbourne FC also harboured his talent before his rugby prowess was unearthed.
"Sport was my life. I threw my hand at everything at De la Salle Churchtown – usually to get of class! But when I was cut from Leinster U19 Development squad shortly before the inter-pros began I was more disappointed than I might have imagined. I was about to start 6th year so I made a conscious decision to cut down on everything and focus on my rugby… and studies!"
Lorcan Balfe, Adeolokun's principal, then brought the speed merchant to the attention of Tony Smeeth, the Director of Rugby at Dublin City University. "I had four brilliant years under Tony but he knew that professional rugby was in my sights. He played his part in making that happen, sending out my highlights reel to a few of his contacts in the game – one even went as far as Bernard Jackman at Grenoble! But it was Nigel Carolan who acted on it and set up a trial at Connacht."
An opportunity for Adeolokun to showcase his ability was first presented in a game against Russian side Enisei in April 2014. Following a comfortable 54-21 win, Pat Lam wasted little time and invited the winger to join up with the side. "It was a very easy decision to come out west. I would have gone anywhere to play professional rugby but when Connacht expressed an interest I was delighted because it also meant that I could stay in Ireland and remain close to family and friends."
Within a few weeks of his professional debut, Adeolokun had signed a three-year contract and his momentum continued to build thereafter. His impressive early season form has seen him sign a further extension that will see him remain at the Sportsground until at least the summer of 2019.
While Adeolokun's personal aspirations are being fulfilled, Connacht's fortunes have hit something of a setback. With the team languishing in the lower end of the Pro12 table, they face an uphill battle to return to the heights of last year.
"It was always going to be a hard ask to try and live up to what the championship winning team achieved. We are now the team that everyone wants to beat. But I'm sure that whatever the season brings, Pat is experienced enough to handle it and we can have another successful season at Connacht.
"Regardless of what happens, Pat Lam has had a huge influence on all of us. Obviously, he gave me the chance to play at this level but off the pitch he is equally significant. He invests his time in making you a better person and places great emphasis on what is important to you. He knows exactly what makes each player tick and so all any of us want to do is our best for him."
Once the cows were finally milked and all the children washed, the party continued across the City of the Tribes as the victorious side returned home. But despite the fanfare there was to be no postponing of the Galway Senior Football Championship. Life kicked on, the only difference being that all the youngsters in Pearse Stadium wore the green of their province and cradled a rugby ball. Few would have thought that a boy from the Nigerian town of Ibadan would be instrumental in bringing about that change.
Richard McElwee
Back to News
Latest Posts