News
IN THE SENSHAPE OF HER LIFE
16th October 2017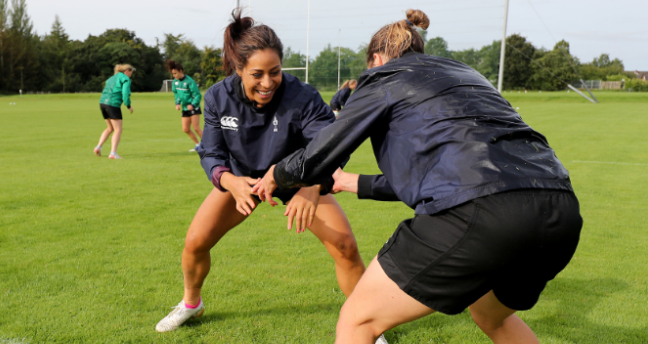 As they stood to attention at the Belfield Bowl prior to their World Cup battle against the Japanese, an emotional flood released by Ireland's Call engulfed the players. Some looked to the turf beyond their twitching legs – evidently giddied by the imminent whistle. Others clutched their neighbours shoulder as though they would never let go. Meanwhile, Sene Naoupu puffed out her cheeks and burst into verse with such gusto that her old friends in Otago could probably hear her.
Thereafter, many of them may have preferred to look away as Japan threatened to dismantle the party in Dublin. However, as the Sakura 15 pressed again midway through the second-half, Sene summoned a battle cry from the days of Queen Medb of Connacht and literally knocked the wind out of the Japanese sail. Within moments, Alison Miller was dancing over the elusive whitewash at the far end. Belief was back in full supply.
That the inspiration came from the New Zealander within Tom Tierney's ranks should be no surprise. She is a proud Irish woman.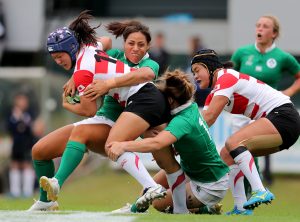 "We came with grateful hearts and no expectations," Sene says when reflecting on her move to Galway alongside George, her rugby playing husband. "Some people had put in some great words, so we knew that Ireland would be amazing – we just didn't know how amazing. We're extremely thankful and lucky to have come here. There are just so many great people…"
Having met George through mutual friends whilst he was playing with the Highlanders in Dunedin, Sene thought little of the sacrifices that accompany life with a professional sportsman – not least a move to the other side of the globe. A swift romance ensued and following a season in Super Rugby, the Naoupu's packed their bags and set off to explore the world before settling for some heady days at what was an outpost of European rugby in 2009. There, Eric Elwood extended a céad míle fáilte and their Irish adventure began.
"I'm from a small town called Oamaru so something like this might only happen once in a lifetime, if at all. When the opportunity came to travel the world with someone I loved, I had to embrace it. When we first left, our main consideration was whether we would be able to continue supporting our families back home. Going overseas allowed us to do that even more, so it was a win-win."
Having enjoyed a 15-year career in the game, George brought his professional playing days to an end this summer following a stint in London with the famous Harlequins club. An undoubted Connacht legend, the news was met with great sadness on this side of the English Channel. But thankfully the Naoupu's have more to give to the rugby community of Ireland.
While over 300,000 Irish people watched Sene front the Irish World Cup challenge at Belfield, George has been getting accustomed to his new roles as Head Coach of Wicklow RFC, a Club Community Rugby Officer (CCRO) for Leinster Rugby and the TY Academy Coach/Development Coach for St Gerard's School in Bray. Pre-season has never looked so different.
But as a notoriously competitive creature who was renowned for the havoc and destruction that he wrought on the field, was there a hint of jealousy as wife prepared for the international stage?
"Not all all" refutes Sene. "He's happy to have had the career that he had as a player and has been relishing getting stuck into his new coaching ventures on the other side of it. He's also very happy for me and I have a lot to thank him for. I had retired a few years ago, but he inspired me to make a comeback and has continued to be a huge help. If ever I've had any extra skill work or conditioning sessions, he'll be there with me at the park or gym. He loves to help in whatever way that he can. He's incredibly proud of the girls and was so excited to be involved as a supporter. He loved it."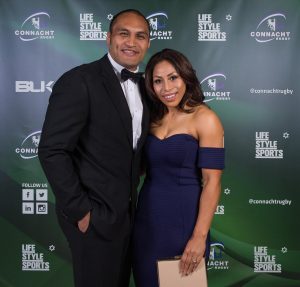 As someone who has built a career on health and lifestyle advices, Sene's early retirement from the game is intriguing. Indeed, with the growth of her fitness business alongside a thriving rugby career in 15s and on the 7s circuit, Sene would appear to be fighting fit in all areas of her busy life. It is hard to see it having been any different. Alas, it was not always so. When passing reference is made to Nigel Owens' recent admission to having battled with bulimia, it soon becomes clear that the stresses of a multi-faceted life ultimately impacted a toll upon the young Naoupu.
At 22, she was diagnosed with anorexia, amongst a number of other eating disorders.
"When I was receiving treatment all those years ago, specialists said the healing process would take at least a decade. Thankfully, I've been able to go through the process and come out the other side," she says with some relief. "I was your typical sporty, outgoing, family and community orientated person who loved people and sports. But I became incredibly unhealthy throughout my early 20s. I was studying health sciences at university, training in a high-performance basketball academy, I had the Otago Rugby Academy and I was working part-time to finance it all. I wanted to become an international athlete, but I put too much pressure on myself in trying to do well for my family. It took a couple of years to break through the first step of the healing process. Eventually I learnt how to understand and balance my life and reset goals. Thank God I was able to get through some incredibly dark times and bounce back to full health and do more of what I love – serving others, including my family, at the same time."
While Sene remains focussed on what happens once she crosses the whitewash; her rugby career has also afforded her alternative avenues through which she can express the wide range of skills and abilities that lie in her locker.
Now in its fifth year, Senshaper is a three-strand training method personally devised by Sene. Having studied holistic lifestyle coaching and exercise coaching in San Diego to compliment her education in health sciences, commerce, sports performance and sports management, Sene mixed those areas and sought to help people achieve optimal mind and body health, for high performance and sustainably healthy lifestyles. Combining tempo controlled compound exercises with high intensity interval training where every muscle in the body is used, 'The Senshaper Series' has grown in popularity throughout Galway and Athlone.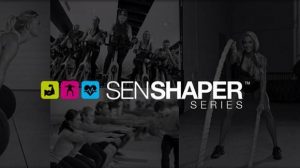 "I've been inspired by people taking their opportunities. Now that we're based back in Ireland again, we're super excited to develop the business and help to promote sport at the same time. The whole idea of the programme is to get people fit for life and fit for sport, so to see them take up whatever they once enjoyed again is really satisfying. I'm also starting a Masters in Sports Business Management at UCD in September. I want to become involved with the decisions in the business of sport and explore the market of facilitation or sponsorship activation services for women's sport in Ireland. There are so many opportunities out there for us but not many resources or roles available to help our female athletes exploit commercial opportunities, or have facilitation services to support that."
While the hosting of the Women's World Cup in Ireland has been viewed as a huge success, performances on the field from the women in green did not quite live up to expectations. Nevertheless, coverage of the game in the country certainly took a jolt to the arm with record numbers tuning in to watch. Whether or not the profile of the sport can be sustained in its aftermath presents a challenge but for now Sene believes that her teammates must also seek to capitalise on the services that are available to them as international rugby players.
"Through my own experiences, it's absolutely vital to get out and learn how to build and sustain genuine relationships. Through Rugby Players Ireland there are ready-made resources and services created especially for rugby players' needs. George and I have been so grateful for their work over the years, in helping us create key networks of support for any off-field business, our education and more recently – our move back from London to Dublin. They were instrumental in providing a plethora of contacts and options for George's new coaching opportunities. We wouldn't have explored some key opportunities if it weren't for Rugby Players Ireland."
Back to News
Latest Posts