News
IN REVIEW: 16/03-5/04
05th April 2019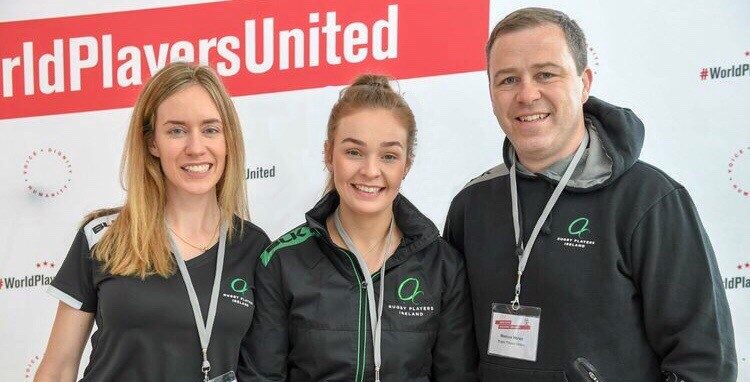 WORLD PLAYER DEVELOPMENT CONFERENCE 2019
Over the past number of days, our Player Development Managers (PDMs) have been in Amsterdam attending the World Player Development Conference. Hosted by FIFPro, over 100 player and personal development experts were invited to share their experiences of working in various elite athlete environments.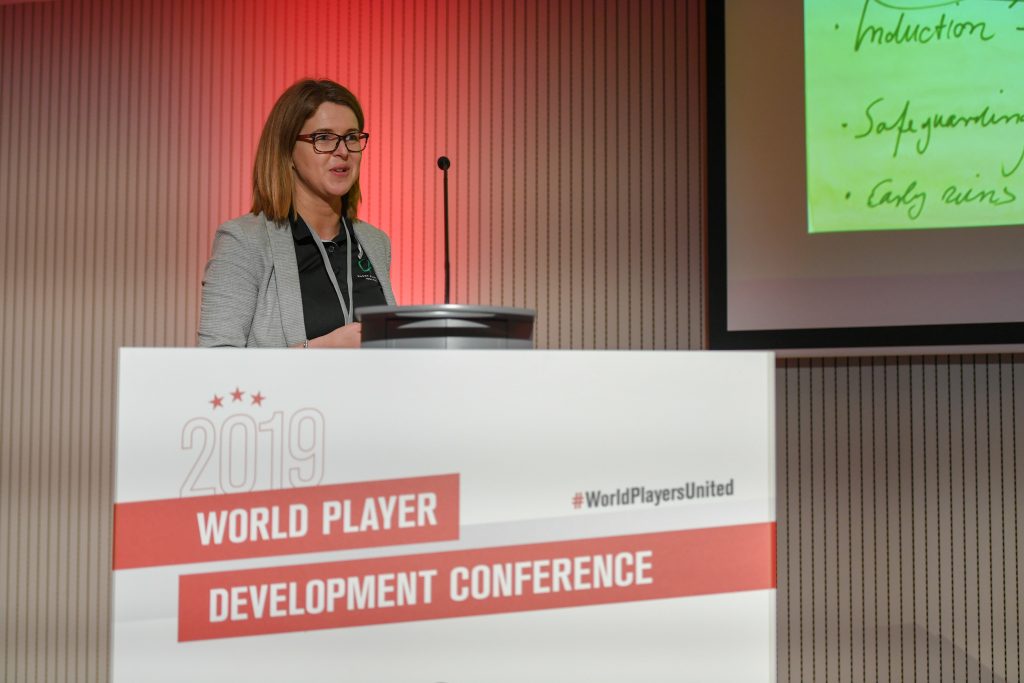 The three day conference in The Netherlands was preceded by a meeting of global PDMs in rugby, facilitated by International Rugby Players. Player Development Programmes from New Zealand, Australia, South Africa, Ireland, England, France and the Pacific Islands were all represented.
"This was a great opportunity for PDMs to share best practice in the area of player transition," said Dr Deirdre Lyons, who heads up the Player Development Programme in Ireland and helped to bring the conference together. "The energy and passion in the room was evident as PDMs discussed how we can best support our current and past players, as well as each other."
PLAYING THEIR PART
The past number of weeks have seen our players involved in a range of community activities across the country.
Former Munster prop BJ Botha has been raising awareness for Epilepsy Ireland by taking on the Absa Cape Epic – the largest full-service mountain bike stage race in the world. In much colder conditions, Leinster Rugby players Will Connors, James Tracy and Joe Tomane, alongside his wife Anastasia, took to the streets of Dublin's city centre with the Feed Our Homeless team as temperatures plummeted in the capital.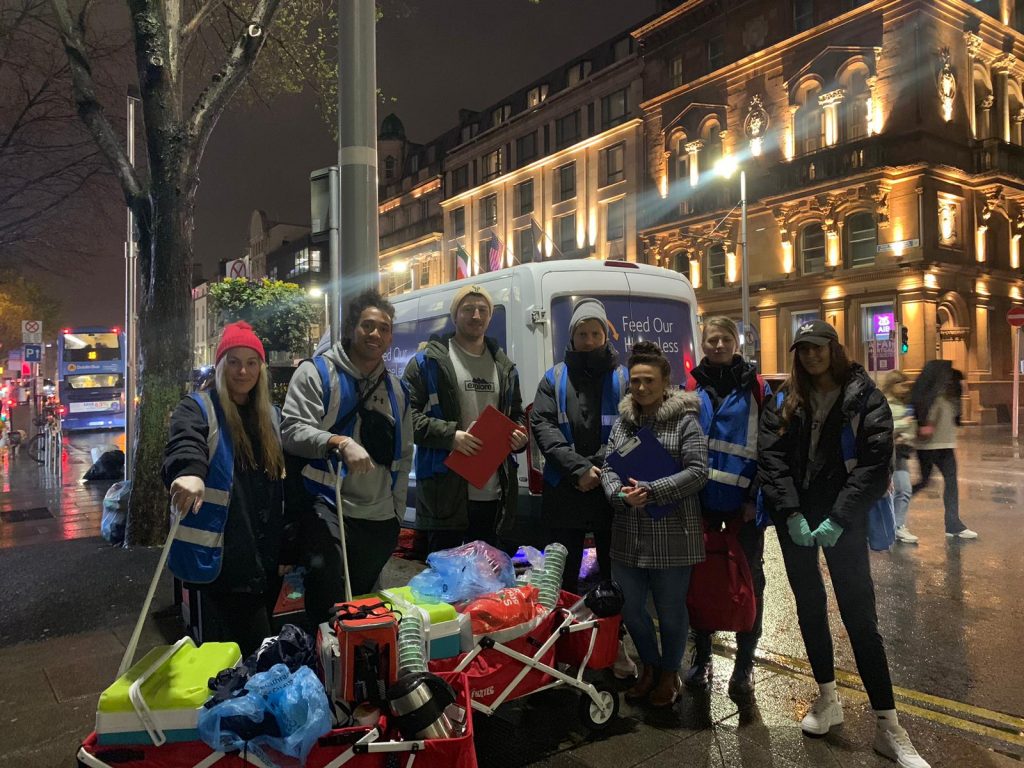 Irish Women's 7s players Kathy Baker, Audrey O'Flynn, Deirbhile Nic a Bháird, Ashleigh Baxter and Amee-Leigh Murphy Crowe dropped by Our Lady's Crumlin Children's Hospital in Crumlin. The delight on the children's faces is clear to see in The Irish Times' Photo of the Day on April 2nd!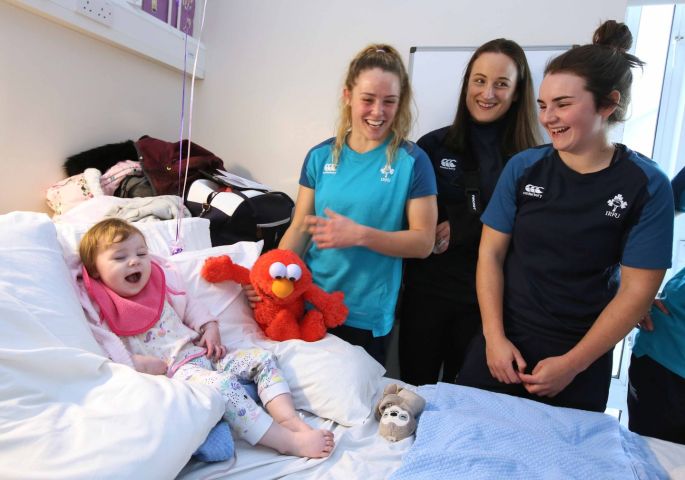 In Limerick, members of the Munster Rugby Academy were out and about on Daffodil Day to support the Irish Cancer Society, while Diarmuid Barron, Sean O'Connor, Luke Masters dropped by the Milford Care Centre alongside U20 Grand Slam winners Craig Casey and Jonathon Wren.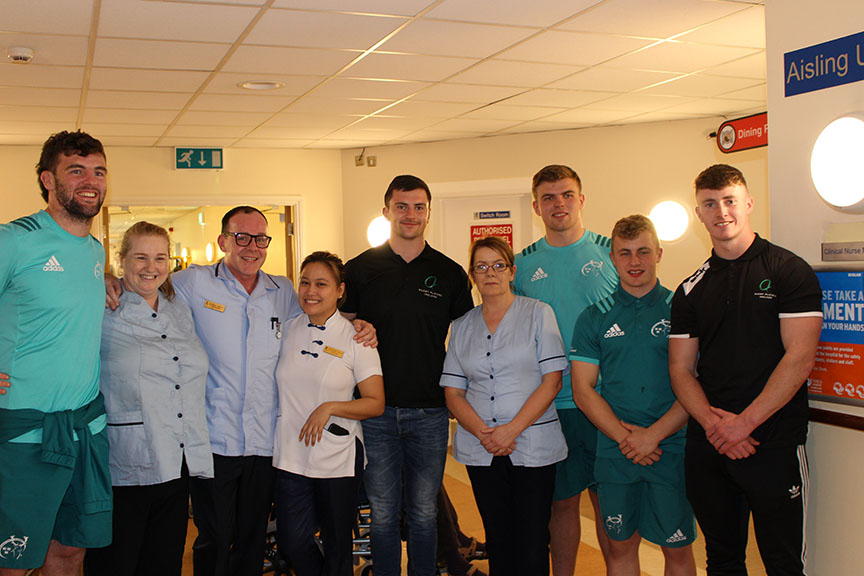 INJURY
It was with great regret that we learned of Dan Leavy's unfortunate injury following Leinster Rugby's success over Ulster Rugby in their recent Champions Cup clash. Conversely, it was with great pleasure that Luke Marshall made a try-scoring return to action in the same game following 10 months out with injury. Similarly, Jack O'Donoghue also put 10 months of injury woe behind him when he returned to the Munster fold. We hope Dan can take heart from Luke and Jack's respective journeys and wish him every well wish on the road ahead.
COMINGS & GOINGS
Our best wishes to Darren Cave who has announced that he will be retiring from the game at the end of the season. An Executive Board Member at Rugby Players Ireland, Darren has been a hugely influential figure within the Ulster Rugby environment for much of his career. Having made his senior debut in 2007, he has gone on to represent his province 225 times (with more to come), whilst he also represented Ireland on 11 occasions.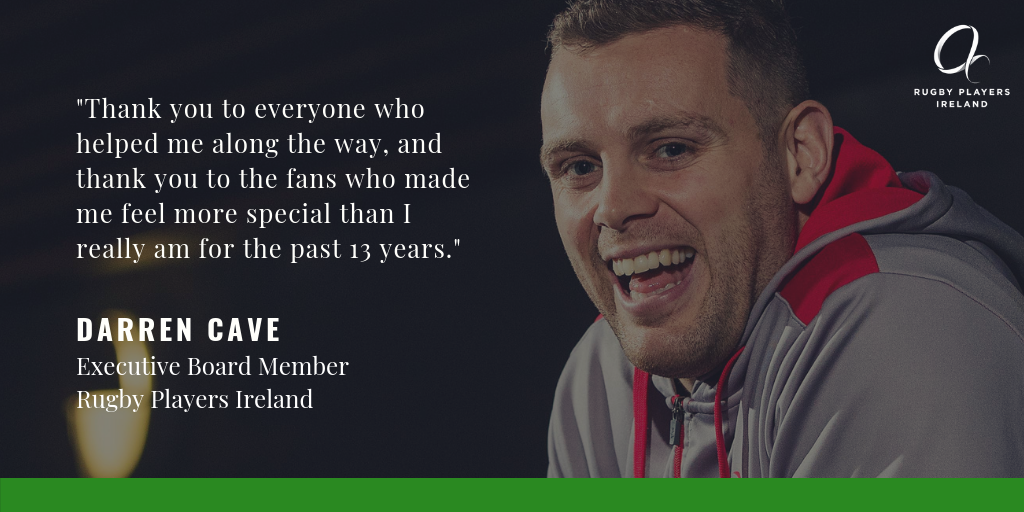 At the conclusion of the Six Nations, we also bid adieu to Irish winger Alison Miller who has chosen to retire from international rugby. Having first played for her country in 2010, Miller turned out for both the Women's XVs and 7s and left a lasting impression on both squads!
Meanwhile, this week we said goodbye to Nancy Chillingworth. Since joining Rugby Players Ireland as a Player Development Manager in January 2017, Nancy has established a strong rapport with members of the women's programme. Recently, Nancy also began working with the Men's 7s squad. We wish her every success in her next chapter, although before she left we managed to grab a quick word… Check it out on Sunday!
NEW APPOINTMENTS
In March, it was announced that David Quinlan would be joining International Rugby Players as Head of Legal and Player Welfare. Quinlan, who was capped by Ireland and also represented his country at 7s, joins the global players body after spending 10 years at law firms in London where he specialised in the commercial and sports sectors.
Former Irish out-half Nora Stapleton has also found a new role having worked with the IRFU for almost six years as Women's and Girls Rugby Development Manager. Stapleton will take on a position as the new Sport Ireland Women in Sport Lead.
Congratulations to both on their respective appointments!
CLUBHOUSE
All players have to turn their hand to something once they hang up their rugby boots. During #CareerTransitionWeek we caught up with some old friends over breakfast in Belfast to see how they're getting on!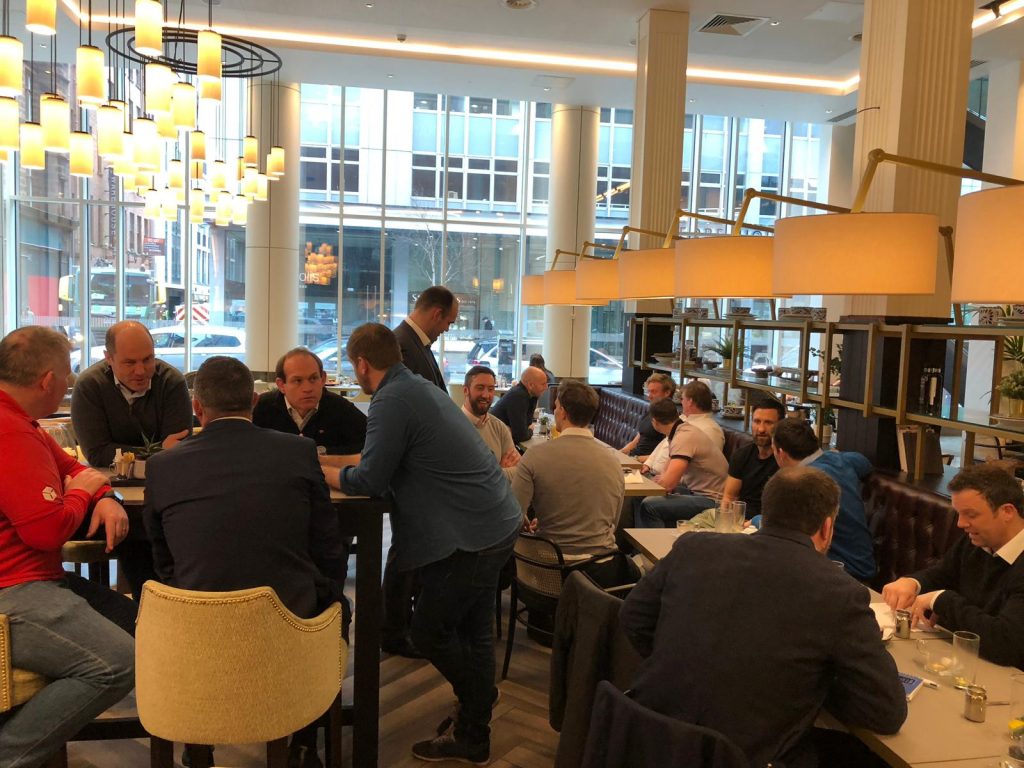 There was also a gathering of former players at The Institute of Directors in Ireland's recent Spring Lunch at the InterContinental Hotel in Dublin. Joining Marcus Horan were Bernard Jackman, Niall Woods, Derek Hegarty, Paul Wallace, Joe McVeigh, Daragh O'Shea, Mike Ross and Louise Galvin. No doubt Marcus was also reminiscing about that time he won a Grand Slam ten years ago… Marcus looks back here.
Meanwhile, ahead of the World Player Development Conference, Dr Deirdre Lyons was at FIFPro with the 'Mind the Gap' expert group. We spoke to her about a new study by David Lavallee, a Professor of Duty of Care in Sport at Abertay University in Dundee, which demonstrates that planning for retirement from sport can enhance sporting performance. Click here to find out more!
GOING GLOBAL
In early April, Tackle Your Feelings Australia was launched down under! Led by former Cavan footballer Nick Walsh, the campaign is being supported by Zurich, the AFL Coaches Association and AFL Players.
It is great to see our campaign take on an international agenda! Good luck to all involved!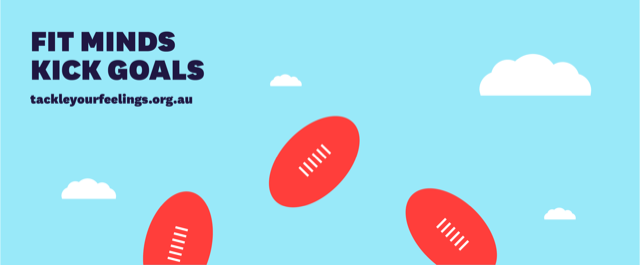 Back to News
Latest Posts