News
HOLLAND OUT TO MAKE A DIFFERENCE
16th November 2017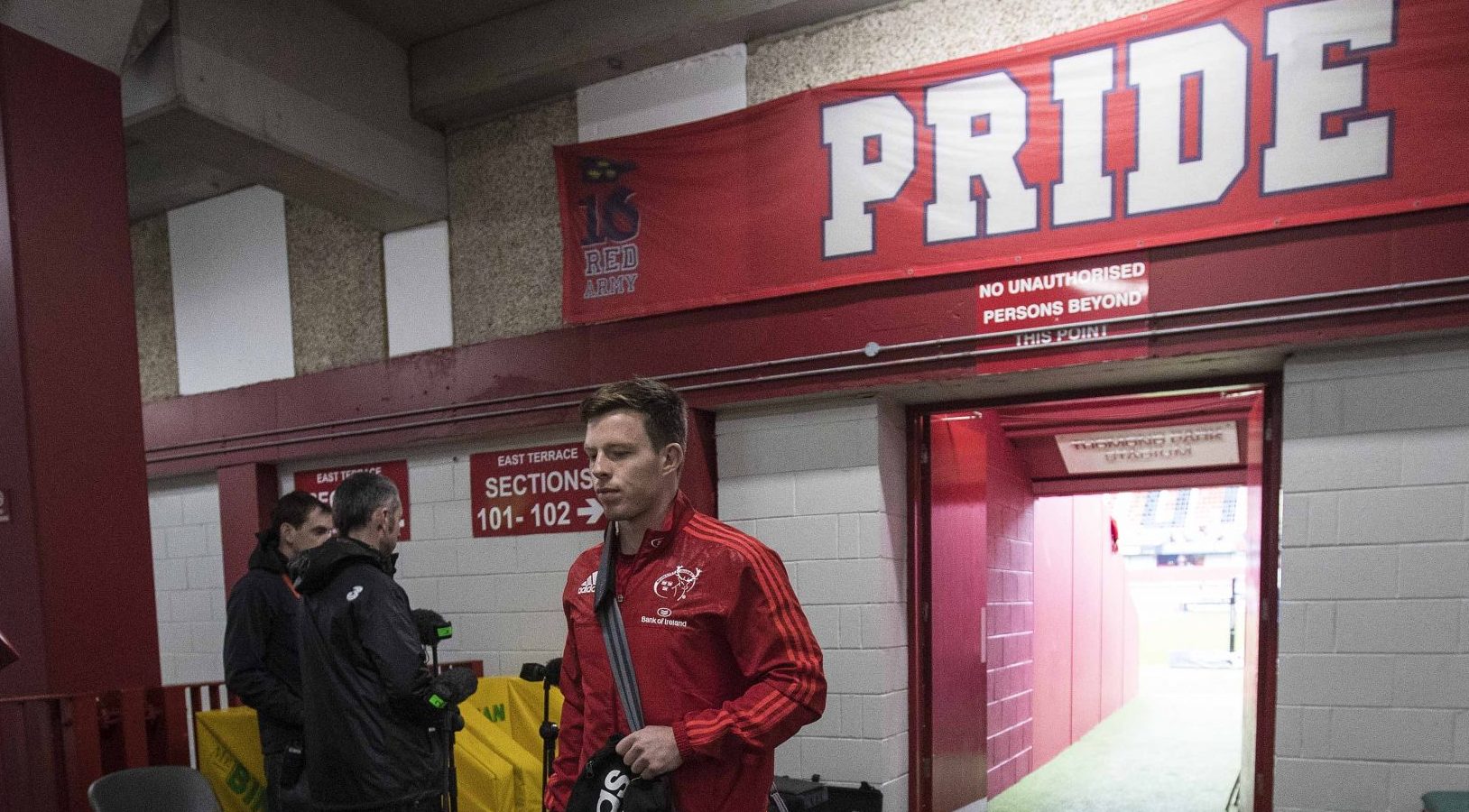 It might not be as resonant across the country as other names such as O'Connell and O'Gara and Foley, but Holland has its own place in the folklore of Munster Rugby. Whenever the name comes up in conversation at Thomond, it is likely that somebody will recall Jason's try scoring contributions that helped Munster to their first Heineken Cup Final of 2000. Others compare Jerry and his son Billy and suggest that both would have been a mean pairing in the Red Army engine room.
In 2016, the name was in the process of being further embellished in the rich history of the province.
"He is a guy we are certainly keeping an eye on," said Joe Schmidt when calls came for the inclusion of Jonny Holland in the Irish travelling party to South Africa that summer. Having played a lead role as Munster qualified for the Champions Cup, including a star turn against Leinster in only his third start for the province, Holland's rising star was suddenly propelled into new territory.
"I was lying in bed in LA and someone sent me a text saying Johnny Sexton was out of the [South Africa] tour," recalls Holland. "I just got this feeling of nervousness in my stomach — not that I wouldn't have loved it, but I just knew I wouldn't have been right."
Holland was in bad need of a rest. Despite his fine form, few realised the lengths to which the out-half had gone to feature at all. Following a severe hamstring injury in November 2014, Holland was suddenly thrust into a fight to save his career. For over a year he could only look on as Munster struggled to reaffirm their once indomitable identity. Although he faced a long road ahead, he knew that he could have a role to play. Yet while he embraced the physical challenge, the resolute Corkman became ensconced in a mental battle.
"Rehab is a dark enough place. It can be very disheartening when guys come in with a knock after you and are back out on the pitch before you. You begin to think about all the work that you are putting into being a rugby player. A rugby player that can't play rugby. It was tough to remain positive, but I had to change my outlook – something which you don't think you can do until you're in the middle of something like that. My mindset was the reason I got back out onto the pitch when physically, I shouldn't have been able to.
"I was told at the very start of my rehab that I would never be the same player again. It really annoyed me and gave me the motivation I needed to get back, be a better player and to prove them wrong. I got there and finished the 2016 season in good form, but in truth I was just glad that I had survived. I'd have to miss sessions just so I could get through to the weekend – my pain and workload were being heavily managed. It's not a great place to be in when you're only a few games into your career. I was always hoping that something would fix it or that I'd get a break. But nothing was changing. In the end I just had to stand up and admit it. I was 25."
The news was met with much dismay in Munster, where Holland was being touted as the great white hope following an underwhelming period for the province. As they watched the out-half line out opposite Johnny Sexton, many former Munster stalwarts including Alan Quinlan forecasted that Holland was primed to be the new Ronan O'Gara.
It made the fall seem that bit steeper.
"I tried to see the brighter side" Holland maintains. "I kept managing the injury, I kept going to the gym, I played a few games of tag rugby and five-aside with the lads. I even hoped to go back and play with my brother at the local GAA club. But it got to the point where I'd be sore after a kickabout and I'd need to take a break. I was trying to push the limits. It might have been silly, but it's hard to remove that competitive mindset which is what made you a professional athlete in the first place."
Of course, this is not something unique to Holland.
"When Jerry Flannery first came back to Munster, he'd pull me aside and ask that we have a kicking competition. I'd be looking at him and thinking – is this guy alright in the head? Here was this retired hooker who can barely kick a ball, taking on a kicking out-half. He'd lose but then he'd ask to go again, and again. It's that competitiveness within us. We need to satisfy it somehow."
While Flannery managed to bridge the gap by delving straight into coaching, Holland naturally assumed his immediate future in the game lay in other guises. But despite no longer being able to unlock defences and kick penalties, he quickly realised that he still had plenty to offer to those in the game and beyond.
"I was probably a bit of a nutjob at times because I put everything into managing myself and my lifestyle so that I could give myself every chance. I was a smaller guy than most so nutrition became a big part of that. It became all about the easy wins and changing a few habits. There is only so much you can do on the pitch or in the gym, but if you open your mind to how much nutrition can impact upon your game those percentage gains become much greater.
"Soon others began to rely on me for a bit of advice. I used to call over to Darren Sweetnam and Peter McCabe but I'd end up spending the whole time answering their questions about what they should be eating when all I wanted was a game of FIFA!"
Having completed a degree in Commerce from UCC during his stint in the Munster Academy which he admits was a huge learning curve in its own right, Holland's own circumstances prompted a slight academic divergence. With a keen interest in efficient preparation, Holland opted to study Applied Sports and Exercise Nutrition.
"It amazed me how people involved in any form of activity are willing to bust a gut but aren't prepared to eat properly. They train extremely hard but get very tired and don't understand it. While they might be fit, they're not fuelling the body to keep it up or push to the next level. Although it wasn't something I would have always considered, the way my career went and the connections that I made allowed me to pursue nutrition on an academic level. It made sense. While I prepare meal plans I like to think that I play more of an educational role. I want them to learn for themselves. There's a bigger picture with nutrition and nobody knows it all – they'll come back to me at another stage.
"I had been through a lot with my injury and then had to deal with the heartbreak of giving up the game. I had to try and figure out what to do with the rest of my life without throwing the toys out of the pram and feeling sorry for myself. In that respect I think I have a lot to offer. People go through similar challenges in the working world. The first things that slip are usually the good things that see them to the other side – nutrition, work/life balance.
"I see an opportunity there to make a difference."
Richard McElwee
Back to News
Latest Posts