News
THE HIGH SCHOOL DEACON
07th August 2017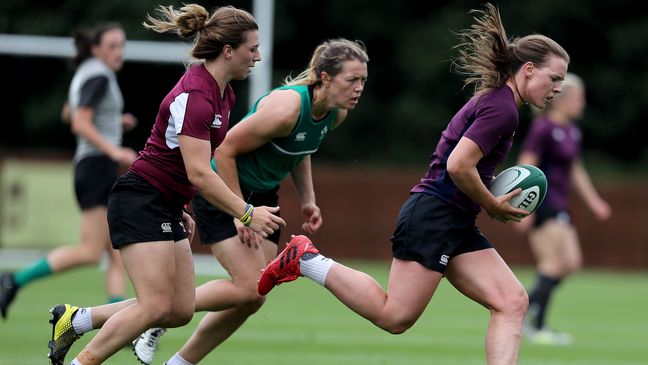 For years, Wexford had a succession of dedicated and competent sportspeople who failed to strike water from the rock. But this summer, several have once again brought hope to the yellow-bellies.
Following on from Tadhg Furlong's herculean efforts in New Zealand, a resolute side from the sunny south-east stunned Kilkenny in the Leinster Hurling Championship. Now, Enniscorthy woman Jeamie Deacon will hope to put the strawberry on top of their Indian summer.
Barely four years ago, Deacon might well have been planning to be part of Graham Shaw's side in the World League Tournament. Instead, Hannah Matthews, daughter of Philip, who captained Ireland to the narrowest of defeats to Australia in the 1991 Rugby World Cup, has been driving the the Irish charge on the astro-turf, while Deacon swapped her sticks for scrums and has been preparing to front up to the latest Aussie challenge on these shores.
"It's mad how careers can change just like that," says Deacon as she clicks her fingers with startling accuracy. She means this in a manner of ways.
Remarkably, the ball-playing centre was once one of the most prodigiously talented hockey players in the country when she left Newtown School, Waterford in 2006. Having represented Ireland at all the various underage ranks, Deacon was knocking on the door of the senior international side when Michigan State University came calling. But despite enjoying the benefits of playing sport in one of the USA's top-ranking colleges – not least flying by private jet to a NCAA game – Deacon travelled stateside with more than mere sporting ambition.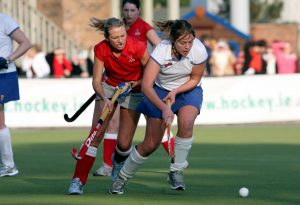 "I did my Civil Engineering degree in a little over 3 years there. It was a brilliant experience but when I finished I felt it was time to go home, even though when I landed back in Ireland, the country was in the middle of the recession. Nobody was building. There were no jobs. Not so long ago people used to pick a career and stick to it until their retirement but it's not like that anymore, so I stopped to think for a while and when I did, I realised that I had really enjoyed coaching and working with kids so I figured that teaching might be a good fit! It is!"
While Deacon's professional career took a sudden jolt, she took a little longer to determine her sporting destiny. Playing hockey with UCD while studying for her Dip, the versatile Deacon won everything there was to win in the domestic game. However, the call that had been so close before her American adventure continued to elude her.
"I was around the international scene before I left so when I came back I bided my time to see if I might get another opportunity. But it became pretty clear that I was completely out of the picture. I was a bit disappointed so I decided that it was time for a different challenge. I remember when the women won the Grand Slam in 2013 and I promised myself that I'd give rugby a go."
While many of her international teammates have made the transition into rugby from moderately comparable sports, hockey would seem to present different challenges.
"I actually played a bit of rugby with Enniscorthy when I was under 12! I used to go down to watch my brothers matches and got really jealous – I was the only girl in the club! But there are actually more similarities than you'd think. For instance, space is a big thing in a lot of team sports, decision-making too; do I pass or carry? I really enjoyed attacking with ball in hand. The defensive stuff took a little longer! I know it's not for everyone but I firmly believe that if you're prepared to work hard and tough it out, you'll get there in the end."
Deacon hopes that her endeavours over the coming weeks will have a similar impact on her students, as the class of 2013 had on her. Indeed, this already seems to be the case. Alongside her packed teaching schedule, Deacon also coach's girl's rugby in The High School. Her busy timetable dictates that she can only take rugby at 7.30am on a Monday morning however. Amazingly, this has yet to prove to be a deterrent.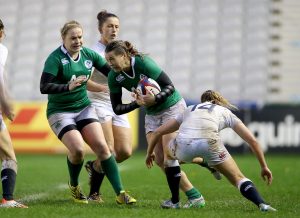 While Deacon might be a quick learner, she appreciates that not everybody has the same capacity.
"Both in the classroom and out on the rugby field, the biggest buzz I get is if a kid doesn't get something and then it just clicks. It's my little victory for the day. There are parallels between education and sport everywhere. The main thing is to help the kids to realise that they'll get out of it what they put in. After the Grand Slam, I trained with Blackrock RFC once a week. It was a big year for my hockey so I couldn't let it go entirely. But the harder I worked the better I became and I actually ended up in the squad for the Six Nations. I said to myself: 'OK, look, I've got to give this a shot' Within a few months I got my first cap!"
"I was injured a lot throughout the past year so I was able to bring a few of the students to one of the matches. They were loving it. There was a great buzz. Ever since they have always been so inquisitive: 'Miss, how did you play?', 'Where are you training today?' I'm sure they've seen all the publicity and that they'll be watching on TV so the more we win and the further we progress the better. It will have a massive impact on our sport. Some parents can be hesitant at first and that's understandable, but if your kid is interested in something, in getting out, in getting healthy and training, it's a great thing."
Whilst Deacon is in the fortunate situation whereby the World Cup falls during the summer break, her commitment to the game can often traverse across the school term. Her employers have been extremely supportive while several people, including Nancy Chillingworth of Rugby Players Ireland, have been helping her to coordinate her time.
"My school have been great, but teaching is my main career afterall and I have to remember that. Even if I was in full-time sport, I think I'd have to have something on the side. It wouldn't suit me. It's important to have a switch-off and work helps in that regard. You don't have time to think about rugby. Of course, you'd like more time to recover and get the best of both worlds, but I can't just dwell on the next three of four years of my life. There is a future there that I have to think about too. The school term starts the day after the final – it's just how it is!"
Richard McElwee
Back to News
Latest Posts