News
HASSANEIN TO TAKE UP IRPA ROLE
28th April 2017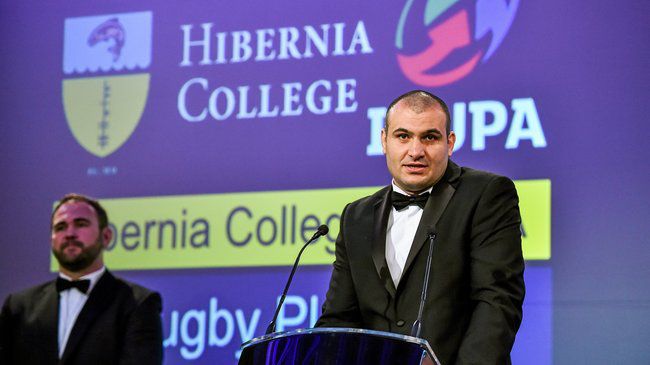 Omar Hassanein has expressed his opposition, and that of Rugby Players Ireland, to the proposal for the Six Nations to be condensed from seven to six weeks.
His views are given added significance in that he is moving on as CEO of Rugby Players Ireland, the Union for all professional or semi-professional Irish rugby players, after six years in the role, to take up the same post with the International Rugby Players Association (IRPA).
Hassanein has seen, and overseen, further growth in Rugby Players Ireland in that time, in terms of sponsors, partners and most notably staff, which has increased from two to 13 in that time. It has, he says, been a journey.
"The biggest achievements have been to get the players properly on board, and to command serious respect from the IRFU. They're the more generable achievements.
"The more specific achievements are being able to engage in a far more thorough and detailed contract negotiation process with the IRFU, and building a player development programme to the point that we have one staff member for each province."
It is a model, he adds, which has been replicated by other associations.
"Another big achievement has been the mental health campaign that we've recently launched," he says, in reference to Tackle Your Feelings. "That's had a real impact on society. In that sense we might have deviated a little from our core mandate and expanded into more of a community engagement role."
Rugby Players Ireland has around 300 members, including the 180 or so full-time players enlisted with the provinces as well as Academy, Sevens and Womens' players. Simon Keogh, Rugby Players Ireland's operations director and head of legal affairs, will be acting CEO while their board undertakes a full recruitment process over the next three months. Those board members include Rob Kearney, Johnny Sexton, Peter O'Mahony, Andrew Trimble, Ronan Loughney, Shane Jennings and non-executive directors Peter McKenna and John Treacy, along with the new CEO.
New role
Hassanein formerly starts his new role with the International Rugby Players Association, IRPA, whose main offices is moving to Dublin, next week. This is the umbrella organisation for all the Tier 1 players' associations, and they are also mandated to act for players in Tier 2 nations as well.
The biggest challenge facing the Irish and global associations remains ensuring the players are at the forefront of decisions in the game, which hitherto had been taken by Unions unilaterally without the players being consulted.
A case in point was their inclusion in World Rugby finalising the much-touted global calendar from 2020 onwards, whereas they have not been consulted about proposals put forth by the English clubs, and backed by the RFU, to condense the Six Nations from seven to six weeks.
"There's absolutely no doubt that this is a primary example of a discussion in the game in which players should be involved right from the outset. Whether it's commercial decisions, or whatever else that may conflict, player welfare should always be paramount. That's what the game preaches, but that's what it needs to practice."
To this end, he says that not only player representatives like himself but players themselves need to be sitting down with administrators to explain the implications of truncating the Six Nations, and this, he points out, after a Lions tour and another full-on season, makes the decision "a no-brainer".
"At some point the potential conflict that can exist between player welfare interest and commercial interests needs to be brought back into line. We need to be looking at the human being before we look at anything else."
The incoming CEO of the International Rugby Players Association is unequivocal in his own view. "It should never be reduced to anything less than seven weeks, and that's based not only on my own view but on discussions with players who will tell you how demanding it is already. They're the ones that should be listened to. It's pretty plain and simple for me."
Globalised season
The Six Nations schedule is one element of the globalised season. He cites the manifold "competing interests across countries, broadcasters, unions, tournament organisers, ie stakeholders with different views driven by different reasons, whether it's money, the welfare of athletes or whatever. So the achievement in getting everyone on one page is a reasonable outcome".
Recent examples concerning the adequacy, or rather inadequacy, of the pitch-side head injury assessment is the biggest concern facing the game, and the players' associations.
"Our physical and mental health are the most important things," says Hassanein. "The HIA has come a long way, but it's definitely not perfect, although all in all World Rugby are taking a more pro-active stance in this area than other sports. We have just got to constantly keep in touch with movements in knowledge and technology, and do the absolute best with what we've got in front of us, and in years to come this allows us to identify when a player is concussed, and when a player is not concussed. At the moment we don't have that. We're doing pretty well with what we have, but it always needs to be done better."
The players' voices are growing, rightly so, and IRPA will be putting into place a memorandum of understanding with World Rugby, which will cover all areas of the game. They will sit on different forums and conferences concerning these issues and more.
"It should be an interesting time," says Hassanein.
Gerry Thornley
Back to News
Latest Posts