News
Giving it his All
28th April 2021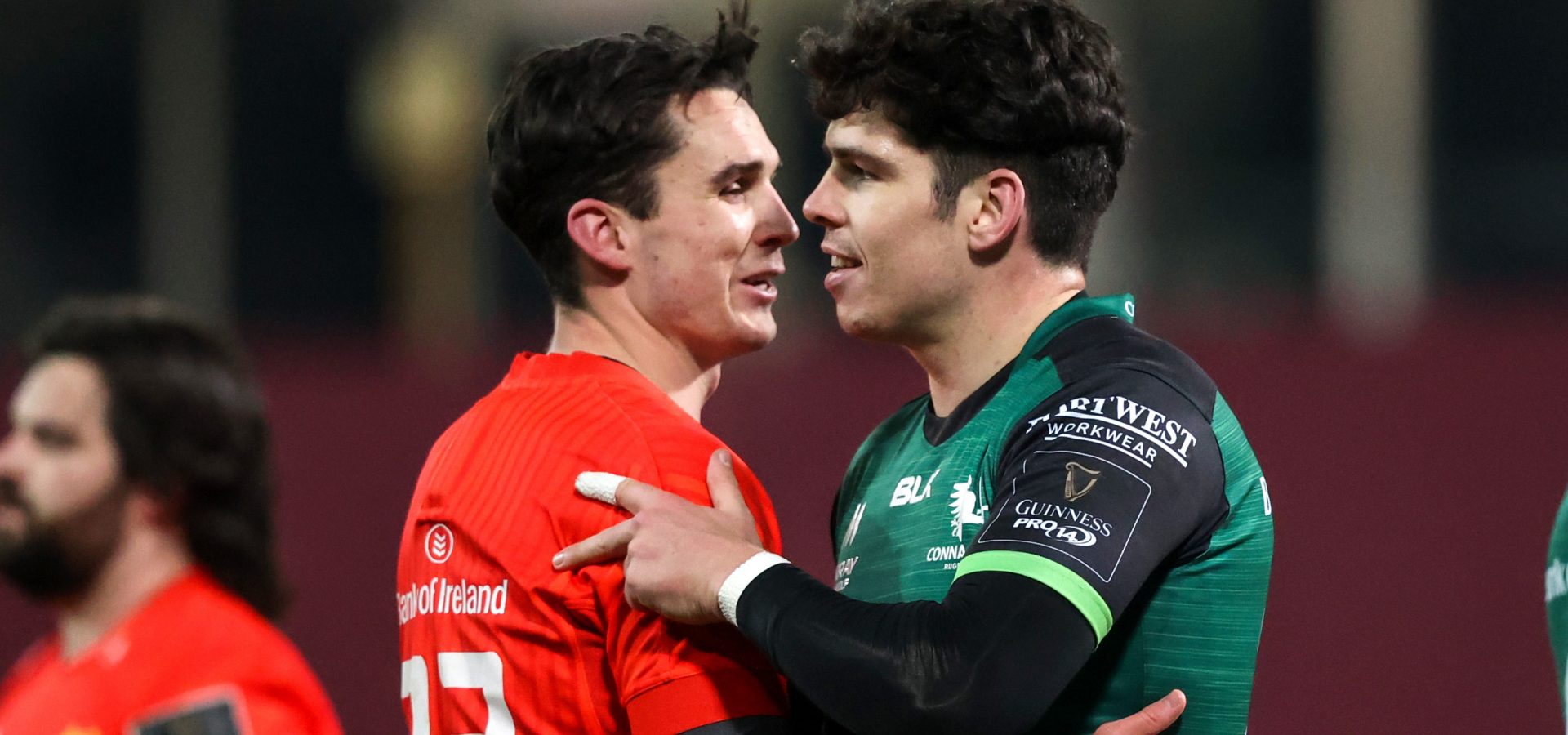 Ordinarily, integrating into a new club also means integrating into an entire community. In Galway, most new faces to the region are welcomed by a few pints laid on by the regulars in O'Connells on Eyre Square. A couple of local yarns are told before the player is left to enjoy the place howsoever they please.
Alex Wootton will have been at Connacht Rugby almost a year by the time he is afforded that particular privilege. Indeed, he has yet to sample the vibrant atmosphere of Shop Street or wander along Salthill promenade making small talk with the natives. Having moved from Munster Rugby, Wootton looks forward to the day he gets to shake a hand and be taken in as one of their own.
While the Macclesfield-born winger acknowledges the unique charm of life out west, he has had to put his own embracing of it on the back burner. The idyllic setting of Wootton's rented home in Barna has shed new light on the potential to experience different worlds, but he never strays too far from why he landed there in the first instance. He has a job to do.
"A few people have said to me that it was a brave move which is an insight into the Irish psyche about moving between Irish clubs," Wootton begins. "Certainly, it was a little different for me having been brought up in England but I could see that… I wouldn't say it's frowned upon, but I can see where a stigma attaches. You're from one province and no other province.
"I became a little guilty of the same thought processes myself. I was at Munster for 8 years and I became very narrow-minded in terms of looking beyond Limerick and Thomond Park. I put all my efforts into the cause there and felt that because I'd started some big matches, it was where I was meant to be.
"It was when I was coming back from injury and, let's face it, I wasn't getting games, that I realised I had been putting my sole focus into re-establishing myself at a club that had moved on a bit in the time I was out. Clubs can't afford to stand still. I had to try and remove myself from the situation.
"I came here to play rugby. My end goal is to play for Ireland. When those objectives began to stall, I had to make myself see that there are other ways to get to there."
Wootton's prolific form this campaign will have undoubtedly moved him up the international pecking order. Andy Friend has furthered his cause by categorically stating he should be involved at a senior Irish level. While Test honours evade him for now, Wootton's displays have been rewarded with a two-year contract at Connacht. He can now set his sights on the next steps in the ladder.
"I'm thrilled to have committed to an exciting project in Connacht and set up a life here. I've been commuting from Limerick where my partner and I and our two dogs are very settled. It will be a difficult to leave our community because we feel very comfortable there. In other words, it would have been very easy to stay at Munster.
"I've known some players who have found that comfort zone and even if they aren't playing, they're reluctant to leave it. They're happy to live week by week, happy with what they've done. If that's the way they choose to play it, fair play to them. They aren't necessarily chasing anything.
"I was never unhappy but not playing put a different slant on things. I moved to Ireland to see where the journey could take me, see how far I could go. Even when I wasn't playing, I was quite content but it was increasingly obvious that the situation was moving in a direction I needed to take control of. There was always an underlying acceptance that I'm here to push on."
Wootton finds it strange that it is Connacht who are reaping the rewards of lessons learned at Munster. He notes that his breakthrough season in 2017/18 was a steep learning curve while subsequent stints of injury rehabilitation prompted plenty of reflection. From lining out against Europe's elite to the outer cusp of the Munster squad, Wootton was forced to reconsider his true purpose in the game.
"From a very young age I wanted to be a professional rugby player so when I had a run of games a few seasons ago there was a sense of relief. I had sacrificed a lot to get there. I'm very much a family guy so leaving home to move to a different country was a big step. I felt justified in a way.
"But then there was also sense of 'well, is this it?!'
"I had to regather my wants and needs. That was even before injury and some days of doubt crept in. You need to have the fuel and determination to drive you out of that space and onwards. I learned a hell of a lot about myself as a person at Munster and yet it's at Connacht where those hard yards are paying off."
There's plenty more beside his neighbours that Wootton will miss about Limerick. He has made many lifelong friends in red and leaves behind the ultra-professional set-up at UL, arguably one of the best in Europe. He also has a close connection with Garryowen stemming from how the club welcomed Wootton and his family with open arms.
"I've always loved the community feel of a rugby club," Wootton says. "Over the past few years the game has become increasingly sophisticated. Clubs have world-class training environments and I felt the amateur ethos or community spirit of the game was something that professional rugby was trying to leave behind. Thankfully, I get those community vibes at Connacht.
"It's a very different beast to Munster," he continues. "As you come through the gates at the Sportsground each morning, you see people walking their dogs on the racetrack. You pass by the sheds. There's a rustic feel to the place. It's a world away from some of the places you go to.
"I think of that game against Racing 92 earlier in the season. They're a club that have been building a stable of the best players in the game to play in that amazing stadium. To have brought that game so close in Paris, it showed us that we're not far away at all. That excites me.
"It's the people and the camaraderie that make the difference. You saw it with Leicester City in the Premier League. You saw with Connacht in 2016. We might not have the financial clout of certain teams, but we have an enviable character. It's not what surrounds you, it's what's within you."
Having known several players from his days playing for Irish representative sides, Wootton figured the Connacht group would be a welcoming bunch. Nevertheless, for anyone starting in a new job there is always some trepidation as to how you might fit in. Especially having come in from a rival side.
"I'm not a shy person so I don't necessarily find going into an unknown environment to be that intimidating. If someone didn't like me, yeah it might piss me off, but it wouldn't affect the reason I was there. I know that's not going to be the same for everyone.
"In any walk of life there's the potential to face those issues. You can't let it affect your purpose. I am very tunnel focused. I have goals and targets that I want to tick off and everything around that is outside of my control.
"I put all of my cards out on the table and everything led to Connacht. It was this or nothing as far as I was concerned. That's why I want to give it all I have."
Back to News
Latest Posts