News
Gary Halpin: A Teammate's Tribute
22nd March 2021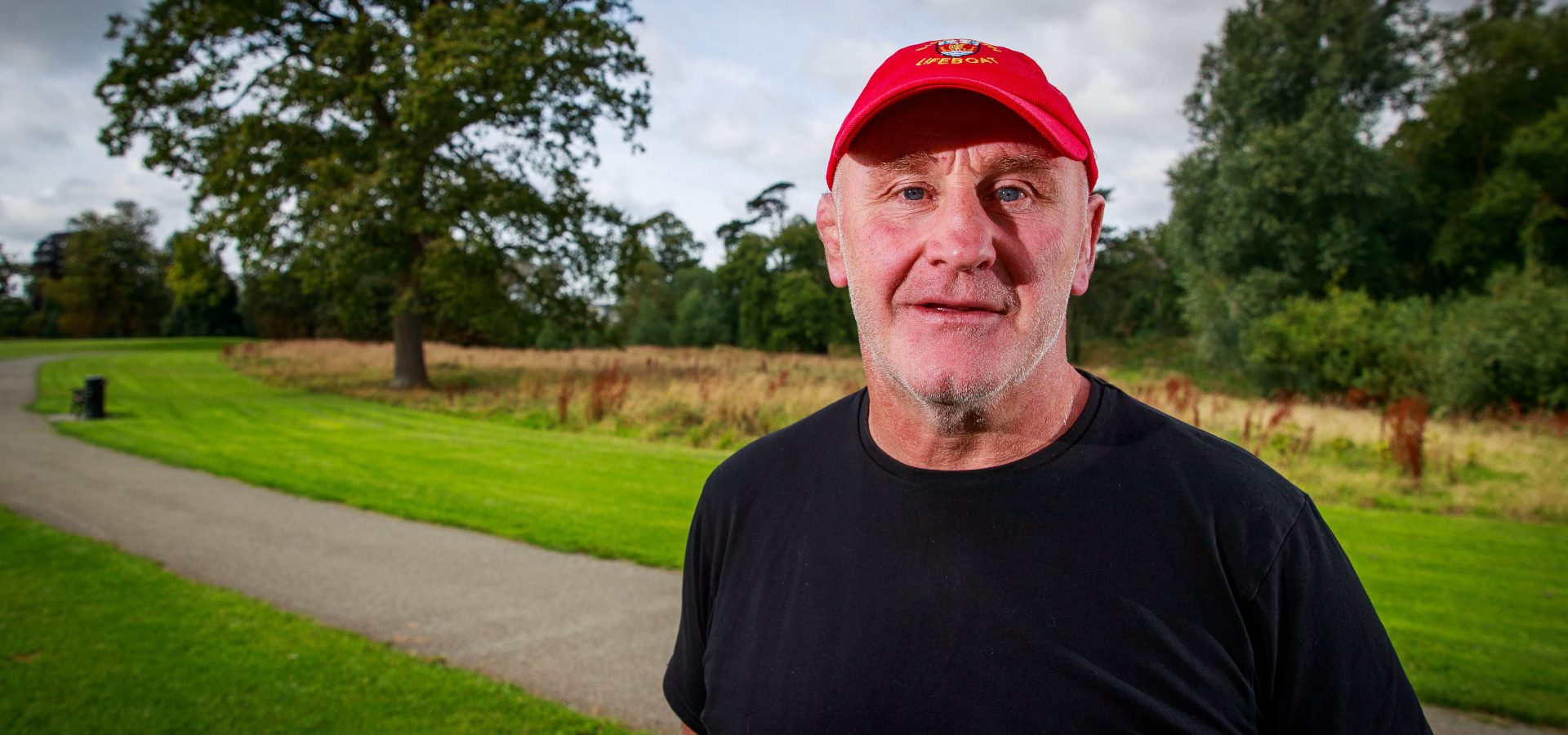 Trevor Brennan pays tribute to Gary Halpin one month on from the passing of his friend and teammate
I remember the first time I met Gary Halpin. I'd just come back from a tour to South Africa where I'd won my first caps for Ireland. I came back into the Leinster squad and Gary had joined after a few years in England.
Victor Costello filled me in on this lad who threw the hammer at the World Championships and gave the All Blacks the finger at the World Cup, so I knew he'd be a character.
"Ah, Trevor!" Gary says to me when we first met, "you're the lunatic! Punching and firing lads up! Sure, you shouldn't be playing rugby at all. You should be locked up!"
As most people know, I wouldn't be one to hold back. It didn't take much for me to tear into someone back then. There'd be punches and sparks flying.
But Gary got away with it. Gary always got away with it.
Gary was unique. He was the kind of person who'd walk with kings and queens and never lose the Gary touch. You could put him in a room with Nelson Mandela, Diana and Mother Teresa and he'd have something to talk about. He's probably up there telling them stories right now!
He was a bit of a father figure to that Leinster squad. The professionalism was a big change for us all. I sometimes struggled to motivate myself for all the training sessions but I looked forward to seeing Gary because he had a way of reading people and saying something that would change the course of your day.
When I came home from school as a kid, the mother would always have a sandwich ready for me and the brothers. She'd ask us how our day was and we'd tell her the good, the bad and the ugly. Even as grown men we used to get home after work but it was harder for me to put a gloss on things with stitches, a broken nose and dislocated shoulders.
There was always a story to be told over the pot of tea and no matter what, Gary was always in the middle of it. My family never met him but they felt as though they knew him well. Mam would always start by asking how Gary was and a good yarn always followed. We left the house in good form, ready to take on the next day. How he made people feel really sums him up.
I first played rugby at Barnhall and Gary's cousins were a big part of the club there. Derek 'Big Red' Halpin was one of them and when he rang at 7am a few weeks ago I picked up the phone and asked him who in the club had died this time.
"It's our Gary," he says to me.
I was in a daze for a few hours after that call. I had to ring Big Red back to make sure it was true. I couldn't believe it. I rang Liam Toland, Malcolm O'Kelly and Denis Hickie. We all agreed that if anyone deserved a send-off, it was Gary.
I was home a few years ago for the funeral of another great man, Anthony Foley. I stayed in Limerick with Peter Clohessy. We dropped into a few pubs, met others as we went. As sad as we were, we sat around telling stories, laughing and singing songs. It was our way of saying goodbye.
This time we've all had to reflect on it all from wherever we are in the world. Victor Costello is stuck in New York, Gabriel Fulcher is in Canada and I'm here in France. We've all promised to get home when all of this lockdown craic lifts and get together. That'll be important.
When you get to our age, you start to see more years behind you than in front of you. Our generation of rugby players has seen a lot of loss recently: Gary, Axel, Jonah Lomu, Joost van der Westhuizen, Chester Williams. It's a wake-up call for us all. Don't take anything for granted.
One of my favourite memories of Gary was when I got my ban and finished playing in 2007. Gary called to say he was passing through Toulouse with the family for a night. He said he'd drop by to say hello once he'd checked into his campsite.
He reversed up my driveway later on and asked to plug in his van. 'Jesus Trev, that campsite isn't what I was expecting. Not sure we fit in!' he says to me. It turns out he'd parked up in a Roma Gypsy site. We went and collected his trailer and he stayed for a week.
Gary was multi-talented. He was very well educated. He'd take out the guitar and tell great stories. We found out he was a brilliant cook that week too! We had to invite the neighbours because we knew he'd create a lot of noise but by the end of the week they were queuing up to join us. He entertained the neighbourhood. That was that and then off he went.
Very few people could make you feel as important as Gary Halpin could make you feel. At Leinster, the likes of Gordon D'Arcy and Brian O'Driscoll were coming through. They were as important to him as any of the older fellas.
It didn't matter to Gary if you were the milkman, the breadman, the butcher, the baker, the solicitor, the doctor or the judge. It didn't matter if you were the President of the IRFU or the Leinster coach. He treated everyone exactly the same.
I can only imagine him as a teacher but I think the way he treated people was why he became so good in education. He'd also frighten the shite out of ye! He had the respect of his students because he understood how to have a laugh. He also knew when to knuckle down. If you did wrong by him he could cut you in two with a look.
I often wondered how he got all of these great jobs. Turning up for an interview with those cauliflower ears and the big bald head on him. But then he opened his mouth and it all made sense.
I'd consider my wife very well educated. Whenever Gary would call over they'd go off talking about things I'd no idea about. Communism or something. I'd just sit back and crack a beer. It was way out of my f**king league. I was only the milkman from Leixlip! But they were happy times.
We hit it off straightaway. When I was at Leinster not many of the lads had kids. Gary did. He lived in Rathcoole and I was in Leixlip so we'd be over and back with the children. Holidays too. We loved having him around. No matter what kind of day you'd be having, he always made you feel better.
I feel so privileged to have played with Leinster and Ireland. Even though I've been in France for 19 years, anytime I go home I can pick up the phone to any of them and they'd meet for a pint or a meal. Gary was one of those fellas. You could always pick up from where you left off.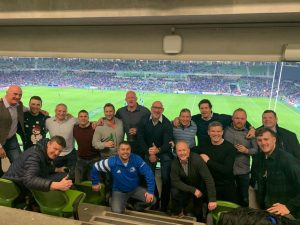 The last time I saw Gary was at a past player event last year. Unfortunately, he had to leave early but while he was there he was in the thick of things. The same as ever! They're always great occasions to look back on the good days and I was reminded about the end of Gary's career.
He was about 35 and was telling myself, Vic and Reggie [Corrigan] that he was finished. Retiring from professional rugby was a new thing to us. The amateur lads before us just threw away their boots. He mentioned how he'd taken out some insurance policy. He explained to us that it was there incase he fell off a ladder, broke his leg or got hurt on the rugby field.
"Gaz!" I says, "I have an idea!"
I told him I'd do a job on him. I'd smash up one of his knees with a baseball bat! "Jaysis horsebox," he said, "that'd be fantastic!" He kept asking and asking when I was going to do it and I told him to get away, that I didn't want him to see me coming… he didn't sleep for a week!
A few days after we'd made the deal I arrived down at training on one of those dark, misty mornings. The toilets were locked and I needed to take a whizz so I went round the back of the portacabin at Old Belvedere. Next thing Gary's motorbike pulls up and I appear around the corner. "Oh Trev! Not today! Please! I'm beggin' ye! I've a parent teacher meeting!" The kids always came first in Gary's eyes!
Later on that same day he said he'd join us up at Kiely's for lunch. I drove on up and as he was on the bike he should have been there before us but there was no sign of him. We got our rock shandies and club sandwiches and then some lad came in and told us about a bad accident down the road. We rushed out. Sure enough it was Gary.
He was in bad pain and we were worried. I leaned over and asked him if he was ok. He opened one eye and gave me a wink: "ah horsebox! You won't get me with that baseball bat now!" It took two paramedics and four firemen to lift him into the ambulance and that was the end of his career. Just his luck that a genuine accident meant I never got to him!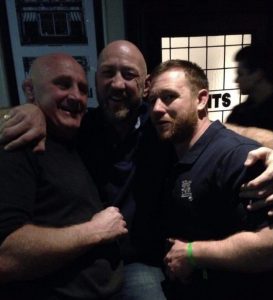 It's mad to think that's 20 years ago. You don't notice the time go by. These days I see my young fella go upstairs and he comes back down 3 inches taller. The world keeps moving on.
Even as rugby moved on during his career, Gary never changed with professionalism. He was just Gary Halpin. He'd done it all. He never lost touch with where he came from. The privilege for him was not the money. It was always the people.
I can still picture him now walking through Donnybrook and holding us all up as he chatted to everyone along the way. It was an innocent time. There were no mobiles, no social media. We gave our all on the pitch but we were able to relax in other people's company afterwards without any hassle.
We knew the pubs of Donnybrook well. Everywhere we went Gary lit up the room. Even if you weren't part of the group, Gary Halpin made you feel a little bit better about yourself. I was always in awe of that.
Rest In Peace Gary
Back to News
Latest Posts