News
FUELLING THE SEASON AHEAD
03rd August 2017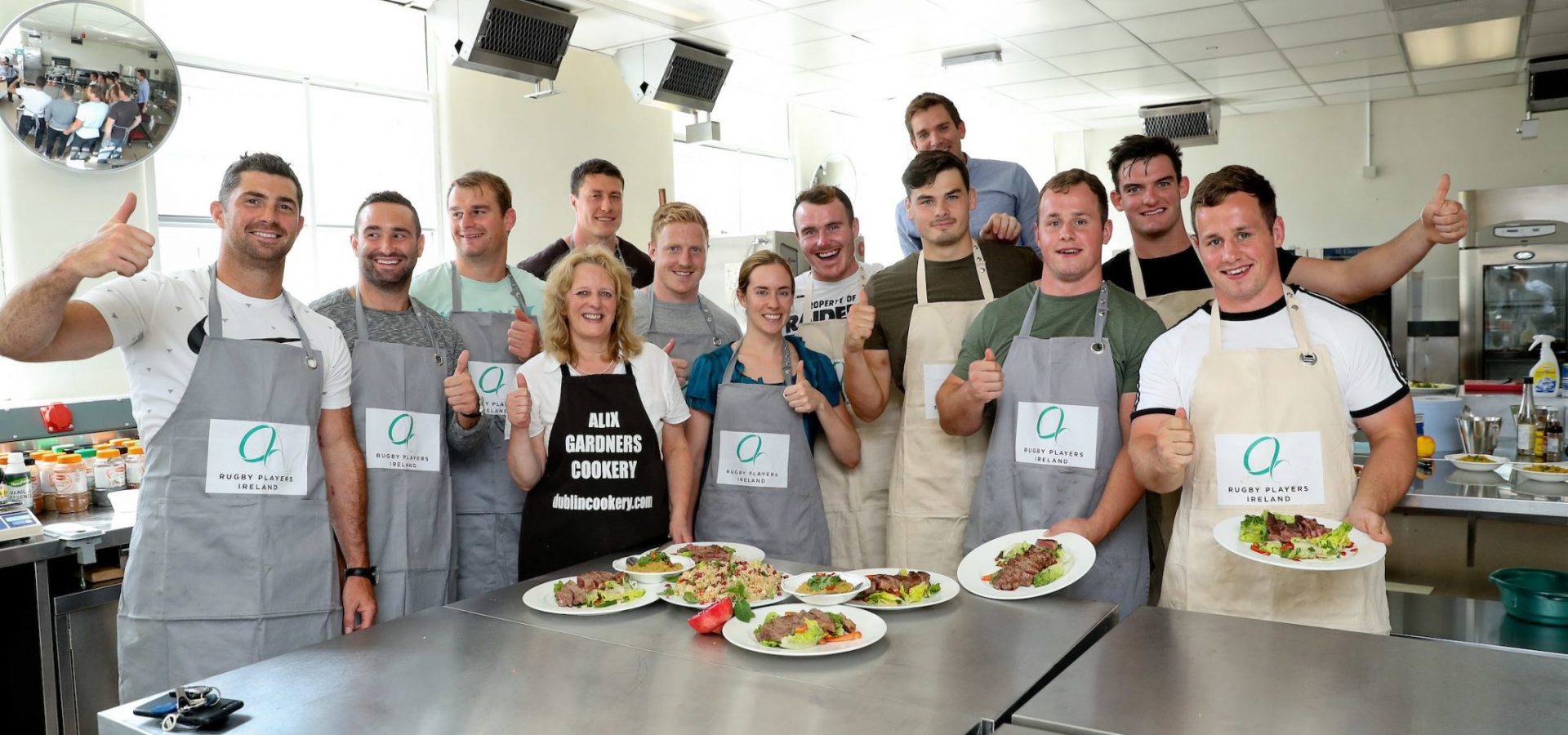 Whether you are a professional rugby player or a hefty Junior prop, it's fair to say that most people dread pre-season. After several weeks of some well-deserved R&R, it's the time of the year to get back in shape and ready for the new campaign. Of course, most people will immediately think of gruelling conditioning drills or lifting heavy weights in the gym but it's also about returning to a lifestyle that will sustain a player throughout the weeks and months ahead.
While most modern athletes remain somewhat diligent over the summer, their diet is often one of the first things to go when they put their feet up. A key part in getting them back to top-notch is to get them eating the right stuff, particularly when they have left their training bases and return to their homes in the evening.
Recently, a number of the Leinster players availed of the opportunity to learn how food and nutrition contributes to their performance during a cooking workshop with celebrity chef, Alix Gardner. Having trained at the famous Cordon Bleu Cookery School and at Leith's School of Food and Wine in London alongside Prue Leith of The Great British Bake-Off, Gardner established the first practical cookery school in Dublin in 1981.
The event, which was organised by Rugby Players Ireland in association with Leinster Rugby, saw the players follow menus specially devised by Gardner and Daniel Davey, Leinster's Senior Performance Nutritionist. Throughout the day over 20 players availed of the excellent facilities at DIT's School of Culinary Arts and Food Technology. They learned how to make several 'easy to prepare at home' dishes such as quinoa super salad and dahl Indian lentils. Furthermore, they also picked up some simple techniques to bring flavour to food whilst also learning unique knife skills!
Through her work as Leinster's Player Development Manager, Dr Ella McCabe was keen to help the players develop what is an important life skill. Alongside Davey, the pair sought to draw upon the players' competitive instincts in a fun and engaging way. Yet, amidst a backdrop of tunes and jokes there was an important message seasoning their efforts.
According to Davey; "Appropriate nutrition is critical for achieving peak physical and mental performance. Simply put, athletes will not achieve their health or performance goals without having the right fuelling and recovery strategies. Cooking plays a major role in these nutrition strategies and there's no doubt that what happens in the kitchen has a hugely important role to gain the benefits of hours of gym-work and on-field training."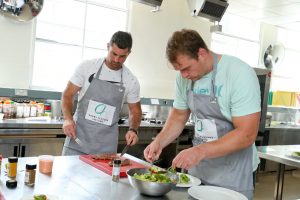 Amongst those taking part was Rhys Ruddock who was part of 'Team Kearnivores' alongside the Kearney brothers and Ian Nagle. Other player combinations included 'The Marsh Mellows' comprising of Cathal Marsh, Josh van der Flier and Peadar Timmins while 'Sunday Carbery' featured Ed and Bryan Byrne and… Joey Carbery no less.
The players' enthusiasm extremely impressed Gardner; "They were very open to learning how improved cooking skills could really make a difference. My philosophy is that food should be fun. It's there to be enjoyed and savoured and I'm pleased to say that they have embraced that notion."
For more information on Alix Gardner's Cookery School click here.
Richard McElwee
Back to News
Latest Posts