News
Former Player on Helping People find their Rhythm during Lockdown
28th May 2020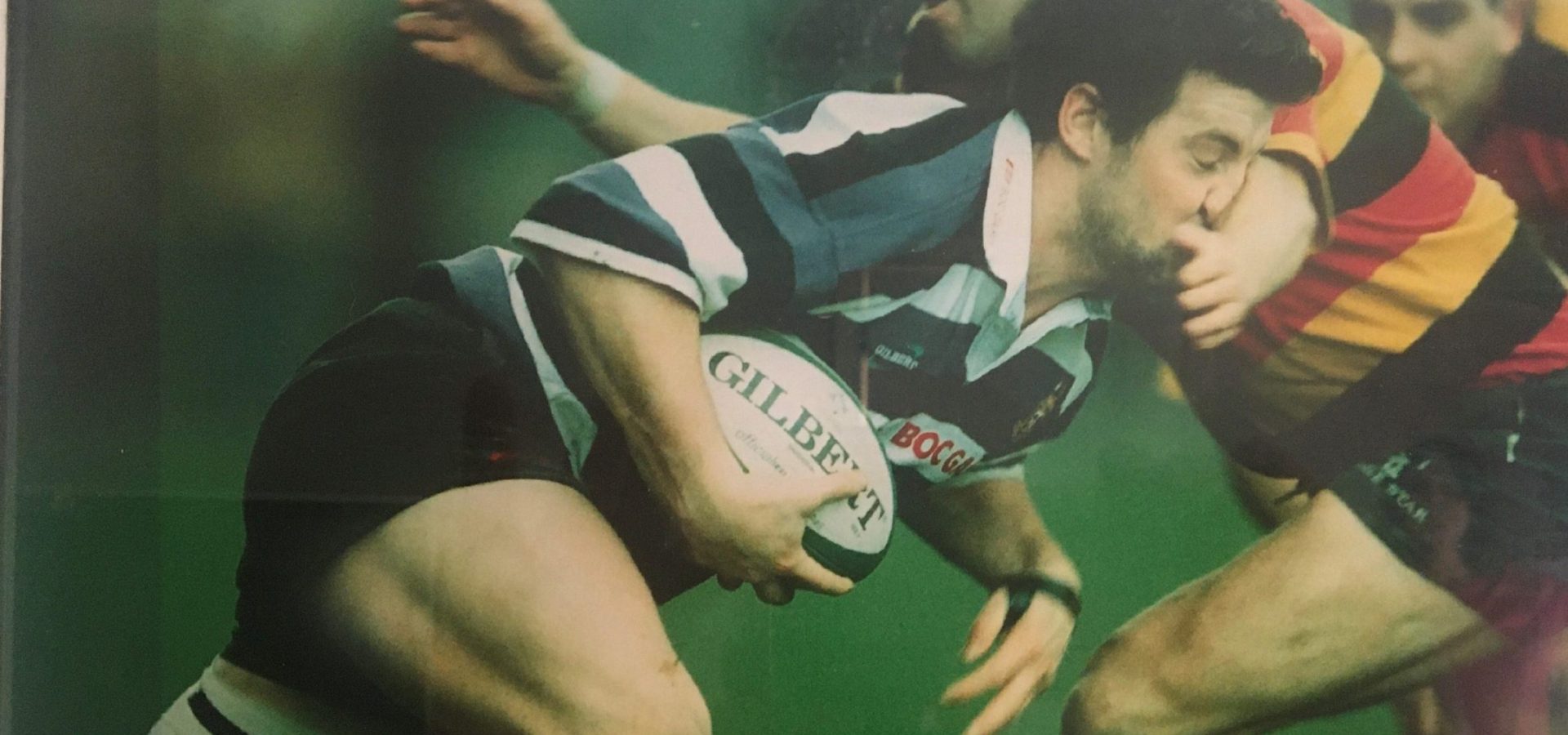 Prior to Covid-19, the last time there was dancing in the streets of Ireland, Daniel Timofte had just made Packie Bonner a superstar. There was a vivacity and relaxed nature to life in Ireland back in 1990. But after the nation held its breath with Genoa, the waistlines began to expand and tension on red tape intensified.
At the time Mikey Smyth was growing up in Terenure in a home that had embraced the freedom of it all. Though his father was once a Captain in the Irish Army, it wasn't a regimented household. Instead, the youngster was encouraged to indulge his creative instincts. Indeed, Smyth Snr. was a rock n' roller with a band called the Rising Suns in the 1960s, while his uncle Paddy Roche was in a well-known folk group called The Ludlows.
"It was hard not to be taken by the music at home," Smyth tells us. "Something or other was always being played. The family would have been quite well known on the Dublin scene, but there was a balance to it. We had had a strong foothold in sport too. We were steeped in it on both sides.
"My grandfather (also Paddy Roche) was a professional footballer with Fulham and QPR. He played for Ireland in the 1930s. Then there was my great-uncle who founded Terenure College RFC in 1940. Fr. Jackie Corbett was his name and he noticed that a lot of his students fell away from the rugby once they left school so he rallied the past-pupils and got the club up and running.
"I guess that's where my father got the bug from. He also became a highly regarded rugby man, absolutely dedicated to it. He was an out-half for Terenure, played for Leinster and won a senior cup medal with UCD when he was studying medicine."
Sadly, it is 22 years since Dr Michael Smyth passed away in a car crash. Described as a larger than life character who lived and breathed the game, he had a profound influence on his son's life – in spite of the rigorous early morning training sessions in Bushy Park.
"I was going well," Smyth tells us of his early career. "I won a Schools' Senior Cup with Terenure College and went on to play for the Irish schoolboys, the U21s. I was making a bit of a name for myself and it was a very real passion. My dad was integral to that. He was my head coach. So, when he died, I think my rugby died with him."
The professionalism of the rugby was just being mooted in Ireland when Smyth linked up with Leinster in 1996. Under Jim Glennon, Ciaran Callan and Paul Dean, a new-look side boosted by the inclusion of Trevor Brennan, Girvan Dempsey and Denis Hickie headed for a pre-season tour to Italy with an impressionable Smyth in tow.
"None of us were paid for going on that trip. Had it been ten years later and I could see the road ahead, lads ahead of me earning a living and making a name for themselves while they were at it, then maybe it might have been a game changer. But the sport was taking a new direction and nobody really knew where it was going to lead. In the end I just didn't fit the mould. They weren't picking me.
"A couple of years after dad had passed away, I gave it another go with Connacht. The former Irish coach Gerry Murphy was back at Terenure and had given Steph Nel the nudge. I went out there and played for a season in a backline with Eric Elwood, Mervyn Murphy and Pat Duignan.
"Unfortunately, the professional game just didn't suit me. I was a bit confused by it all. My rugby had always been about enjoying myself, but soon it became about having a mindset. You can be the most talented player in the world but if you can't reach to those extra percentages, forget it.
"I was a great trainer and I played hard on the pitch, but I didn't let up afterwards. You can't live the life you want to lead alongside professional rugby. That was a big shock to me."
Summoned by friends to America, Smyth vacated the temporary home he shared with James Ferris, Tommy Keating and Marnus Uijs ('a crazy South African') and walked away from rugby in Ireland. Alongside his intermittent duties as player/coach with the Bayonne Bombers in New Jersey, Smyth whetted his musical appetite with a few jamming sessions in the local Hoboken neighbourhood.
"We only trained a couple of nights in the week so I was able to give the music a good go again that year. It actually began to take off so I decided to do something similar back home. I got a sound system and began hitting up some bars around Dublin. Truth be told, I got booed off one too many times. I was enjoying a drink or two while I was playing and leaving it all to chance. I wasn't prepared. The bookings began to dry up and I took on a job as a medical rep."
Until two years ago, that is.
"I suppose it was a bit of a mid-life crisis. I realised I didn't want to be doing the same thing for the rest of my life. I wanted to follow my dreams. I quit my job on the spot, turned to my guitar and promised to quit the messing. Those first twenty gigs playing sober, no alcohol to lean on, was tough. But you get used to it, become stronger for it and thankfully everything has gone from strength to strength ever since."
Since first landing into a nursing home in Saggart to play a few tunes for the residents, Smyth has forged a reputation as a great entertainer for the elderly across Dublin. Before restrictions were imposed back in March, he was a regular visitor to 20 homes every week. He subsequently tailored his efforts, responding to Simon Harris' calls to look out for each other with impromptu sessions from outside the window of residents' rooms.
When things are at their worst, we are at our best 👏👏👏 @MikeySmyth2 lifting the spirits of the elderly and isolated 🇮🇪🎸🎤 #takingcareofeachother pic.twitter.com/9hHgq85jZ3

— Mikey Smyth (@MikeySmyth2) March 21, 2020
Of course, as the regulations clamped down on movement, Smyth could no longer reach many of the people he visited. The obvious answer was to go online and he soon became adept at hosting Facebook Live sessions (every Friday 8-9.30pm) from the comfort of his home. To date he has raised almost €11,000 for Our Lady's Hospice, ALONE, the Sarah Jennifer Knott Foundation, St. Vincent de Paul, the DSPCA and Pieta House.
He acknowledges that social media has played a significant role in recent weeks. He'll continue on that virtual journey for some time yet. For his latest stream (on Friday night), Louis Copeland has donated a suit to the cause with all money raised in aid of Saoirse Women's Refuge. However, as measures begin to ease it has also been made abundantly clear to him that his energy is needed beyond his sitting room once again.
"People have missed live music. I was getting loads of requests in for birthdays and to call by cocooning neighbours. I wanted to help but with just a guitar it was hard to create a bit of a stir. Then I had this lightbulb moment a few weeks back. I bought a beat-up trailer, some plywood, paint and a generator and now I travel the streets of Dublin entertaining people, elderly people in their neighbourhoods.
"I'm not a psychologist but I know how important it is to look after your mental health. My dad's death came as a big blow to me. It's hard to believe I've spent almost half of my life without him. But we had a lot of time together. He had a special interest in psychology and without realising it, I had soaked up bits of advice he had given me over the years. I got through a tough time with his influence in my head.
"From my perspective I see how important music can be to people, especially the elderly. It's probably the worst time of their lives when it should be one of the happiest with their families. I thought to get out there and do something about it and help to raise the spirits. It's hard to describe the feeling you get when you bring a smile to their face – probably one of the few smiles they've shared during this period."
Since 1990, the feel-good factor on the streets of the capital have been hard to come by. People have been much too busy. But much like 11 men on an Italian football field helped us to shed what had come before, so too has Mikey Smyth been helping people forget themselves for a moment.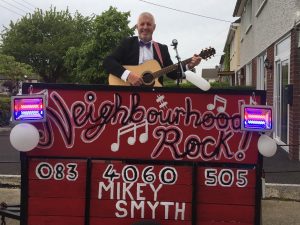 Back to News
Latest Posts