News
FERGUS MCFADDEN:
NEXT STEP PREP
01st December 2016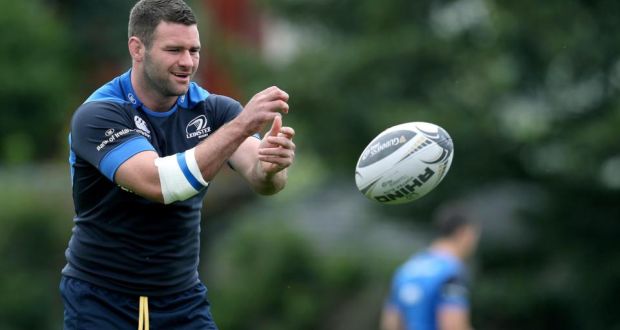 Despite just turning 30 years of age during the summer, it seems as though Fergus McFadden has been on the Irish rugby scene for quite some time. Although there remains plenty of unfinished business, the Irish international winger is mindful of the fact that at its height, a rugby career will only span a limited period of time. While the game remains his priority, McFadden has also kept an eye on his future. To that end he has recently completed a Diploma in Marketing, Sales and PR from Griffith College, Dublin.
It's not McFadden's first college experience. Notwithstanding his key role alongside Rob Kearney as Clongowes Wood College made their way to the Leinster Schools' Senior Cup final in 2004, McFadden could do little to prevent an early exit the following year as his team crashed out at the first hurdle. However, such was his growing repute in the game that UCD came calling with the offer of a scholarship.
It was whilst studying economics and geography at Belfield, that McFadden's rugby career began to blossom. "I was playing well with UCD and got picked up by Leinster but I began to find it hard to fit in training and lectures and I tended to let the latter slide. UCD did all that they could to try and accommodate me but as far as I was concerned, I had a good chance of making it in the game so something had to give."
Having opted to leave his studies to one side, McFadden concentrated on his increasing presence in the Leinster squad – a decision that has led to several European and domestic titles in addition to 32 international caps. There should be plenty more to come, but given the unpredictable nature of the professional game, nobody knows what lies around the corner.
As Earl Monroe, a member of the NBA Hall of Fame, once stated: "Sport is the only profession I know that when you retire, you have to go to work." Accordingly, one of the main functions of IRUPA's Player Development Programme is to encourage players to recognise the importance of dual career preparation. Through this system, players have been able to explore the options available to them, whether that might be in the form of trades and skills or short professional qualifications.
"Sales was always an area that I had an interest in and wanted to develop" McFadden stresses. "But with my Leinster commitments taking up most of the day I was never in a position to focus on college as a normal student. IRUPA knew that I wanted to press on with my studies so they put me in contact with Eilis O'Leary in Griffith College."
The reality of rugby training and match schedules can make it difficult for players to attend lectures and complete assignments, yet they are becoming increasingly aware of their responsibility to themselves: learning represents a lifelong investment. But while education at Griffith College is of the utmost importance, they have been cognisant of a professional rugby player's unique circumstances.
"Of course sport is the priority," Eilis O'Leary admits. "These people have a commitment that goes beyond the careers of our typical part-time students. Many have dedicated their young lives to their sport. We try to encourage them to find a balance. Once they are able to manage their time and set out a plan with reasonable goals then there's no reason for them not to have a positive learning experience with us."
McFadden was particularly complimentary of Griffith College. "The staff couldn't have been more accommodating. Eilis as our coordinator was especially helpful. I did the course on a part-time basis, which sat well with my schedule. There was the inevitable conflict but Eilis did everything she could to support us. Sean Cronin and Sean O'Brien were enrolled at the same time and when our exams clashed with a game at the of the year she was able to facilitate us."
As most players will have pursued their careers vigorously, few will have given their education much thought. "They are so preoccupied by their sport, that professional sportspeople often don't know what it is they want to do beyond their career," O'Leary acknowledges. "We've found that while many of them would appear to be supremely confident and capable individuals, they can find the classroom overwhelming and experience difficulty in transitioning into education. We show them that they are very attractive employees with many transferable skills. After all, they are driven and committed team players."
Therefore, alongside IRUPA and the Institute of Sport, Griffith College has developed a programme that is specifically tailored to existing playing careers. The Certificate in Dual Career Development (Sport) has been purposely designed to address the needs of high-performance athletes in areas of professional development and transition management. "By the end of term they show themselves to be accomplished students," O'Leary adds.
For more information on the Certificate in Dual Career Development (Sport) or for any further information on courses being offered by Griffith College please contact Eilis O'Leary: eilis.oleary@griffith.ie.
Back to News
Latest Posts