News
Every Day is a School Day
10th October 2023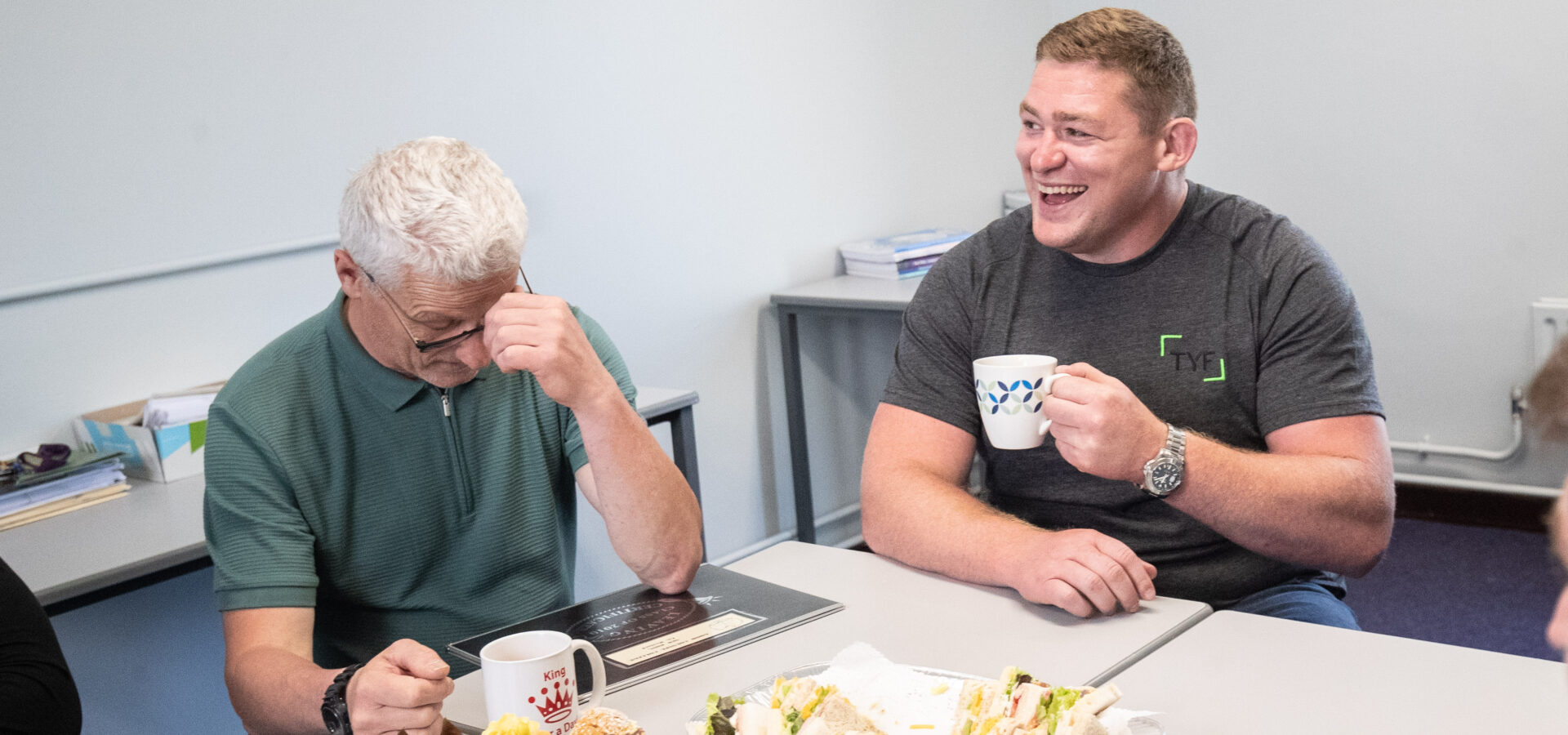 To mark World Mental Health Day, Tackle Your Feelings has released the latest episode in a series which sees rugby players learn more about the impact that the 'Tackle Your Feelings' schools' programme is having on the students and staff at his former school, as they learn how to empower themselves to talk about their feelings in a safe and open environment.
Episode One in the series followed Tadhg as he explored his own vulnerability in this space, whilst drawing on experiences and advice he received during his time in school before Alan Quinlan returned to the Abbey School to meet with the two winners of the BTYSE Award in 2023. In this third episode, Furlong draws poignant parallels between the world of high-performance rugby and the challenges students encounter throughout their school days, whether at home, on the sports field or in the classroom.
He discusses the resilience, discipline, and mental fortitude required to excel in rugby, which he believes aligns with the struggles some of the students may face in their own lives, especially during their years in school. In this episode, Tadhg meets with Kilkenny hurler and teacher, Walter Walsh who represents a role model for students in the school and who, like Tadhg, empowers and inspires the students to take control of their mental wellbeing throughout the full school year.
Tadhg also meets some of his former teachers, including teacher and school Chaplain, Helen Bolger, who delivers the 'Tackle Your Feelings' programme in the school to senior cycle students. In the clip, Helen tells Tadhg how the 'Tackle Your Feelings' programme hits a chord with the students in a way that makes opening up and speaking out a less daunting prospect. Split into modules, the TYF programme offers students an array of opportunities to connect with the topics and equips the students with the tools to help deal with their mental wellbeing, more effectively.
Delivered to students nationwide, the 'Tackle Your Feelings' schools' programme encourages all participants to create strong, comparable support networks so that they will always have someone to talk to – regardless of how big or small the situation they are facing may seem.
As students get settled into the new term, this series aims to inspire students and teachers nationwide to reflect on their own role as a positive influence on their network of friends and family throughout their time at school.
Speaking on the release of the new episode, Ireland and Leinster Rugby Player and Tackle Your Feelings ambassador, Tadhg Furlong said: "I've always believed that the mental side of sports and education is closely connected and have parallels throughout. Just as athletes need to manage emotions and setbacks, students too face academic challenges and pressures throughout their school years that can impact their mental wellbeing. It's crucial that we provide them with the tools and support they need to thrive through delivering the 'Tackle Your Feelings' programme. With the great support from teachers delivering the programme in schools nationwide, the conversation around mental wellbeing is growing and thankfully, becoming a normal aspect of school learning."
Anthony Brennan, CEO of Zurich Ireland said: "It is great to see Tadhg Furlong representing the programme and sharing his own vulnerability to relate to the students and empower them to take control of their mental wellbeing. This series of videos continues to highlight, through role models like Tadhg and Alan Quinlan, how being proactive and taking those first – sometimes daunting – steps of reaching out to someone you trust can have an incredible impact on young people's ability to cope with adversity in their lives. Once again, this episode demystifies the idea that tough, athletic athletes like rugby players don't have challenges with their mental wellbeing. Tadhg's honesty demonstrates how the 'Tackle Your Feelings' programme can empower students and adults alike to learn the vital tools and strategies to deal with those challenges. This series has brought role models like Tadhg, Alan, Liam and Shane to the forefront of the conversation, and continues to bring 'Tackle Your Feelings' to a wider audience, furthering the programme's impact."
'Tackle Your Feelings' Campaign Manager at Rugby Players Ireland, Grainne Finnegan, said: "As we know, experiences in school can often be unexpected, overwhelming and build anxiety amongst students. Often, the hardest challenge is understanding and finding the ability to cope with the situation in a way that is controllable and represents positive mental wellbeing habits. Having a strong voice such as Tadhg's – as an extremely recognisable figure in Irish rugby – further proves to young students that there is always help and support and ways to deal with how they are feeling during their time in school. The incredible support networks of teachers nationwide help us to deliver this programme in a way that students can connect with authentically, widening the impact. We hope that this series continues to bring advice and empowerment to young people around the country to ensure the conversation remains an open one when discussing mental wellbeing. The video breaks down barriers and highlights the important messaging around finding someone who you trust to allow vulnerability to show throughout those challenging times we all go through in school."
Back to News
Latest Posts