News
Embracing the Next Step
18th November 2020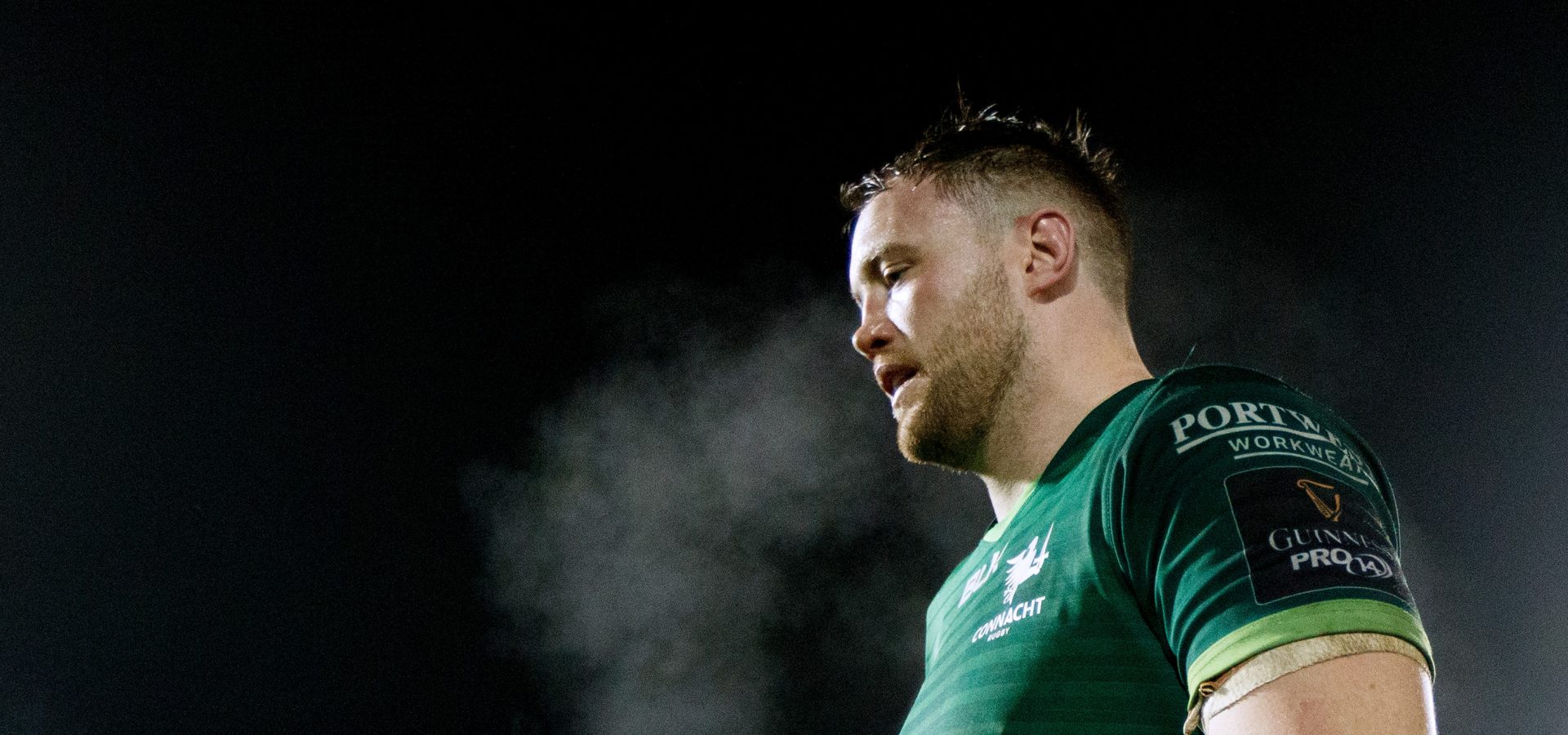 After their meeting, Andy Friend shook Eoin McKeon's hand. They didn't know it at the time, but the moment signalled the end to the Galway man's rugby journey. Spanning a decade, McKeon earned 137 caps for Connacht Rugby. 137 special memories.
Announcing his retirement several months later, McKeon was at pains to thank the Connacht Rugby community. From the groundsman to HR, to the CEO and every divil in between, McKeon was grateful to them all for his 'amazing experience.' While his beloved club had effectively closed the door on his career, there were no hard feelings.
"It was a peculiar situation in that I had been playing games," McKeon muses. "There was talk of a contract but Colby Fainga'a's move to Lyon didn't bode well for me because it changed the dynamic in the backrow and then there were a few lads being moved around the provinces. I knew it was 50/50 and I felt I was losing control of my future.
"At the beginning of March I went to Andy Friend and we decided to call it. I initiated the conversation because I couldn't plan anything. In fairness to Friendy, he was very transparent. 'Look mate,' he said, 'this is where we're at and it's kind of out of our control.' That was that. I dwelt on it for an evening and the next morning I was onto the next step."
For McKeon, the next step was not as daunting as it might have been. Heavily involved in Rugby Players Ireland for several years, McKeon knew better than most about the importance of preparing for the future. He practised what he often preached and in September concluded his MBA from Heriot-Watt University in Edinburgh. In the same week he also began work with BMC Software, the seventh biggest tech company in the world.
"It was a nervous process. I was a bit naïve to begin with because I assumed I'd get whatever came my way but the landscape completely changed with the influx of talent let go through Covid-19 cutbacks. I knew the pressure was on and in a few interviews I ended up reverting back to type, discussing how all my rugby skills would transfer over.
"One of the interviewers took me aside and he said 'I know you're competitive, I know you can work in a team but you need to focus on other things you've done.' He referenced my charity work, my involvement in start-ups, my role on the Executive Board at Rugby Players Ireland and the MBA. My rugby experiences are invaluable, but I had business acumen and other things to bring to the table."
A recipient of the Goodbody Rugby Players Ireland Personal Development Bursary, McKeon enrolled on the Heriot-Watt MBA in September 2018. Taught through Griffith College in Limerick, he attended online in an effort to balance his study with his wholehearted commitment to Connacht.
"It was intense at times but the material wasn't as daunting as people think," he reveals. "You see a lot of it again and again so that it almost becomes ingrained in you. You can almost imagine yourself recalling formula for certain situations.
"Of course, you're not the finished product when you come away from it. You can't expect to walk into the big positions. I'm only starting out in this world so I'm going in at entry level and while the MBA might not mean much to me in the here and now, in years to come it'll stand to me when I go to climb the ladder.
"In the meantime I can have a chat with HR, understand the accountants or have an ability to discuss company strategy with the CEO, CFO or MD if the opportunity comes up. I know several people on the course found the material directly applicable to their current jobs and while I couldn't do that with mine I know that it'll all play back into my hand."
While balance sheets and marketing theories mightn't have seemed relevant on rainy mornings in the Sportsground, McKeon found that his new learnings were related in other ways. Although he knew he would be stepping away from the game, McKeon was centrally involved as the IRFU and Rugby Players Ireland engaged in discussions during the lockdown.
"When I first joined the Board I remember being very nervous because I was conscious of all the experience in the room with Pete McKenna, Johnny [Sexton] and others there but then it was all pretty quiet on the western front. Credit to Rugby Players Ireland and the IRFU, they have cultivated a good working relationship over the years, so we didn't have much as a Board to provide input on.
"I guess it was inevitable that things were going to change a bit in the current climate. It ramped up to the point we were on calls to Simon [Keogh] several times a week with updates on how discussions were going.
"From the Board's perspective a lot of it was about communicating the appropriate message to the squad groups and ensuring they understood the steps that were being taken. As a Board we knew that common sense on certain things had to prevail. Personally, I felt I could approach it quite rationally and objectively. As a business I could see where the IRFU were at and the level of understanding came from my studies.
"I knew all along that the cuts weren't going to affect me personally but I felt I had a responsibility to the lads I was representing so I put my best foot forward. Naturally, some players got a bit wound up about things in the early stages but that was expected – it's their livelihood. I'm glad we came to an agreement and got the lads back to their rugby."
Albeit without him.
Though he has been approached by several clubs to dust down the scrum cap, McKeon has pinned his colours to the mast. He continues to train but no longer feels pain on a Sunday morning. A niggling neck injury has also finally recovered. The body is in good shape and he'd rather keep it that way, as much as he can.
"I still play in a Wednesday night soccer league," he says. "Recently enough we played this big team of hefty lads who were throwing their weight about a bit. There were a few scuffles. Next morning I woke up with a busted lip, a bang on my head and a dead leg!
"It's good to get the competitive juices flowing but at no point have I watched the lads and been dying to get out there. That told it's own story. I've made my decision so let's see where this takes me."
Back to News
Latest Posts