News
Criminal Mind
24th March 2022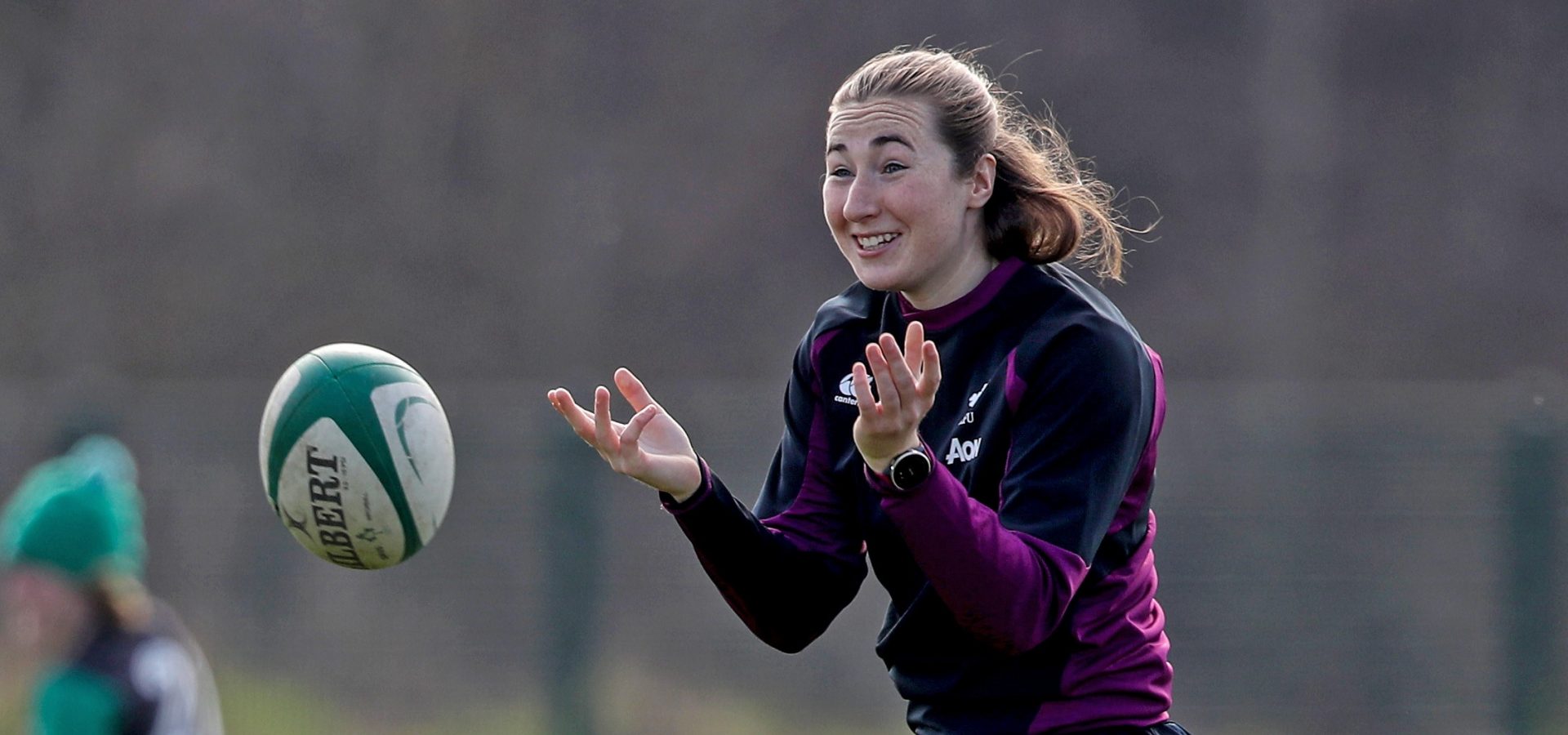 For lovers of true crime, the lockdown period served to unearth a treasure trove of villainous content. Such was the volume of offerings, many of the Irish Sevens girls turned to Eve Higgins to save time sifting through the catalogue. From Conversations with Killers to Inventing Anna, Patricia Cornwell to Truman Capote, the dual player has absorbed every book, TV programme and movie in the field.
Higgins' fascination with the subject has led her to a Masters in Criminology and Criminal Justice from UCD, a path she was first put on by Rugby Players Ireland. While lectures often set out with warnings of distressing detail, Higgins sits comfortably with her choice while her investigative mind remains excited to find the answers hidden in her future.
"When I first went into the Irish Sevens programme when I was still at school," Higgins, who has been picked to start this weekend, says. "Since I was about eight at Barnhall I wanted to play rugby for my country but as I matured I realised I needed to have other goals and aspirations. The life of a detective always appealed to me but there are also other opportunities available to me.
"Thankfully, Nancy Chillingworth was our Player Development Manager at the time. I remember when she came out to meet me at the Starbucks in Lucan to go through my CAO. If I could have put rugby down, I would have, but she tapped into my interests and mapped out a way for me to get there."
Having landed in her postgraduate course via Sociology and History at Belfield, Higgins is clearly a well-read individual. It's a form of study that syncs nicely with her extensive travels with the Sevens squad, enabling her to remain in touch with her course materials as her rugby takes her across the world.
"I was always mindful that I needed to pick a course that complimented my rugby. I train on a full-time basis so I think it's important to have other things to focus on. It's very handy to spend my time on the bus, plane or in a hotel room catching up on reading. Everyone needs to switch into something else.
"I think the word 'escape' is the wrong one to use though!" she adds. "In one way all the reading is a very convenient way for me to keep up and I enjoy it but in another way it's not exactly light-hearted so it can be difficult to get into the headspace you sometimes have to get into when you're working through some disturbing texts.
"On top of that I always wonder if I should be reading some of the stuff in public?!"
Until relatively recently, public perception was a matter of little concern to Higgins. However, the past 12 months have seen her take in her first Six Nations campaign, a World Series final and a player-of-the match display in Railway Union's televised AIL showdown against Blackrock.
"When I first started playing mini-rugby I was a scrum-half so I looked up to the likes of Peter Stringer and Tania Rosser. I remember going to games in Ashbourne and not taking my eyes off Tania's movement. It wasn't exactly a detailed analysis but I definitely had an awareness of what she was doing and I tried to understand why. I practiced what I saw.
"I still don't see myself as a role model in that mould but being involved in the Six Nations last year opened my eyes a bit more to all the other eyes that are suddenly on you. We want young girls to look up to us and so while it's weird to imagine yourself as someone of influence, you have to be aware that we are in that position now.
"As Aiden [McNulty] and Greg [McWilliams] have come in, we have also discussed what we want people to see when they look at our squads. Everyone was on the same page. We all want to be professional, so we want people to see professional behaviour. Thankfully that professionalism is already second nature in our training habits but it also comes into how we act and behave."
After a difficult few months, Higgins and her teammates are determined to give the best of themselves in the forthcoming Six Nations Championship. Coached by McWilliams and Niamh Briggs, they will be led on the field by Nichola Fryday while nine uncapped players have also come into the mix with Aoibheann Reilly, Christy Haney and Anna McGann set to make their debuts on Saturday.
"There's been a great buzz in camp," she reveals. "Everyone is really excited to see what we can do. Between Greg, Briggsy and all the new faces, it has been really a refreshing period for the squad – loads of new ideas and new ways of looking at things.
"Even if some of the new players don't get much gametime, it will be a significant period in their development and will be hugely important for the squad going forward. In my first Sevens camp I remember picking Eimear Considine's brain about her career in sport and how she managed everything.
"When they're first called up, most girls may not have had any exposure to high-performance environments so when you're coming in at an elite level it can take a bit of time to settle. You look to the girls who have been there and done it all, you learn from them and take it with you.
"As we all know well at this stage, the road is not going to be full of roses. There are going to be tough times. Falls and mistakes happen. You have to tap into the knowledge base and experience of the people around you. You have people to lean on, so why not lean on them?!
"Ultimately, what happens is never as important as how you react to what happens."
Back to News
Latest Posts