News
PAT LAM:
BE CONSCIOUS, BE PRESENT & CONNECT
26th April 2017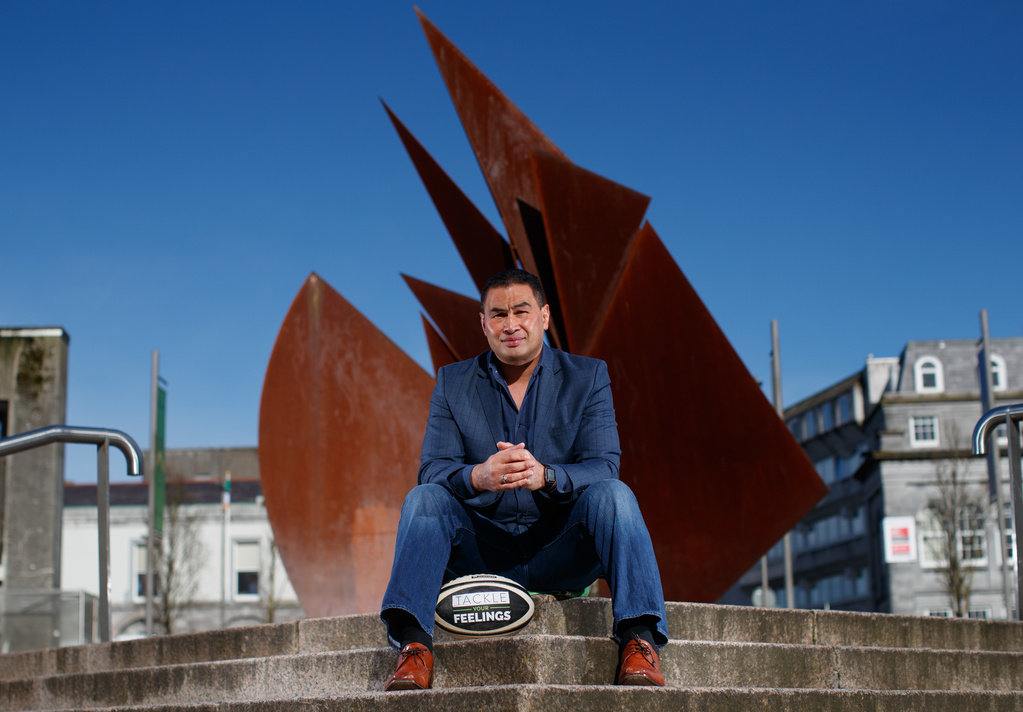 Tackle Your Feelings Pat Lam from Rugby Players Ireland on Vimeo
.
Connacht coach Pat Lam has today announced his support for Rugby Players Ireland's Tackle Your Feelings mental wellbeing campaign delivered in partnership with Zurich. The campaign has previously seen provincial and international rugby stars including Leinster front-row, Jack McGrath; Irish international, Hannah Tyrrell and former Irish international flanker, Shane Jennings come forward to tell their own personal stories of the challenges they have faced away from the game.
In supporting the campaign Lam, who is Connacht's most successful coach having joined the province in 2013, emphasised the importance of community and team in providing a support structure to people and creating an environment that allows people to thrive.
In a video released to coincide with the announcement of his support for Tackle Your Feelings, Lam emphasises the importance of continuously connecting with other people and how fundamental this is to a person's well-being. He also stresses the positive impact this has on the performance of people in the workplace.
Speaking at the launch of his video, Lam said: "I try to ensure that all of my teams have all the tools required to survive and thrive both on the field of play and off it. This way they are prepared for both the good days, and the bad. Often, it is family that equips you with these tools and the best families are created by the best environments. I believe that this is inherent in the Irish culture. I have tried to bring that to the fore in the work that I have done during my time here. I have seen young people enter the game as rugby players, but they leave it as better people, strengthened by those they are surrounded by."
Tackle Your Feelings is a nationwide campaign launched in March 2016 which seeks to emphasise the importance of preventative measures in maintaining good mental wellbeing. By asking people to be honest with themselves about how they are feeling and to take appropriate action, the initiative aims to encourage people to resolve emotional challenges before they escalate into a crisis.
The campaign website, www.tackleyourfeelings.com, hosts a number of practical resources to help people develop their emotional self-awareness and proactively work on their mental and emotional wellbeing.
Also speaking about the launch of the video was Créde Sheehy-Kelly, Campaign Manager for Tackle Your Feelings at Rugby Players Ireland, who added:
"We were delighted when Pat Lam indicated that he would be interested in getting involved in the Tackle Your Feelings campaign. As someone who has become so influential in the rugby world, we felt that Pat's input would allow to further spread our message and help us to make further inroads in breaking down stigma around mental wellbeing. Mental wellbeing is something that we place a lot of emphasis on at Rugby Players Ireland, striving to both educate our members in this area and offer support services to help them be more proactive about looking after their own wellbeing."
Dr Eddie Murphy, Clinical Psychologist and Tackle Your Feelings advisor said,
"This video encourages people to recognise the value of their relationships and how important it is to invest in them. Pat's coaching philosophy centres on the holistic development of the individual and in this respect he is the perfect fit for the campaign. It is hoped Pat's contribution will help people to open up about their feelings and to understand the benefits that improved self-awareness can bring to both performance and to people's overall enjoyment of life."
Tackle Your Feelings Partner Zurich's Elaine Hayes said: "By partnering with Rugby Players Ireland on the nationwide Tackle Your Feelings campaign, Zurich is pleased to play its part in helping to encourage people to open up and talk about their mental wellbeing challenges. Tackle Your Feelings aims to highlight how small steps, such as talking to a friend or family member, can help people maintain and improve their own mental wellbeing"
Visit tackleyourfeelings.com to find out more.
Back to News
Latest Posts