News
CONOR O'LOUGHLIN:
FROM GALWAY TO GLOFOX
01st December 2016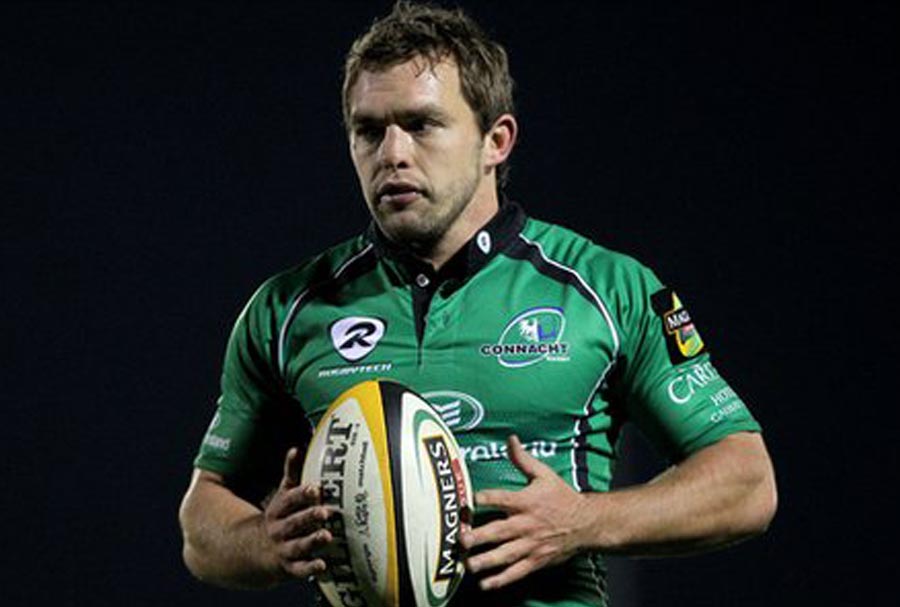 At just 28 years old, Conor O'Loughlin was forced to retire from the game in 2011. Having sustained a hip injury whilst playing for Connacht, O'Loughlin exhausted every medical avenue before acceding to advice that he should no longer continue his career as a professional rugby player.
Following his involvement with Michael Bradley's Ireland U21 side, O'Loughlin was drafted in by Eric Elwood at Connacht and made his debut against London Irish in August 2003. He would score his first try for the province a week later against a Munster team featuring the likes of Keith Wood and Paul O'Connell. O'Loughlin went on to earn 97 caps for the westerners and also represented Ireland A, retiring as one of Connacht's longest serving players.
Speaking at a recent networking event as part of Rugby Players Ireland's partnership with the Institute of Director's in Ireland (IoD), O'Loughlin described his transition from the pitch to pitching.
"Rugby had been my life ever since Connacht approached me while I was a student at UCC. But when it was recommended that I hang up my boots, I decided to take some time out. Having been firmly entrenched in the rugby bubble, I was suddenly on the outside looking in. In that respect I felt a little isolated. It took me quite a while to get my head around not being part of that structure and playing rugby again but eventually I began to face up to the reality of the situation and look to my next challenge."
Competitive and ambitious, O'Loughlin wanted to recreate the highs and lows of his rugby days albeit from within an altogether different environment. Having completed his degree in Business Information Systems in Cork before studying for his Masters in Finance from the UCD Michael Smurfit Graduate Business School, O'Loughlin already had one eye on his future.
"I engaged with Rugby Players Ireland and they managed to get me into a number of internships. This was extremely beneficial in that it helped me to tick off what it was that I did or didn't want. They also surrounded me with several mentors who became reliable sounding boards as I took my first steps into the business domain."
With great enthusiasm, O'Loughlin promptly set up three companies and hoped one at least one of them would take off in what was "probably my first mistake." Nevertheless, during this time the Galway man happened upon an idea that has shaped his entrepreneurial career. Glofox, a business management software development company that services gyms and fitness studios, now comprises 16 full-time staff and is used by over 430 studios worldwide, with further expansion into the United States imminent.
Whilst Glofox continues to grow (they are targeting a €1.5m turnover in 2017 and revenues in excess of €5m by 2018), O'Loughlin admits that he was faced with several challenges at the outset. "Personally I encountered some difficulties. As a rugby player you can't help but become a little institutionalised. Everyday is mapped out for you and there is an inherent pattern and structure to your career. You have to adapt your entire lifestyle. But my biggest test was in dealing with the different personalities and tapping into how they work, and gaining an appreciation of what motivates other people."
"That being said there are a number of similarities between the driven and competitive nature of both worlds. For instance, I didn't fully appreciate how much the traits you develop as a rugby player can be so transferable outside of the game. As a professional rugby player, I had developed good communication and decision-making skills in addition to the discipline that had been instilled in me from being in such a professional environment. All of these stood to me in the transition. What was also interesting was that I had developed quite an analytical mind through the tactical information we used to process and I found that I could use this to good effect when applied to business."
O'Loughlin provided plenty of advice throughout the evening and was not hesitant in suggesting that players make the most of the contacts that they have established through the game. "I underestimated the power of networking when I started out. For many businesses there is huge value in hiring an ex-professional. Therefore any potential link-up can be mutually beneficial. I would strongly recommend that players give serious thought to their post-playing careers in good time to give them every chance of succeeding in their new career."
There were a number of Leinster players in attendance at the St. Helen's Radisson Hotel to hear both O'Loughlin and Mark O'Donnell, a partner at Amrop, specialists in top level and executive recruitment. Mike Ross was one who felt that the evening was of huge value: "Conor's presentation provided a great insight into how he managed the life changing experience of retirement and how he was able to use his skillset in other meaningful ways. It has given me plenty to mull over as I consider my own direction into the future."
President of the IoD, Mr. Des Lamont added: "knowing what you are and who you are is the most important part before you go looking for work. There is a role for everyone, whether they might be a finder, minder or grinder! Just remember that if you're interested in something, there is a business somewhere out there with that association."
Back to News
Latest Posts