News
Connacht's Pat Lam On Building A Winning Team
02nd June 2016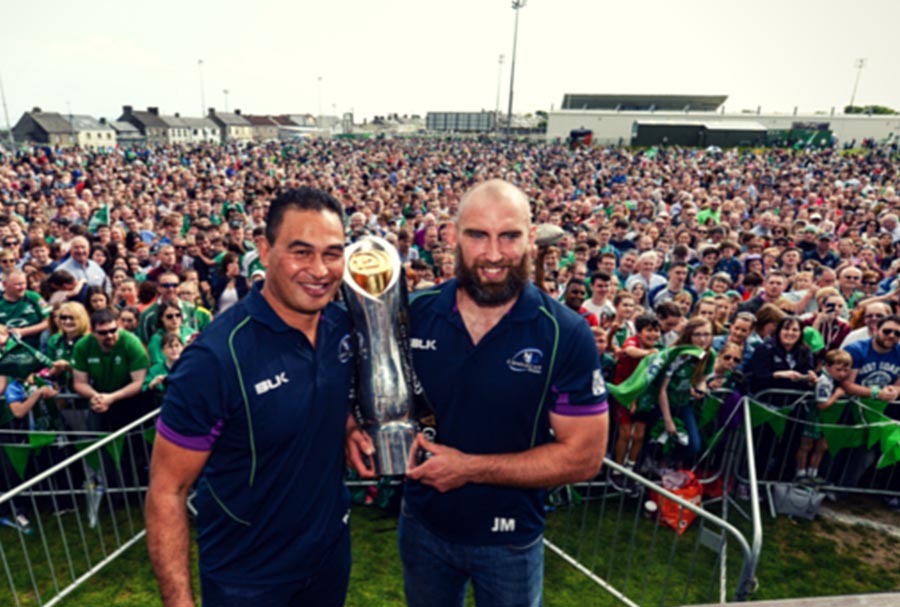 When Pat Lam arrived in Galway he couldn't understand why none of the students in his children's schools wore Connacht jerseys. There were plenty of Galway, Munster and Man United ones, but no Connacht. In just three short years he, and his team, have changed all that. Last year the Connacht rugby squad and management were given a heroes' welcome in Galway following their victory in the 2016 Pro 12 final. All weekend the city was awash with thousands of fans proudly wearing Connacht jerseys in support of their team who recorded a historic 20-10 victory over Leinster and were crowned champions for the first time in the team's 131 year history.
Deirdre Lyons, the Rugby Players Ireland Player Development Manager with Connacht, caught up with Head Coach Pat Lam as he took a well-earned break before the start of pre-season later this month, to reflect on the seasons gone by.
Pat, a fantastic result to come out on top in this year's Pro 12. Congratulations. Did you always maintain belief that you could do it?
Without a doubt, from day one. We made a plan, but more importantly we had belief in that plan. If you don't believe in the plan that you set out, it is a waste of time. While I don't believe in setting unrealistic goals, you have to aim high, and winning the Pro 12 was always part of the plan. Then we set about working towards that plan, everyone involved was part of that.
Of all the teams in the Pro 12, Connacht has to operate from as cheque book that is considerably smaller than some other clubs when attracting players. How do you feel you've been able to get the most out of this group of players that you have?
For me, this has been one of the highlights of this great achievement. Connacht simply don't have the resources that the other Pro 12 teams do. One word, teamwork. To get the most out of the players that we have, we really focused on the big picture and everyone had to buy in to that. Everyone knew where we wanted to go, believed that we could get there, worked hard every day and used every day as an opportunity to grow, both on and off the pitch.
Which players would you single out as the greatest influencers in the group, as far as leading the change in culture goes?
I really believe that everyone is a leader, and that the whole group has impacted on the team in some way. We challenge our players to constantly improve themselves, and in doing so the whole team can improve. Saying that, obviously, people like John Muldoon, our captain, has been a great inspirational person to lead the team. Having experienced players in the squad like Tom McCartney, Aly Muldowney, Nathan White and Ronan Loughney – these guys are instrumental in supporting John and the way we drive our team culture. Out on the pitch players like Bundee Aki with his enthusiasm and energy for the game, have really helped players believe in a winning culture.
You have said to me before that the more rounded a player is and the more interests he has outside the game the better he performs. Can you expand on that?
My philosophy is simple. I want every player who comes through my rugby program to be a better rugby player and ultimately a better person. While winning games and trophies is great, if a person grows outside of the game that is just an important. I have travelled all around the province and I continually get complimented about the quality of the players, not just on the pitch, but how great they are off it. People talk glowingly about the Connacht lads, and for me I am just as proud of that.
What type of things do you encourage them to do to make them better people?
Building connections and building relationships. People have made a big deal of the handshake, the greeting. But for me it was a way of encouraging the players to get to know their teammates. I encourage players to keep connected with those closest to them – partners, kids, friends, teammates. Connecting with the community is also important and that is why we hold training camps outside of Galway, so that we can get out in to the wider Connacht community. It is also good to build relationships with the key stakeholders in the game, the fans, sponsors, IRFU and Rugby Players Ireland.
We have spoken in the past about the role IRUPA play in assisting you in achieving your goals, can you elaborate on that?
The work that you, and Rugby Players Ireland has been doing with the guys is fantastic, and helps me with what I'm trying to do. I have S&C coaches to help with the physical preparation, and a medical team to help with physiotherapy and the medical side if things, and Rugby Players Ireland is there to facilitate and enhance Connacht's philosophy in a practical sense. The support it provides with study, work placements, public speaking, cooking, that sort of thing – that is just another branch to the work that we do and it helps to not only grow the rugby player, but grow the person.
From your own perspective as a coach, where do you believe Irish Rugby needs to continually improve in order to be on par with our leading rugby nations?
The number one is belief. Belief is crucial. First and foremost, you must believe that you can be the best. Many teams out there have come out and achieved what people thought was the impossible. Then comes the plan, the work that everyone has to do to achieve that dream. You need to have the drive and perseverance to achieve that dream. Irish rugby should set their vision to being the best rugby nation in the world. Put that goal out there and instil that belief in the players. Of course there is still a process and a plan needed to be put in place to achieve that dream. It is the same principles that apply in sport as in business. Set realistic, achievable goals, but don't be afraid to dream big and aim high.
Just last weekend, Nigel Carolan's team recorded a historic win against the Baby Black's in the U20 World Cup. What is your view on their performance?
Fantastic. This will be a massive boost to the players, as they will now have the belief that they cannot just play, but really compete with the best in the world. Nigel and his team have done a great job. Nigel asked me to speak to the u20 team when they were down in Galway for a training camp before they travelled to Manchester for the tournament. I gave them 3 short take home messages, from what I believe to be important to team performance.
1. Believe in yourselves and your team work that you can win.
2. Working hard every day to achieve that dream helps the belief
3. Get to know each other as a team, so you can believe as a team
Back to News
Latest Posts