News
COFFEE, DONUTS & RUGBY
18th May 2018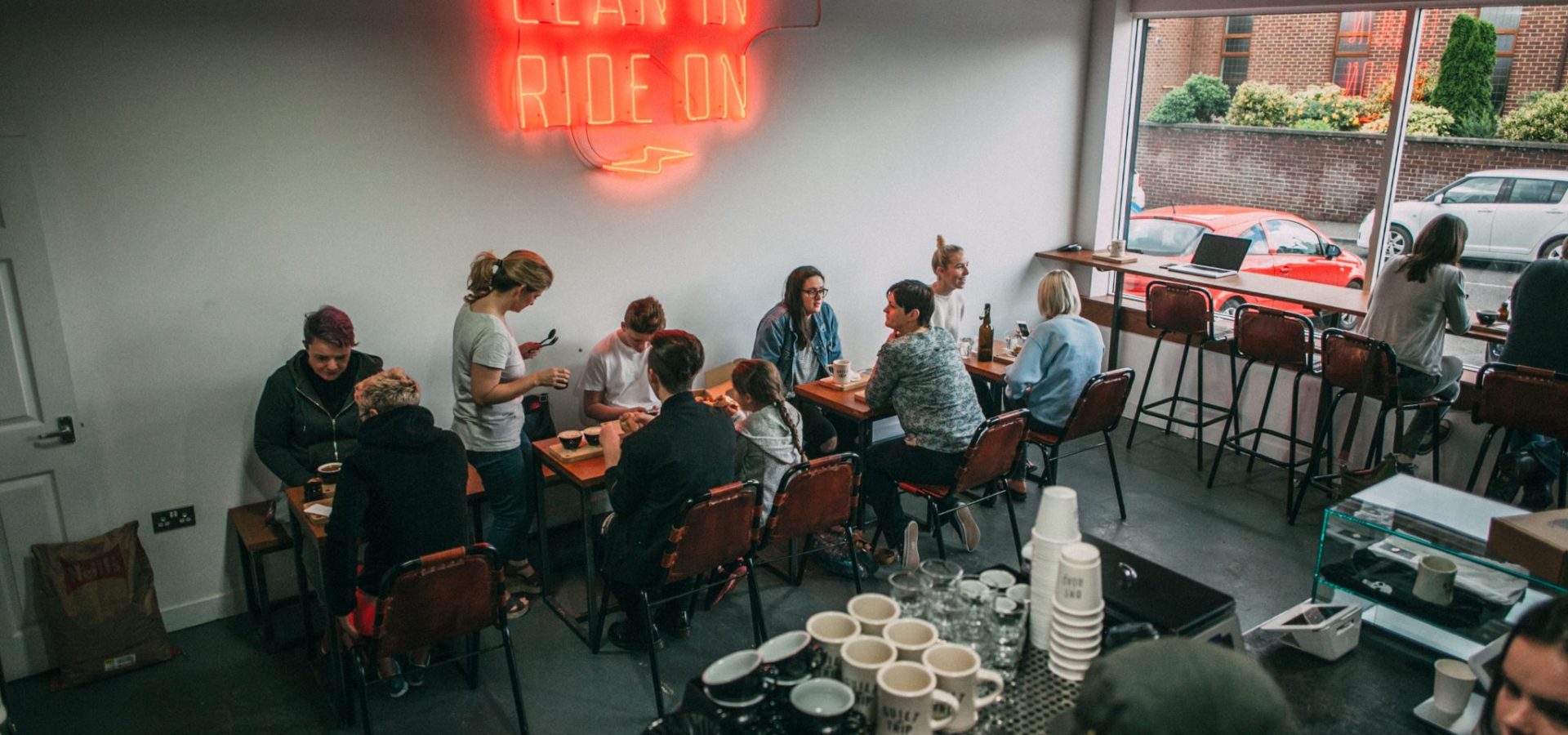 Donuts and rugby players don't necessarily mix. Where did the idea come from?
Callum Black: I wanted to open a coffee shop and took advice from several people that coffee on its own would be a hard sell. From seeing how popular coffee and donuts can be, especially in Dublin, I saw this as an area to focus on; coffee and donuts of the highest quality.
Darren Cave: When Callum first approached me with the idea, I wasn't sure about it. But when we sat down and went through it, I saw his passion. He had also done a lot of research so I decided I had to get on board!
What is your go-to food after a game? Would you have a donut?!
CB: To be honest, sometimes I find it hard to eat after a game but if I had to choose I'd opt for a pizza. We've brought down trays of donuts from the shop post-match a few times as a treat for the lads after a hard fought win.
DC: I'd normally go for a savoury 'cheat' meal like a Chinese takeaway with some chips!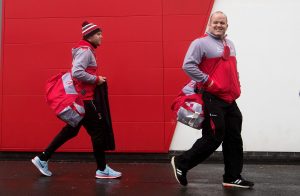 You also offer a good cup of coffee, is there a strong coffee culture in Belfast?
DC: It wasn't something that I was hugely passionate about before this journey and therefore I was very much unaware of the huge coffee culture in Belfast. I still think it's growing and more people are learning that coffee can taste great when it's done properly. It's not all about getting the biggest cheapest cup from a big chain or local garage anymore.
CB: The coffee culture is huge in Belfast with so many independent coffee shops you are spoilt for choice. I wasn't into coffee until I moved to Belfast but once I was introduced to specialty coffee, I was hooked.
Did you work in a coffee shop before? Did you have to learn how to make Barista style coffee?
CB: No. I taught myself at home with home brew equipment. It became a bit of an addiction and I also started a Instagram account. My coffee station at home has now taken over our kitchen. It took a lot of practice, a lot of YouTube tutorials and the guys at Bailies Coffee also allowed me to go practice up at their roastery several times. But despite all that, I probably learnt the most from the other staff at Guilt Trip picking up tips during a shift.
DC: Pretty much none but it's like anything in life…if you're keen to learn and you have the passion and the right attitude, it's not too hard to pick up.
Did you expect Guilt Trip to be as popular as it is?
DC: Definitely not, within 6 months of opening we agreed the lease on the premises next door and knocked through at the back to make a massive kitchen so that we could meet the demand for donuts.
CB: I was confident that what we were offering was high quality as a lot of work behind the scenes had gone into trialing the donuts and sourcing the finest coffee. I think people like what we have created at Guilt Trip and enjoy what we are about.
Were you close before going into business together?
CB: Myself and Darren have known each other for over 10 years as we played underage group rugby for Ireland. I knew him long before I joined Ulster.
How has it affected your relationship since?
CB: You will have to ask Darren that! I hope not. It is both of our first experience of starting our own business so I think we are pretty open about any issues. It is all new to us and I have already learned a lot. Obviously, there have been mistakes along but that's what its all about.
DC: I actually think that it has probably brought us closer. We are in contact everyday!
Can you describe your respective roles in Guilt Trip?
CB: When we opened our doors in May 2017 we were coming into our off season. In the beginning, Darren and I were very hands on as we only had a few members of staff. Between Darren, our General manager Ben and I, we chat through all aspects of the business really. As my passion is coffee, Ben and I would work on deciding the guest roasters we would use each month. Then as our rugby season began to kick off again we both had to take a step back from the day-to-day aspects of running a business to take up more administrative roles. I suppose you could say that I pay the bills and Darren looks after the wages and legal side of it!
DC: My dad has recently retired from running his own business for 30 years so he has been very helpful. At the start we were doing everything, agreeing and drafting contracts, sorting pension contributions, tax and getting payments sorted!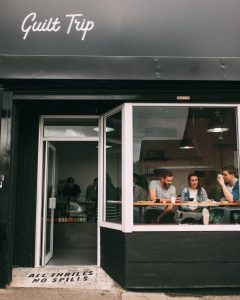 How do you balance your time between your rugby and business?
DC: Ben is our man on the ground. He filters out a lot of stuff that he can deal with and only brings a few matters of real importance to us. The shop is near to Kingspan and to both our houses so it's not too far out of the way to call in.
CB: We have a good team and so now Guilt Trip runs itself. It's still fun to pop by and make the odd coffee though!
Having been employees throughout your career, how have you found managing people?
DC: It's certainly different, but you want to be nice to your staff as you want a happy work force while not being too much of a pushover either!
CB: We have been lucky that the transition has been slow. We started out with a small team that has grown steadily and having a General Manager from the outset has made our job easier as day to day our schedule is pretty busy prepping for games.
What have you both enjoyed most about running the business?
CB: The most enjoyable bit for me was probably was in seeing all the work that we did at the start grow from an initial idea to the shop actually taking shape and opening. It has been a bonus how successful it has been so far as this was really more of a passion for me, but I am so happy that people enjoy what we have created.
DC: Yeh, seeing the place packed on the first day was cool and now I like to go in on my day off and just enjoy a coffee, maybe get my laptop out and do some of my work.
Would you recommend starting a business to your teammates?
CB: 100%. for the last couple of years I had been thinking of starting a business and Darren gave me that final push. Don't get me wrong, it can be hard and stressful at times but I have found the whole process to be very rewarding and I have learnt so much along the way.
DC: I'd also tell them not to be frivolous with their money and chuck it into anything.
When the Ulster lads come in, do you have to ration the donuts so that there are some left for other customers?
CB: The lads have been great supporting us from the start. Guilt Trip is very close to Kingspan and the fact that a lot of the boys appreciate good coffee and the donuts is an added bonus. In the beginning we often sold out of donuts within the first two hours of opening so we haven't been able to hold any donuts back. As the business has grown we have been upping the quantities of our batches to try and cope with demand and offer donuts until we close.
What player has been the biggest fan of Guilt Trip?
CB: Stu McCloskey or Rob Herring
DC: Sean Reidy as well
What are the plans for the business?
CB: I would like in time to open more shops, I believe we have created a strong brand and Guilt Trip has recently expanded to two units to give us extra prep space for the donuts. In time, this extra unit could supply a second store if the location was right.
DC: Yeh, the strong brand has probably given us the option of doing this.
Has Callum's imminent return to Worcester Warriors affected these plans?
DC: Most of the leg work is day-to-day by our staff, there are a few wee areas that won't be quite as easy but the way the world is now with WhatsApp, Facetime and social media as well as emailing invoices and online banking payments it will be fine.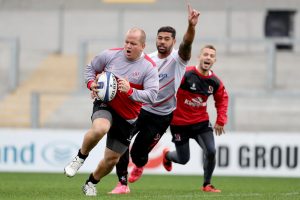 Explain a flat-white in five words or less…
CB: Latte less milk more espresso
DC: Rolls Royce version of latte
Back to News
Latest Posts