News
CHASING THE VISION
15th April 2017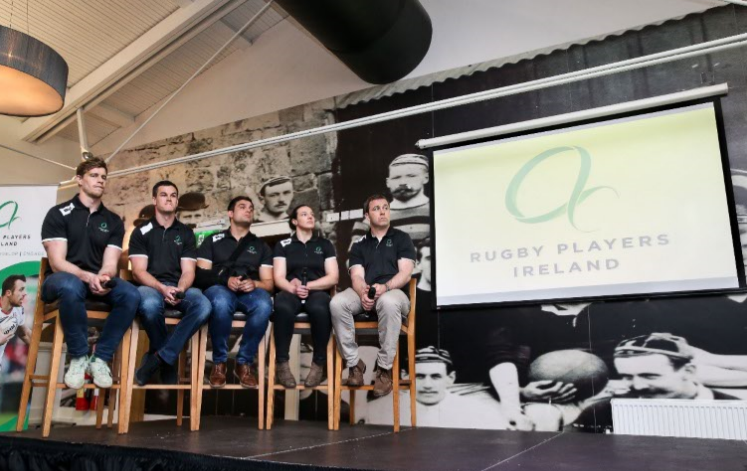 In April, Rugby Players Ireland came into being. Having been served Irish rugby faithfully under the banner of the Irish Rugby Union Players Association (IRUPA), it was felt that change was necessary to acknowledge the progress made by the organisation since its establishment in 2001 and as a statement by players to demonstrate their commitment and ambition to play their part in the future development of the game in Ireland.
Members from the women's programme and the respective provinces attended at the launch in Lansdowne RFC, where they were joined by the Minister for Tourism and Sport, Patrick O'Donovan TD, IRFU CEO Philip Browne and a many more prominent rugby figures in Ireland.
Rob Kearney, as Chairman of Rugby Players Ireland, welcomed the Minister and all in attendance and stressed that it was his hope that Ireland becomes the best place in the world to play rugby.
Speaking at the event, Minister for Sport Patrick O'Donovan TD said: "One thing that became extremely apparent to me upon a recent visit to Australia and New Zealand, was how valued our rugby players are, their reputation and the way that they fulfil their ambassadorial role on behalf of the island of Ireland.
"Ireland's rugby players have provided a great series of stories, not only for themselves and their own personal development and the development of the game, but also for those of us who have been lucky enough to be spectators and to have seen the evolution of the professional era which has captured the imagination of the country. Working to make Ireland the best place in the world to play rugby will ensure that this remains the case and we are hugely supportive of the ambition announced by Rugby Players Ireland today."
Outgoing CEO Omar Hassanein followed the Minister and explained that Rugby Players Ireland now works across the themes of representation, development, and engagement. Such work has included the expansion of a world class off-field player development programme, the negotiation of a player agreement with the IRFU, the securing of the tax back for professional rugby players to assist with the retention and recruitment of players and the reality that 80% of players over 30 have completed an educational qualification or training programme.
Hassanein added: "Ireland should be seen to be the best place in the world to play rugby. That is what we are constantly trying to enforce. Let's not get caught up in trying to get these terms out of the IRFU, we need to get this or do that. To be the best place in the world to play rugby – if we can achieve that players are happy, the game thrives. If we can achieve that and help the IRFU then we are all in a stronger place. Other countries like New Zealand, Australia and England have traditionally invested more money and systems. We feel we have accelerated as a game very quickly. We have accelerated as a player body very quickly. We want to go up to them, and then we want to go beyond them."
Speaking on a panel of players that included Marcus Horan, Andrew Trimble, Ronan Loughney and Paula Fitzpatrick, Johnny Sexton later consolidated Hassanein's vision: "To be the best place in the world to play rugby is about what happens both on and off the pitch. We have some outstanding coaches in place throughout the provinces and on a national level, while we have some great structures off. It's important that for players to perform, off the field programmes need to be as well-structured and developed. The best thing about the new name is that it encompasses all the players. Whether you come from New Zealand, Australia or South Africa, you will be looked after as well as the Irish players. You're given the chance to develop and progress so that you're ready at the end of your playing career whether Irish born or not. If you're happy off the pitch, you're performing better on it. Rugby Players Ireland play a huge part in that for all of us."
Back to News
Latest Posts