News
Supporting Charity, Supporting Community
17th July 2016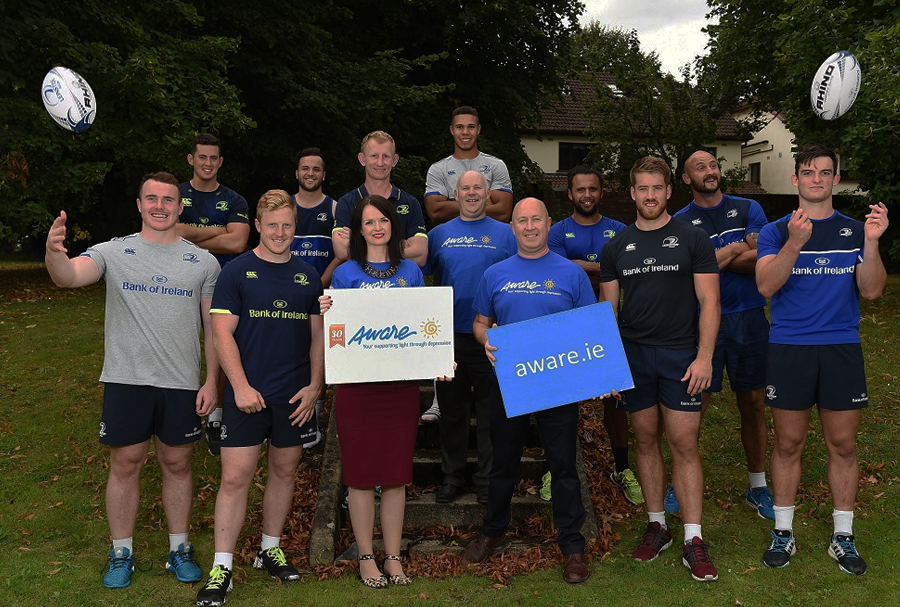 As part of Rugby Players Ireland's Player Development Programme, players are actively encouraged to get involved in charitable and not-for-profit organisations.
While there may be a perception that all professional sports people have lucrative endorsement deals and can command massive appearances fees from corporate sponsors, the vast majority of professional rugby players earn moderate salaries and are far more likely to donate their time for appearances supporting charities, community and other grassroots initiatives. The benefits for the player include the development of many off-pitch skills including communications skills, media skills, networking and a sense of giving back to the community. Simultaneously, the charity benefits from the player's profile and large network of supporters.
Speaking on the initiative, Deirdre Lyons, Player Development Manager for Connacht says:
"Getting involved in a charity or not for profit organisation is a great way for a player to develop their off field skills as well as contribute back to the community. There are a few things to consider when choosing an organisation to work with; what are you interested in, what kind of time you can commit, what do you hope to achieve and what can you bring to the organisation through your support".
Getting Involved
With such a large not for profit sector in Ireland, the opportunity for professional rugby players to get involved with charities at varying levels can be both rewarding, career enhancing and mentally stimulating.
There are 23,000 not for profit organisations in the Republic with a further 4,700 in Northern Ireland. That number and variety means there is something in the sector to interest every player in some form or other. Engagement by players has been excellent over the years, what this contribution looks like will vary from charity to charity and from player to player.
When a player meets their Player Development Manger to discuss supporting a charity, they discuss which level of engagement would suit them best in terms of career stage and time commitment. Players should choose to get involved with something they feel passionate about, an areas or topic they would like to know more about or maybe something they have personal experience of.
When assessing the many options and opportunities open to players, Rugby Players Ireland deploys an engagement scale to help players frame the various types of opportunities, levels of engagement and commitment required.
The Engagement Scale
1. Charity / Volunteer Supporter
Often this can be a players first entry into the charitable field, it is a little less formal and structured and allows players get a feel for their chosen organisation, attend events, meet key personnel and supporters and get involved in a less structured way. Players who act in a volunteer capacity often go on to become ambassadors for these organisations.
Types of activity:
– Attendance at fundraising events and /or photo shoots
– Engagement in the core activities of the organisation as a volunteer
– Being a fundraiser
– Social Media support
2. Ambassador
As an ambassador you would be publicly associated with the organisation or campaign. Leveraging your profile is a key element to the relationship and as an ambassador a player would be expected to have a thorough knowledge of the campaign or activities and be able to speak publicly about them. The relationship would be more formal and would require a larger time commitment and organisations would facilitate an induction programme. Committing to an ambassador role may exclude you from being involved with other organisations publicly.
Types of activity:
– Potential to be used in advertising and promotional campaigns
– Media appearances
– Act as a spokesperson
– Association with the players' name and image
– Attendance at event, launches fundraisers
– Volunteering and fundraising
– Social Media support
3. Board Member
As a member of the Board, a player is effectively committing to becoming a director of the organisation's board of management. The means they take part in the full range of legal responsibilities of being a Director of the Company. As this is a much more committed role and deals with governance, Rugby Players Ireland manages these appointments through the Board Placement Programme (BPP)
Types of activity:
– Development of strategic vision
– Attendance at board meetings and AGM
– Governance
– Training & Up Skilling
– Use of Profile as they see fit
If you a registered charity or non for profit organisation who is interested in engaging with our members, please contact: info@rugbyplayersireland.ie
Back to News
Latest Posts