News
WHAT YOU CAN LEARN WITH US
09th January 2018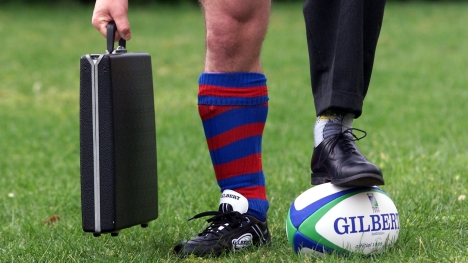 2017 was the busiest year on record for Rugby Players Ireland. Throughout the year there were a number of offerings available to our members ranging from classroom based activities to networking opportunities. By providing choice and a wide range of opportunities we sought to ensure that our players are continuously upskilling in both the everyday sense and in preparation for their future.
So, what do we offer?
Firstly, with a regular presence in each of the provinces over the last four years, our Player Development team understand the needs and wants of our players. With over 300 individual consultations taking place every month, the general requirements of the players have tended to come to the fore very quickly. Naturally, these can vary across the player groups (Academy players will have different requirements to those facing into retirement), however every effort is made to accommodate every player within the system.
Externally, many perceive rugby players to be a privileged entity and therefore don't require the assistance that they receive in abundance. However, while some might lead an enviable lifestyle as they navigate their way through a successful career on the field, many others have been left in their wake with nowhere to turn. Yet, even those who have found glory and headlines have often left the necessities of the 'real world' to chance while they pursue their dreams.
For instance, it can be very easy to assume that a rugby player will have a good knowledge of their contract and all of the financial concerns that accompany their career in the game. The reality is that many players have people around them to advise on all monetary matters. Consequently, with the help of Smith & Williamson (Dublin) and Cunningham Coates (Belfast), a number of financial planning workshops have taken place throughout the provinces dealing with the basics of a payslip to the intricacies of investment management. Additionally, our partners at Ulster Bank are also at hand to provide our members with a personalised financial health check.
Some practical workshops have also been embraced by our members. Last year players were given the opportunity to learn how to cut and style their hair with the help of The Grafton Barber. Meanwhile, far away from the grooming chambers, others turned out in force to get a few DIY tips in plumbing, joinery and bricklaying. More recently, several members of the Women's 7s squad headed out to Druids Glen Hotel & Golf Resort to pick up a golf club for the first time. They will return to assess their progression (or lack thereof) soon!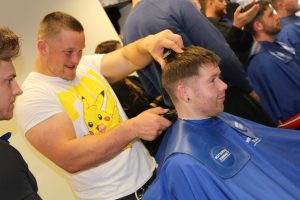 With their significant public profile, our members can have an influential role to play within their communities. Rugby Players Ireland has been keen to ensure that our members are seen as valued neighbours. To this end numerous social outreach engagements took place in 2017. In recent weeks Galway Hospice have contacted us to thank us for the contribution made by several members of the Connacht squad who have become regular visitors to the facility. Furthermore, in advance of the Christmas period an army of Munster players piled into a Limerick warehouse to pack two weeks' worth of supplies for the homeless of the mid-west. Prompted by the goodwill generated by such activities, other players have instigated visits to hospitals and the provision of soup kitchens for the people on the streets this winter.
While the profile of rugby players in Ireland can have such a positive effect upon society, the prevalence of cameras and social media can simultaneously damage that potential. Mere quirks of character can be interpreted in a manner of ways. To this end, Gillian Horan of The Pudding and Derval O'Rourke (a former Player Development Manager) have been at hand to give very useful advice to the players as to how to manage their 'brand' whether through the realms of Facebook or in associating their name with a product. Extensive work on media and communication skills have also taken place.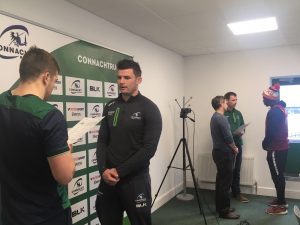 With constant pressures abounding, many players struggle to absorb them as easily as their teammates. However, such is the nature of rugby that few are willing to express what may deemed to be a 'weakness.' Through the Tackle Your Feelings campaign, a number of players have come forward to highlight this issue on a public level. However, closer to home a range of workshops have taken place in an effort to assist players through any such difficulties. Through our wellbeing programme, players are advised on numerous techniques from sleeping better at night time to coping with injury and how to avoid the temptations presented by gambling and alcohol.
In short, there is very little that Rugby Players Ireland fails to provide for its members. 2017 was a busy year… but plenty more awaits in 2018!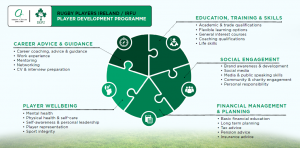 Here is just a taste of what we had on offer throughout 2017:
Academy Introduction
Agent Advices
Barbering Workshop
Barista Training
Boat Trip
Brand Management
Butchery Workshop
CAO Options Workshop
Career Workshop
Children's Summer Camp
Coaching Education
Communication Workshop
Cooking Workshop
DIY
Employer Recognition Event
Enterprise Ireland Visit
Excel Workshop
Family Events
Financial Advice
First-Aid Courses
French Language Lessons
Gambling Awareness Programme
Golf Clinics
Golf Outings
Homeless Engagements
Hospital visits
Individual Consultations
Insurance Talks
Investment Workshops
LinkedIn Assistance
Make-Up Demonstration
Media Training
Money Management
Networking Opportunities
Past-Player Events
Partners Social Events
Pension Advice
Presentation Skills
Property Workshop
Road Safety Awareness
Social Media Awareness Sessions
Soup Kitchen
Start-Up Business Advisory Clinics
Time Management Clinics
Trade Opportunities
Wellbeing Workshops
Back to News
Latest Posts