News
Aoife Lane: We Learn as much through Adversity as Success
25th April 2023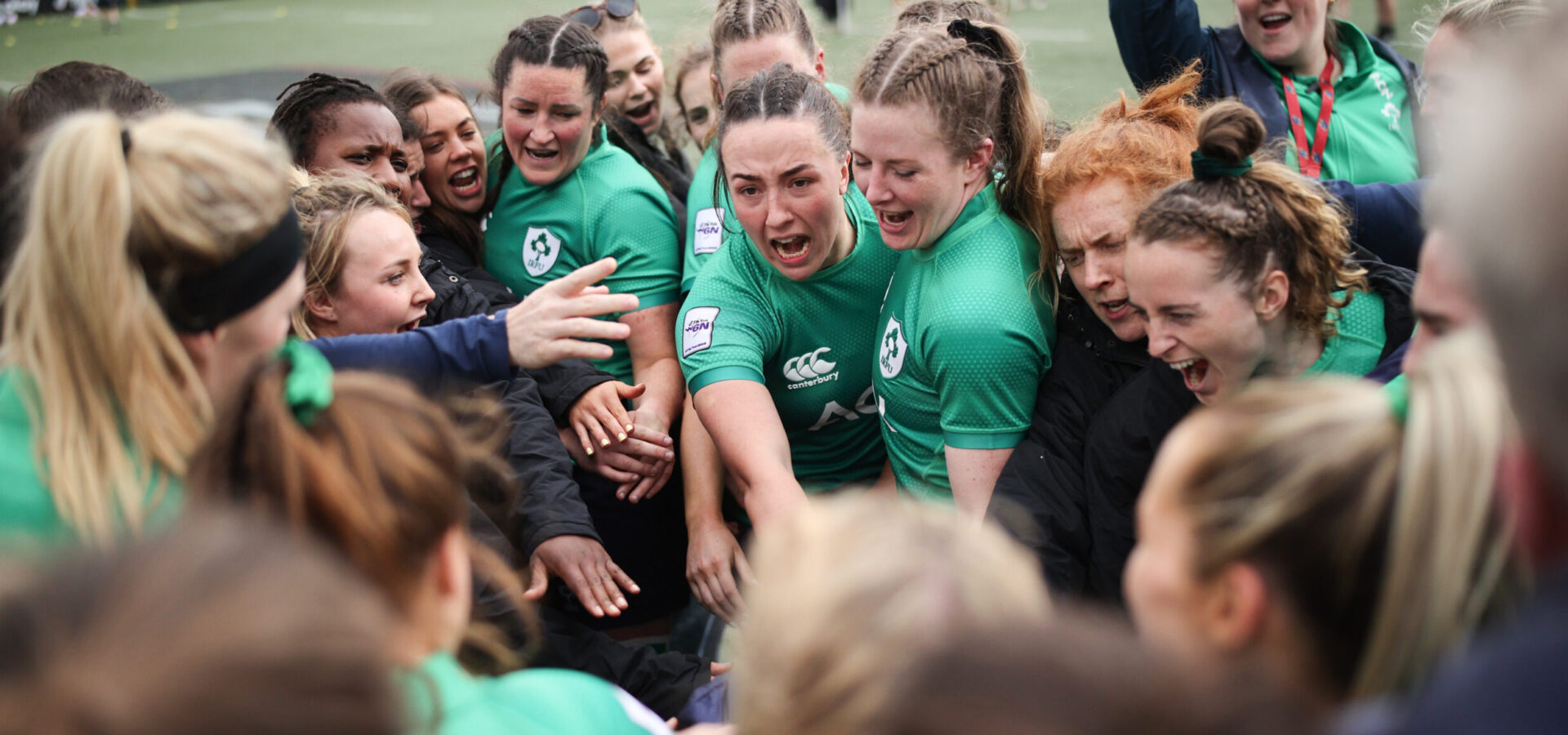 Aoife Lane discusses her role as Rugby Players Ireland's Player Development Manager with the Irish Women's XVs and how she has helped them navigate their way through a challenging few weeks
As Player Development Manager (PDM) with the Irish Women's squad, I look after the players' off-field development and support them in the development of their life skills. This ranges from career guidance, education, wellbeing and social engagement.
While there is a focus on their transition from the game and putting the building blocks in place for that eventuality, there are also many different transitions that occur throughout their career. We have to be ready to help players to deal with injury, deselection or other situations where their athletic identity is threatened. It can feel like a complete loss of control in what can be a very regimented world. My role is to empower a player to take control of their personal development so that they have the capacity to place all their focus on where it needs to be.
Unfortunately, the Irish Women's squad have had a lot thrown at them of late. They have quickly learned that different standards are now expected of them as professional athletes. Yet having the ability to deal with the additional pressures being placed upon them is not an innate skill either. Just as wins are heightened in intense environments, losses can accentuate all the other worries in a player's life. It has been my job to ensure that those concerns don't compound the defeats.
Learnings
I think it's important that we don't confuse the men's game with the women's game. They both carry very different considerations. While the men sit proudly atop the World Rugby tree, we have to accept that the women's game in Ireland has a long road ahead of it before it can covet a similar global standing. We are in the first year of a professional programme and with that has come many learnings for everyone involved.
There are several categories of players within the current Irish squad. On the one hand you have IRFU contracted players who are supplemented by some of the 7s players. On the other, you have non-contracted players and those based abroad who land in for competition. It's rare that you have a collection of players in a professional environment leading vastly different lives.
For the most part, I am a sounding board for them to chat through all that is going on in their respective worlds. Players engage to varying degrees and at different points in the season, and you often end up feeding the hands that are hungry – those who are keen to develop and grow with my help.
That being said, nobody ever slips off my radar. Some players prefer to go it alone but often it's just a case of educating them a little better on how we can support them or how they can even use us to their advantage. Whether or not they are in active contact, I'll always pick up the phone or check-in via text. I'm also over in the High Performance Centre for player meetings several days in the week. I think it's important to be in the building as much as I can, if even to say a quick hello and make a connection. That can be a massive breakthrough.
Support Network
Thankfully, I have an amazing group of Player Representatives to lean on too. They are naturally supportive beings and as senior members of the team they also have a good sense of where their teammates are at. With a number of younger players in the squad it has been especially important to have that support system in place.
For example, one of the younger girls was due to sit an exam the day before a recent Six Nations game. She wasn't sure what to do or where to turn and was under a bit of pressure. A Player Rep made me aware of the situation and we were able to sort the issue at hand. It was also an opportunity to discuss with the player how we can manage similar situations better together next time.
We have all been very excited by the young and talented players coming into the system yet from a PDMs perspective what I see are young women who are not only experiencing a high-performance environment for the first time, they're also in their first job! It's very daunting and there is so much for them to consider. While I will always be supportive of a player's on-field ambition, there does come a time when I have to remind them that this gig won't last forever.
A lot of my work with the younger players is explorative. We look at their interests, assess where they see themselves in the years to come and map out a plan to help get them there. Now that we've almost had a full contracted season behind us, I think the girls are realising that you can't put all your eggs in one basket. A few have picked up injuries and couldn't play a part in the Six Nations. With that comes something of a silver lining in that it forces them to check back in with life away from the game.
Balancing Act
I think the players appreciate that they need diversity in their lives. They all have their own talents away from the game. Very often elite athletes are accustomed to high levels of achievement and expectation. It tends to go with the territory. As much as I am delighted to have them coming through the door, I'm not always waiting for them with a college prospectus. Sometimes it's simply a case of reintroducing them to who they are.
For the non-contracted players, I try to help them balance all they have going on in their lives. In order to take part in the Six Nations, several players had to take leave from work. We have teachers, physios and engineers who will have employers that need to be communicated with. Sometimes having a different source explain what is being asked of their employees can be helpful. Several others are in the middle of demanding college courses so there is a significant logistical piece there too.
I have also had to place great importance on supporting the group's leaders over these past few weeks. They take on a huge amount of responsibility that stretches well beyond what they set out to do on the field. It's really admirable to see them looking to set an example for the younger players but with that leadership comes plenty of introspection. It's important that we create a space for them to talk through their thoughts and help them to be the leader they want to be. As much as they want to guide the young players, they also are also a crutch for the squad to lean on. The knock-on of that is that they need to lean somewhere too.
Perspective
I've been working with the women for three years now and I think it's fair to say that it has been the most challenging Six Nations. The way the campaign has gone, it's inevitable that players will be affected and in that sense it's been a hard slog. While I greatly respect the dedication of the group, it can be hard for some players to reconcile what they're committing to the game with the negative attention.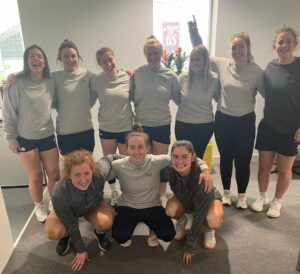 With a growing profile, comes added scrutiny. I've seen a lot of what has been written and said in the media and while I appreciate that there is plenty yet to do, I think a bit more understanding and empathy is needed for the players on the frontline who have had to negotiate the noise over the last few weeks. Just as there's no point dressing up where we are, there's no point dredging up the past either. Much of it is beyond the players' control.
Change is still happening. Win, lose or draw there's no denying that our female players are now availing of opportunities that were a pipe dream not so long ago. We can't ignore that growth. Now it's time to give the players and staff left carrying the can a good and proper chance. Encourage them. Empower them.
Teamwork
I work closely with IRFU staff like Gillian McDarby (Head of Women's Performance and Pathways) and Alana Gattinger, who has joined recently as the Women's XVs National Team's Programme Manager. From the conversations we've had, I know we're going to work well together. We're already looking at what next season might look like for players and how we put more structure on the education in the schedule.
At the very least, we intend to build modules that will help them all to become better rugby professionals. I have no doubt that through our plans we will build robust people who can perform on and off the field. Each department will have their own KPIs but if everyone works together we can create an environment that will help these players to grow and flourish as both athletes and, more importantly, as people.
It hasn't been an easy campaign for anyone. Thankfully, I'm glad to be able to rely on the support of my team at Rugby Players Ireland. By now we are all aware of each other's busy periods. As if the Six Nations wasn't busy enough, as manager of the Rugby Players Ireland Foundation it was also my role to run the Rugby Legends activity on St Patrick's weekend while I also manage our Mental Wellbeing Service which is available to our members on a 24/7 basis and is a vital component of our offerings.
There's been a lot going on and over the past few months I have had to learn how to practice what I preach a little better. As well as having a very practical function, the role of a PDM will tend to be a caring and empathetic one. As a result, it can be hard not to take on a player's worries as your own. You want to be there for them around the clock. To some extent, that goes against what I try to impart on them as their PDM. I have to remember to set boundaries because I can't be fully entrenched all the time. I need to protect my space that sits outside of the rugby bubble. Develop my interests. Stay connected to family and friends. I need to be at my best when I am available to the players.
The squad is comprised of an exceptional bunch of women, individually and collectively. I'm in awe of what they do and the sacrifices they make to be there. Even when the chips are down they have this inner resolve to see things out. We learn as much through adversity as we do through success.
Nothing beats a player passing an exam or seeing a graduate getting the job they've been after. I've seen people thrive, having benefitted from the wellbeing service. The tide will turn for this team too. All these wins, big or small, make what I do worthwhile.
Back to News
Latest Posts