News
KATE KIRBY
ANNALISE & SAILING TO A SILVER LINING
01st November 2016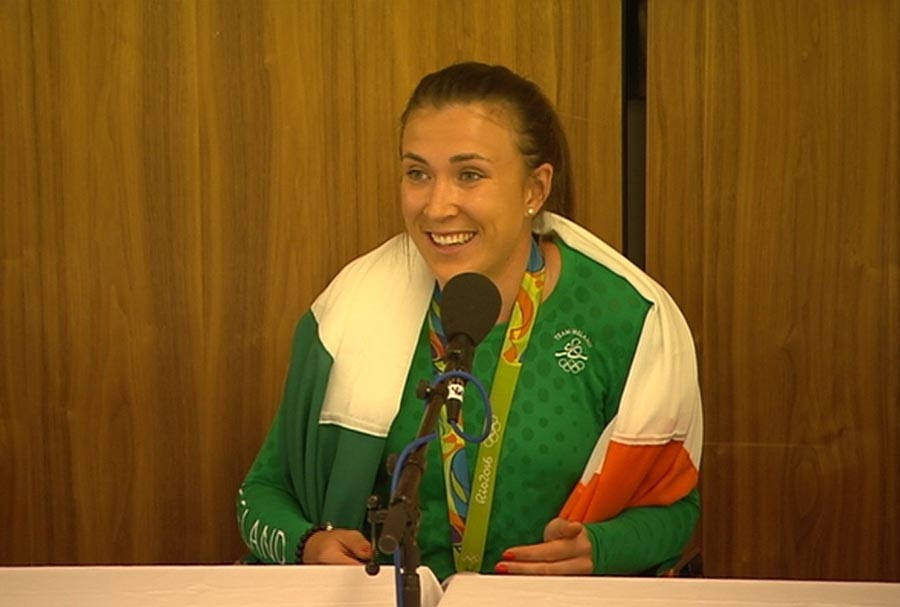 Annalise Murphy didn't know whether to laugh or cry after banishing the pain of missing out on a medal at London 2012 by claiming silver in the final race of the women's Laser Radial in Rio last August. Growing up in an avid sailing home, an Olympic medal was always Murphy's ultimate dream.
To an extent, Rugby Players Ireland has accompanied her on that journey to the podium, with Dr. Kate Kirby at her side in her role as a sports psychologist. "My time with Annalise actually stretches back to 2005 when she was identified as a Development Athlete, so that medal was the culmination of over 10 years' work," Kate informs us. "But she was so driven in her own right that it turned out to be one the easiest jobs I've ever done!"
With both an MSc and PhD is sports psychology, Kate gained extensive experience in a variety of fields, namely in the provision consultancy services for a number of sporting bodies including the Irish Olympic Sailing and Modern Pentathlon squads. Now the Head of Performance Psychology at the Irish Institute of Sport, Kate joined what was then IRUPA as the Player Development Manager for the Irish Women's Sevens team in 2012.
"Since I first came onboard, it is clear that the organisation has taken much more of a foothold in the game. It has much more of an influence and is held in higher esteem. I would put this down to two things: visibility and manpower. When I started out we offered general services but now we can give the individual greater attention."
"A big part of my role," Kate continues, "was in helping a retiring player to transition out of his or her rugby career. Unfortunately, the fall is something we can't prevent, but we were able to soften the landing quite significantly. It is therefore so important that players take the time to engage with the team at Rugby Players Ireland. To provide the best service possible we need to get a feel for them as people with their own character, passions and goals."
"In the past the most difficult part was trying to secure time in front of the players. We had no allotted schedule space and had to work around their diaries. With all their on-field training, gym work, physio sessions and team meetings, we had to try and squeeze in where possible. But with the work that we have been doing, I think the provinces began to see the fruits of our efforts and they started to facilitate us wherever possible."
Working with an Olympic athlete however has brought different challenges to the table. "In my work with the rugby players, most of the work was of an off-field dimension in that we help to develop them from an educational and career perspective. With Annalise, it was a very hands-on, results based experience. In the beginning we had to work on her all-round skills, from how she packed her bag to how she managed her logistics. We did everything in our power in an effort to help maximise her performance levels. But as she matured and grew into the sport, the work changed. We then became more focused on her mental skills and the consistency of her racing."
Having been at London 2012, Kate had acquired the requisite knowledge base to assist the 25-year-old manage her Olympic experience. "While she performed well in London, our work in the interim was about developing greater self-awareness and exploring how she responds in certain situations. We had established our working environment but she would be the first to admit that she became frustrated by it and drifted. In Rio she appreciated what she had to do and she got on with it."
"Before we made the trip out there we reflected on London, the successes and mistakes. It was clear that whatever framework we established would be crucial to achieving her goal. For instance, I stayed with Annalise in an apartment nearby the sailing centre. In London we didn't spend as much time together and as a result our work became a bit rushed. Furthermore, Rory Fitzpatrick, her coach, lived elsewhere. This was a deliberate move designed to promote fresher interaction."
Any success is grounded upon strong mental preparation and Murphy, with Kate by her side, perfected her approach to Rio 2016. To bounce back from such disappointment and spend the next four years planning to put things right takes an enormous amount of dedication and drive. It hasn't been an easy journey, but as Murphy crossed the finish line every sacrifice she had made along the way became worthwhile.
Back to News
Latest Posts