News
A WISE HEAD ON YOUNG SHOULDERS
27th October 2018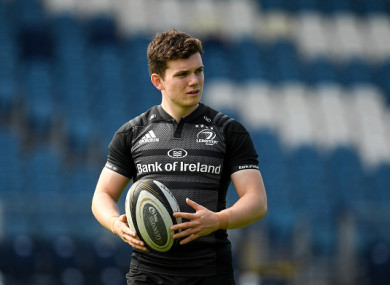 Hugh O'Sullivan was speaking to Ryan Bailey of The42.ie.
This article is reproduced here with the kind permission of the author.
THERE ARE ALWAYS whispers and murmurs. 'Watch this kid, the next big thing.' 'A special talent.' 'He'll make it.' Word can spread quickly on the sidelines of a player with prodigious potential.
For three years, Hugh O'Sullivan of Belvedere College — the fullback, nominally a scrum-half — was the outstanding player at Leinster Schools level, helping his side to back-to-back Senior Cup crowns at the RDS.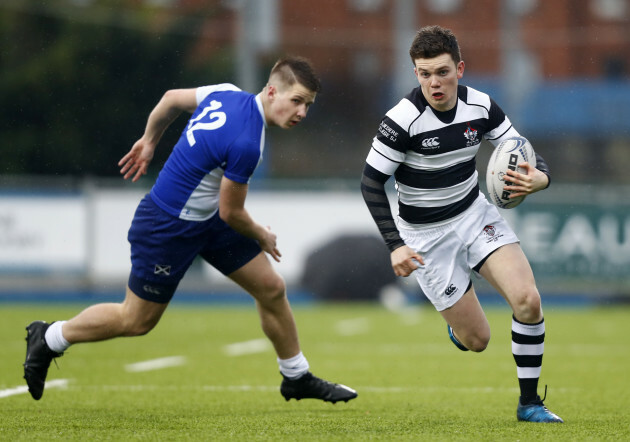 Anyone who saw O'Sullivan in the black and white, knew he was the player everyone was talking about. And why. He kicked, created, scored and consistently stood out, earning Leinster and Ireland underage representative honours throughout his time in Belvedere.
There are too many games to go through here, but one of the most memorable was a Senior Cup quarter-final against much-fancied St Michael's College at Donnybrook on a miserably wet Sunday afternoon.
Both teams were stocked with talent. Max Kearney and Ruadhan Byron were demons for Belvo in the back row, while Michael's had the highly-rated Harry Byrne, Ryan Baird and Jack Dunne in their ranks. But it was O'Sullivan at fullback who stood out, scoring two tries during a first-half salvo which ultimately settled the tie in Belvo's favour.
The Meath native would go on to lift his second Senior Cup crown with the Great Denmark Street school the following month in the RDS, before earning a place in the Leinster academy having been earmarked by Peter Smyth from a long way out. When you know, you know.
A couple of weeks ago, Smyth joked with O'Sullivan shortly after the 20-year-old had come off the bench in the home Guinness Pro14 victory over the Dragons to make his senior professional debut.
"Make sure you don't get stuck on one cap now," the Leinster academy manager said in jest, while also fully aware of the perils and pitfalls for any young player looking to fulfil their promise.
That O'Sullivan's debut appearance came as early as it did in his development — he's still just in his second year in the province's academy — is a measure of his undoubted ability and just how highly-rated he is by the coaches at Leinster.
While being introduced for the final 13 minutes of a facile home victory is a nice way to ease yourself in, his appearance, becoming the 1,270th player to represent Leinster, was just reward for the hard work he had logged over the summer.
"It was a great experience," he tells The42. "And for it to come as early as it did, it was probably sooner than expected but it was great to get off the mark. It does become something of a monkey on the back for guys in the academy trying to get that first cap, so it was really good to get it early in the season."
O'Sullivan came on for Jamison Gibson-Park, who won man of the match for his two-try performance that night, and looked at home behind a dominant Leinster pack, exhibiting his crisp distribution skills as well as a smart game intelligence, which was evident in his ability to switch between scrum-half and 15 at schools level.
The Ireland U20 international was one of the standout performers for Noel McNamara's side during last year's Six Nations and Junior World Championship, with O'Sullivan putting his head down during the summer to earn a chance from Leo Cullen.
"I think every player in the academy sees these international blocks in November and the Six Nations as chances to get a few caps under the belt," he continues.
"Even training-wise, with so many guys going to be away with Ireland, the gaps need to be filled and there will be chances to stake a claim there — but at the end of the day it comes down to what you do if you get that chance.
"You can train as well as you want but getting those chances and taking them are massive. You've got to be prepared to take that chance and really go well because it's not really enough just to play and get through the game, you have to show you're contributing something extra that wasn't here before.
"That's really my ambition, to try and add something to the squad."
Coming from a family steeped in GAA tradition, O'Sullivan previously represented Meath in football at U14 and U16 level before turning his attention to rugby when he attended Belvedere, but his dual-ability is evident in the way he plays.
An energetic character on the field, O'Sullivan has looked to specialise in the nine jersey since entering the Leinster set-up and his strong playmaking abilities, footballing skills, as well as a penchant for a snipe-try, has impressed the coaches, with Felipe Contepomi working closely with him.
"It sounds very simple but kicking and passing," he says of the areas of his game he has been working on. "I didn't play a lot of nine in school, so it has just been really about specialising in the role and, for example, to have a kicking session every Wednesday has been really helpful, just for consistent practice.
"Because I didn't play there on a regular basis in school, it's important to really nail down those fundamentals of the position."
With Luke McGrath and Gibson-Park the two senior nines at Leinster, there is no shortage of competition down the ranks with Munster-bound Nick McCarthy and former Blackrock nine Patrick Patterson also pushing for opportunities.
O'Sullivan and Patterson shared duties during Leinster's run to victory in the inaugural Celtic Cup competition, but the former seems to have made quicker progress in recent months after travelling with the senior team as 24th man for the season-opener in Cardiff, ahead of that senior debut at the RDS last month.
"It has been my first year based up at UCD training with the seniors," he explains. "Even getting up to speed with the pace and intensity they train at took a while to get used to but it comes. You just have to be confident.
"The amount you learn up there, Felipe has been great and a great help to me. The small stuff he says to you off the pitch and even sitting at the back of team meetings. I've certainly no input in them but try and go to as many as them as I can just to soak up as much information."
A willingness to learn is patently important in the development of any young player, but O'Sullivan — even as his rugby career begins to take off — maintains a very level-headed and grounded outlook. He's not one to get carried away.
While many of his academy team-mates will be combining rugby with their academic studies across campus at UCD, O'Sullivan instead opted for Trinity College to study Philosophy, Political Science, Economics and Sociology (PPES) after his Leaving Certificate.
Now in the second year of a four-year course, balancing the two is a huge challenge, particularly given the broad-ranging nature of his studies, but it is something — through the help and advice of Rugby Players Ireland — which he has embraced.
"It's really about time management and planning ahead. I know it sounds simple but I've sort of built good habits around that from my Leaving Cert. In Belvo we'd train two or three mornings and nights a week and I built pretty good habits around that.
"UCD are used to it with Leinster so they can do modules over a longer period of time, whereas in Trinity they're not used to it as much but they've still been very helpful to me.
"A lot of it is just planning ahead with lecturers, flagging things early as opposed to letting them know a week after an assignment was due that you haven't done it.
"Overall, I find it a good balance as when you go home from rugby, you have to do some work and on your days off, you've to knuckle down and do some college work. I don't get in to a lot of lectures because of training or whatever so there's a lot to do but it keeps me busy, and that's good."
The importance placed on completing a degree is seen in the work of the province's academies, in conjunction with Rugby Players Ireland, and as O'Sullivan continues through Trinity, will need to narrow his focus on an area he'd like to pursue going forward.
"It is quite diverse in that sense," he laughs. "I dropped sociology last year and will bring it down to a major in one of the remaining subjects, probably economics and politics.
"When I was coming out of school, I wasn't 100% sure what I wanted to do but really enjoyed and had an interest in economics. That's probably an avenue I'll look to go down but I'll focus on getting the degree as that's the hardest thing.
"With rugby, you obviously have to focus on that and giving it your all to be the best player you can be, but I enjoy having something else. Hopefully I can get a lot of connections from the rugby side of things and that'll help me get that dual career Rugby Players Ireland are always talking about."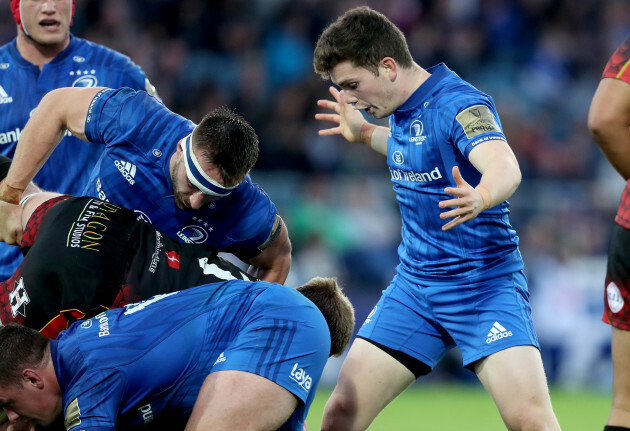 Last month, O'Sullivan was announced as one of 12 recipients of the 'Goodbody Rugby Players Ireland Personal Development Bursary', which is designed to aid the development and progression of a player's off-field career and academic studies.
The 20-year-old, like he has done on the pitch, stood out as an obvious candidate for the programme.
"I just really enjoy my course and have a huge interest it," he continues. "I could have gone to UCD with a lot of the academy lads but Trinity offered the course I wanted to do, so was prepared to make that decision.
"It has gone really well so far, and being part of this bursary is a great opportunity for me as living away from home in Dublin while balancing rugby and college can obviously present its challenges.
I'm living with my older brother at the moment and cycle in and out of Trinity but it's long days because you come from training or the gym. It's a bit of a cliche but planning ahead is key, between having meals ready to eat between training and lectures or whatever. I'm well used to it at this stage though.
As for the rugby, O'Sullivan has found him back in the Leinster squad this week, as Cullen's side bid to bounce back from the Champions Cup defeat in Toulouse.
The defending Pro14 and European champions have named a strong team for their round seven clash in Italy, with O'Sullivan named as understudy to Gibson-Park and on a bench alongside the likes of Andrew Porter and Rhys Ruddock.
"This season has been really enjoyable so far," he adds. "Obviously getting caps is great but I've learned you can't really control those things so I just focus on the day-to-day stuff and getting all that right. I've kept the head down and just been plugging away.
"You really want to be ambitious but at this stage I don't really have any sort of targets for myself. I'm just trying to control myself, whether that's training or playing as well as I can every week and hard work normally pays off, both on and off the field.
"If things happen off the back of that, things happen and hopefully I'll take the chances."
A wise head on young shoulders.
Back to News
Latest Posts