News
A Long Rugby Career, A Short Privilege
03rd June 2020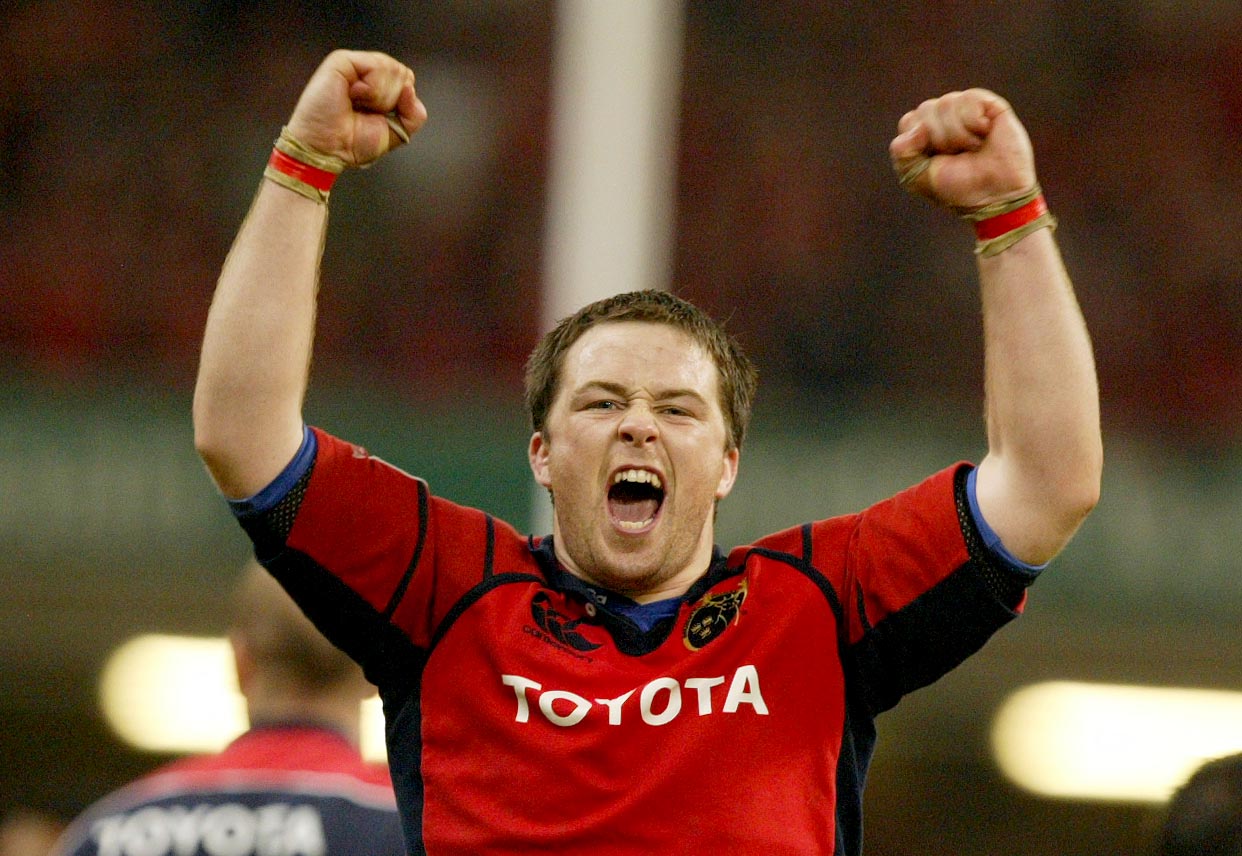 It was a Saturday night at the height of the lockdown. It had been another long week for Marcus Horan. He had spent most of his time checking in on the players at Munster Rugby in his capacity as a Player Development Manager at Rugby Players Ireland. When he wasn't on a call, he was chasing down leads and facilitating webinars for players across the country.
Finally, all the household devices fell silent for a while. As he settled his children for the evening, he began to look forward to a glass of wine on the couch. Up he popped his feet on the settee and reached for the remote control. Then his mobile phone lit up. And again. And again. And again.
"There's a What's App group with all the Munster lads in it," Horan begins. "That night they were all watching the Celtic League Final with Leinster back in 2001. I wasn't bothered with it. The only thing I could remember from it was Eric Miller got sent off and we still lost the game, so I let them at it. Besides, I had been busy with the kids.
"Next thing the phone starts hopping. I tried to ignore it at first, but I began to get a bit worried because I thought something really big had happened. I opened it up. Of course, my head is looking back at me in this jittery video and whoever had taken it was laughing their head off!
"I had ball in hand and you could clearly see Denis Hickie, the fastest man in Irish rugby, was in front of me. For whatever reason I decide to chip it past him and chase it down. I couldn't believe it myself but the lads were getting great mileage out of it so I decided to turn it on and be ready for the next ambush.
"It was like being back down in the pub with them watching a game. Even ROG in France (don't ask me how he has the channels) was giving it yards! It's mad how selective your memory is when you look back on things…"
There has been plenty of time to reflect these past few weeks. With little else in the world of sport happening, broadcasters and sporting organisation have delved into their archives to relive proud moments in Irish sporting history. Episodes in the Munster Rugby saga have been a regular feature.
"It's been great, you know, especially now that my daughter has taken an interest. Her grandfather has been watching them all back too and they'd be talking about them, so I've found myself tuning in with them more.
"It's funny, I would have been someone who shipped a lot of criticism and I took a lot of it to heart over the years. Thank God it was only the beginning of social media because I'm sure there would have been plenty in there just dying to have a go. I would have been highly critical of myself anyway, so I never tended to watch any of those games back. It would never do me any good.
"Looking at them today, there has definitely been a few occasions where I've said to myself, 'Oh my God, Marcus! What the f*** are you doing?!' But what player doesn't? I have perspective now. I look back and I am proud of what I achieved. I'm very proud of the Munster time but I also had plenty of time with Shannon, one of the great club sides. I'm very, very proud of that too."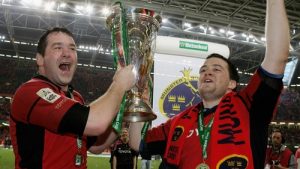 Packing down alongside Anthony Foley and Mick Galwey for Shannon was the probably finest apprenticeship any young forward of that era could have hoped for. Horan duly followed them to Munster before international duty in the era of the O'Driscoll, O'Connell and O'Gara triumvirate beckoned.
"There's no denying I was blessed, for sure. I remember when we were younger my father would get the Sunday papers and we'd scour them to check out the player ratings. They were tough days for Ireland, so there were plenty of 3/10s going around. You had class players like Simon Geoghegan and Nick Popplewell getting the odd moral victory every few years. You kind of thought: 'nah, not for me.'
"Then to be part of something that brought the game to a different level in this country… I used to go on holidays at the end of the season and no matter where in the world you were you'd spot a Munster or Irish jersey. That was a great source of pride to see how far we reached. To have had that effect while playing alongside some of the greatest players the game has seen, I'm honoured.
"I know I was lucky but I would qualify it by saying I worked extremely hard for what I got. I think that would be the main thing all those lads who made it to 200 Munster caps have in common. From my own perspective I wasn't the biggest guy in my position. You look at Billy [Holland], he'd be the same. Not the tallest second row in the world as he'd admit himself, but he'd run through a wall for Munster. We had to battle for everything, collectively and individually."
While few personal accolades came Horan's way, his work ethic nevertheless ensured he played an integral part in arguably the most successful periods enjoyed by club and country. With a 14-year professional career it should be expected that many memories will have slipped the memory bank, especially with European Cup finals and Grand Slams to contend with…
"When I look back, one or two special moments stick out. I remember playing a league game in the old Thomond Park after we won the Heineken Cup in 2006. We beat Cardiff Blues and took off to the dressing room, but we came back out because the supporters hung around. It was a role reversal; they were on the pitch and we went up into the stand.
"A few of the lads were leaving so we got them all to sing a song and with little encouragement you had Mike Mullins singing Creep by Radiohead to 10,000 Munster fans! It was bizarre but also a really special one because that usually would have been kept for us as a group at the back of some bar or other. Instead we got to share it with the supporters. There was a real connection with them that went beyond a rugby pitch.
"For years we had been the nearly men and they had stood by our side. They always believed we'd do it eventually. People talk about that iconic moment when the big screen shot to O'Connell Street in Limerick during that first Heineken Cup win in the Millenium Stadium. In the next breath you recall that Creep moment and you realise they've been on the journey with us through it all, the highs and the lows!"
With 224 caps for Munster Rugby, you'd think Horan would have had his fill of the game. Yet his duty subsists. A predominant focus now is in preparing players for the transition out of the game, which he says can happen in the blink of an eye. Indeed, his main takeaway from the game is how short his career really was.
"Maybe Covid-19 will give some lads a bit of a scare in that not only is their own career very fragile, but the game itself is also vulnerable. I had my own scare with the heart. One of my proudest moments was coming back to win the Magners League because at one stage it didn't seem possible. You look at guys like Brian Scott, people who bleed Munster and will stop at nothing, but sometimes it's out of your control. You have to be prepared.
"Looking back, I would have loved another year at it. I was the IRUPA rep at the time and I remember Donncha O'Callaghan saying to me, 'look, you're always helping others. Why not look after yourself for a while?' He was right, if I was better prepared for the end, I might have been in a better place mentally and physically to keep at it.
"Nobody ever gets to go the way they want to go. I think I was on the bench away to Dragons. A week later we were playing Leinster in Thomond Park and I wasn't selected. Some people came up to me in the street and were appalled. But that's professional rugby, maybe people hadn't caught up with the concept yet.
"On the day of the game I lined out for Shannon against Young Munster. They beat the crap out of us, there was no meal afterwards and all the lights were out. I got across to Thomond and scrubbed up because I was going out onto the pitch to wave goodbye. Unfortunately, it was about an hour and a half before the game, so I was just waving to what seemed like a few stadium officials.
"It was strange, but it wasn't about that public send-off for me. It was about being thankful to have had the opportunity and to have met many great people along the way. It was about my family and friends and reflecting on the journey we had shared together. That was our time because rugby keeps on moving without you."
Back to News
Latest Posts